What Will the Biggest US-Philippines Military Exercise Look Like Under Duterte?
A closer look at what we know about this year's Balikatan exercises and what they say about the state of the alliance.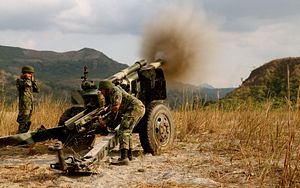 In a few weeks, the United States and the Philippines will hold the first iteration of their biggest annual bilateral military exercise under Philippine President Rodrigo Duterte known as Balikatan, meaning "shoulder to shoulder" in the national language Tagalog. And though Duterte's anti-American rhetoric has not quite translated into reality in many instances, it has nonetheless raised questions as to how this might affect military-to-military interactions within their decades-old alliance such as these.
In the lead up to Balikatan this year, local media outlets have cast it as having experienced varying degrees of continuity and change, with some indicating that things are proceeding as normal, while others indicating that a major scaling down is in effect. What is actually going on based on what we know publicly so far, and what might this mean?
Philippine officials have actually been pretty consistent about the general fate of Balikatan at the start of the Duterte administration, even though many specifics have yet to be disclosed. Back in October last year, Philippine Defense Secretary Delfin Lorenzana said that though some assault exercises and bilateral drills were canceled, remaining engagements including Balikatan would be refocused on fields like humanitarian assistance and disaster relief (HADR), counterterrorism, and counter narcotics (See: "How Much Can Duterte Wreck the US-Philippine Military Alliance?").
Specifics have been further ironed out by Washington and Manila since then, including at the regular Mutual Defense Board and Security Engagement Board (MDB-SEB) meeting in the Philippines in November as well as in planning for the exercises themselves. But Philippine military officials had indicated privately that the exercises would likely proceed along the lines of what Lorenzana had laid out (See: "Where Are US-Philippine Defense Relations Under Duterte?").
As we near the start of Balikatan 2017, that appears to be the case. Over the weekend, Balikatan spokesman Major Celeste Frank Sayson released some preliminary details that aligned with what Lorenzana had indicated, both in terms of the areas of focus as well as a general scaling down of the exercises relative to recent years. "It will be scenario-based like (preparing for) a big storm hitting the Philippines or the possibility of terrorism," he said, adding that the drills would last as usual for around ten days. "We are safe to say there will be no more live fire exercises. We (will) focus on humanitarian and civil assistance."
What do statements like these tell us about the status of Balikatan 2017, and the alliance more generally? First, it is important to note that it is not uncommon for military exercises to change their focus and even their participants in accordance with the shifting priorities of the actors involved in them. And while the live-firing component of Balikatan is the one that often gets the most attention, the exercise, like many others of its ilk (including Cobra Gold in Thailand, another one that has gotten a lot of press in recent years) does in fact already consist of a variety of events – including simulation supported events, operation events, and humanitarian civil assistance projects – and it does also address a range of challenges from maritime security to HADR. So the change we are witnessing is not as dramatic as it may initially appear.
Second, for close observers of Asian security affairs, this is nonetheless admittedly a stark contrast from what we had seen in the past few iterations of Balikatan under Duterte's predecessor Benigno Aquino III. Ahead of the 2015 Balikatan Exercises, the media had focused on the fact that both sides were set to double the size of the war games – with the largest number of troops participating since 2000 – and some parts of the exercise were planned to be staged close to a South China Sea flashpoint. In the 2016 iteration, Ash Carter became the first ever U.S. defense secretary to observe the Balikatan exercises, and the headlines were dominated by the involvement of two M142 High Mobility Artillery Rocket System (HIMARS) units which were being deployed for the first time. Balikatan had also increasingly been seen as one path for the multilateralization of U.S. exercises in the region, where U.S. allies and partners like Japan and Australia could either actually participate in varying degrees or attend as observers (See: "Why the Philippines is Critical to the US Rebalance in Asia").
The first iteration of Balikatan under Duterte in 2017 has definitely been given a much lower profile relatively speaking. It is clear that at least for now, Philippine officials are keen to highlight the "softer" dimensions of the exercise and keep the focus on terrorism and HADR, rather than maritime security which may be deemed more sensitive because of Duterte's attempts to rebalance Philippine foreign policy with relatively less dependence on the United States and more diversification with other players including China and, to a lesser degree, Russia (See: "The Limits of Duterte's US-China Rebalance"). At a time when broader foreign policy is still in flux, that might not necessarily be a bad thing. As one Philippine official told me privately during a conversation in Manila last month, "staying under the radar may not be so bad exactly because things are still not clear."
Third and finally, it is still early days. As Sayson himself indicated, there are still things being ironed out in terms of this iteration of Balikatan. Those details are important, and we will need them before truly assessing the status of the exercise apart from the rhetoric. As I have noted before with respect to Cobra Gold, vague terms like "scaling down" and "refocusing" can mean a whole range of things in practice, from lower troops numbers to the exclusion of certain exercise components, either on a temporary or a permanent basis (See: "US-Thailand Relations and Cobra Gold 2015: What's Really Going On?").
Furthermore, we are also in the early days of new leaderships on both sides, with Duterte being inaugurated in the Philippines last June and Donald Trump in the United States this January. Duterte's own outreach to China has predictably run into some familiar challenges, including on the South China Sea (See: "China and the Philippines Under Duterte: Look Beyond a Voyage"). And depending on what we see from the Trump administration, there is the potential for better U.S.-Philippine ties after a rough patch during the end of Obama's tenure, especially if Trump does attend the East Asia Summit in Manila later this year and has a summit meeting with Duterte that goes well (See: "Trump's Real ASEAN Test"). A lot can happen between now and then, and thereafter, which could affect how both sides approach military engagements like Balikatan. So we should be cautious before jumping to too many conclusions too early on.