What's Become of the Russia-Friendly Californian Secessionists?
The self-proclaimed founder of the #Calexit movement moved to Siberia.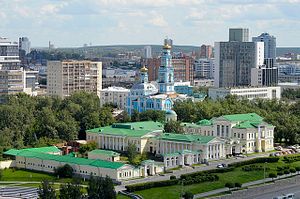 For most of the past few months, one of the strangest subplots between Moscow and the American fringe — and between the Kremlin and those who'd fracture the United States — has been Russia's involvement with the California secession movement. Known colloquially as #Calexit and led by the YesCalifornia group, the movement saw a post-election surge, making noise about placing a 2018 referendum to formalize the Golden State's secession. No matter that secession remains, a century-and-a-half after the Civil War, illegal; as former Supreme Court Justice Antonin Scalia wrote in 2006, "If there was any constitutional issue resolved by the Civil War, it is that there is no right to secede."
But that didn't stop the California secessionists from pursuing their goal of independent statehood — nor did it stop Kremlin-funded groups, headlined by the Anti-Globalization Movement of Russia (AGMR) from propping up YesCalifornia's international campaign over the past few months. From the AGMR providing rent-free space to the "California Embassy" in Moscow, to providing networking opportunities with other secessionists throughout the West — including those from Texas, whose travel to Moscow AGMR helped fund — to even highlighting YesCalifornia's efforts on state-backed propaganda outlets, the links between Russia and the #Calexit movement were never difficult to discern. Someone also allowed #Calexit the use of its Twitter bot network, raising further questions about Russian involvement in the movement. (For good measure, the nominally progressive YesCalifornia also reportedly took money from right-wing groups.)
All of this comes in addition to the fact that Louis Marinelli, the "leader" and "founder" of the #Calexit movement, now lives in Yekaterinburg, Russia. A native New Yorker and former anti-LGBT crusader. Marinelli offered multiple reasons for his decision to live in Russia, ranging from complaints about California rent to his wife's immigration status to the fact that he "could no longer live under an American flag." Marinelli's presence in Russia caused deep divisions within the #Calexit community, but as of last week he was still giving interviews to push California secession from his home in Yekaterinburg.
Now, though, it appears Marinelli's ties to California secession have been severed. In a lengthy, rambling statement issued on Monday — one in which he referred to the Golden State as "occupied California" — Marinelli says he has "found in Russia a new happiness, a life without the albatross of frustration and resentment towards ones' [sic] homeland, and a future detached from the partisan divisions and animosity that has thus far engulfed my entire adult life." (Living in an autocracy is certainly one way to escape "partisan divisions.") As such, Marinelli announced he would be moving to Russia on a permanent basis "as the representative of the Republic of California to Russia." But Marinelli's formal affiliation with the movement, it would appear, has come to an end.
Indeed, it appears the Russian connections played an outsized role in sparking YesCalifornia's implosion. In an email, YesCalifornia co-founder Marcus Ruiz Evans — who said he has also left the group — told The Diplomat that the "suggestion that something evil was going on" between Russia and the California secession movement played a role in Evans's departure. "[W]hat is it that Russia is doing to make Calexit happen?" Evans asked. "I have seen suggestions that something is there – but I have never seen the media actually answer this question."
After months of Marinelli promoting his group's ties in Russia — and plugging his connections to Kremlin-funded groups like AGMR —  it's perhaps little surprise that the formal #Calexit movement has decided to move on without him. The fate of the "California Embassy" in Moscow remains unclear, as does the Kremlin's interest in any #Calexit groups that may come after YesCalifornia.
But Marinelli, according to his statement, will continue pushing, however quixotically, for Californian independence from his base in Yekaterinburg. Instead of fighting for a sovereign state from California, Marinelli will remain in Russia. As San Jose's Mercury News wrote, "[W]hen the going gets tough, the tough, apparently, go to Siberia."