Will Saudi Investment Be the Spark to Ignite the Maldives' Political Tinderbox?
The Maldivian government comes under fire for an opaque investment deal with Riyadh.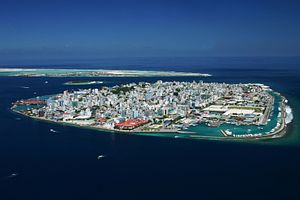 Maldives has been seething with angry voices against the dictatorial rule of President Abdulla Yameen. Different leaders came together to form the the Maldives United Opposition (MUO) on March 24, leading a fight against the exploitation of Yameen.
The fact that Yameen's half-brother, Maumoon Abdul Gayoom, who  served as the president of Maldives from 1978 to 2008, has joined hands with the opposition speaks volumes about the political upheaval that prevails in the country.* Gayoom was expelled from his own party, the Progressive Party of Maldives (PPM), and has now joined forces under the MUO umbrella with former President Mohamed Nasheed, president of Maldivian Democratic Party (MDP), and two other former coalition partners of Yameen's government.
There has been uneasiness in air for some time. Last month, the Maldivian Police not only arrested protesters and journalists but raided and seized pamphlets and documents from the Maldivian Democratic Party's office. The growing discomfort among the people is linked to Saudi King Salman's ambitious plan to start a development project in Maldives' Faafu Atoll.
The Saudi Project
Around 100 kilometers southwest of Maldives' capital, Malé, are a small group of 26 islands, forming the atoll formally known as Faafu. This beautiful reef structure, one among 20 island chains, is roughly 30 km long and 25 km wide. Five of the atoll's islands are inhabited. According to recent reports, the Saudis are interested in buying Faafu Atoll to develop a world-class city for the wealthy from around the world.
In the final days of February, Saudi Arabia's King Salman, along with a vast entourage comprised of over 600 people, embarked on a month-long tour of the Asia-Pacific, where he visited Malaysia, Indonesia, Brunei, Japan, and China. The official purpose of the trip to Asia was to improve political and economic ties and extend cooperation with Muslim states in the region.  The last stop was supposed to be in Maldives, but the trip had to be canceled.
As per ANI News' report,serious concerns about a possible terror threat led to the cancellation of King Salman's visit, although officials cited an outbreak of swine flu as the reason. According to the reports, a Yemeni national, Yasir Yahya, was arrested on terrorism charges by Maldivian police — reportedly at the request of Saudi secret agencies. Yahya, who is suspected of recruiting Maldivians for militant groups, was deported to Saudi Arabia.
Saudi Arabia's interest in the Maldive is linked to a Saudi push to transform from an oil state to a leading economic power. Last year, the kingdom unveiled an economic restructuring plan called "Vision 2030" that calls for developing stronger economic alliance with East Asia. The multi-billion dollar development project in Faafu Atoll is one of the first steps toward the vision.
The forthcoming investment from the Saudi government was first announced by Yameen in the late January this year. This evoked rumors, as the deal came soon after a constitutional amendment in July 2015 authorizing foreign ownership of Maldivian land. The constitution previously prohibited foreign ownership of any part of Maldivian territory, but allowed land to be leased for up to 99 years.
On March 1, Yameen said that the Saudi funded $10 billion project would be similar to "mixed development projects in the French Riviera" with "residential high-class development, many tourist resorts, many airports." But the government continues to be mostly silent over the negotiations, dismissing concerns over corruption, scarcity of land, threats to Maldivian sovereignty, and lack of public consultation and transparency.
Political Opposition
In recent days, the main opposition Maldivian Democratic Party and the Adhaalath Party have strongly objected to foreign ownership of Maldivian land whilst members of the Faafu Atoll council, Gayoom, and the anti-corruption NGO Transparency Maldives all called on the government to break its silence.
"I find it very difficult to believe this is a straightforward commercial enterprise," said Nasheed of the MDP during a trip to Washington. "Usually you have to have a proper, transparent bidding process, but President Yameen has chosen to do it in the dark."
Nasheed has a history of standing up against dictatorship. As a political rebel, he tolerated years of imprisonment. Helping overthrow a three-decade-long dictatorship, he won Maldives' first democratic election in 2008. But his reign was short-lived; Nasheed was overthrown in what most international observers characterized as a coup in 2012. He now lives in self-exile in London.
In the beginning of March police cracked down on a protest on Faafu Biledhdoo. They slashed banners from opposition supporters and briefly detained several protesters. Later the police seized the phones of two popular social media activists who were outspoken in the online #SaveFaafu campaign.
The Saudi embassy in Maldives, meanwhile, declared that the kingdom does not want to invest in a mega-project or buying land in Maldives. "[T]he Government of the Kingdom of Saudi Arabia neither invest in such project nor has an intention doing so or buying a land/island or an atoll, in the Republic of Maldives," the embassy said in a statement.
Yameen has been under growing pressure to reveal information about the Saudi-funded project. He tried to tamp down apprehension that his government was selling Faafu Atoll to the royal family. Instead, he revealed that a $10 billion project was being negotiated.
"What's being talked about the most today is, what will be the benefit to the Maldives from King Salman's visit, is Faafu atoll being sold. No, no place is being sold," Yameen said.
But the mega-projects in the Faafu Atoll region continue to fuel big criticism from politicians. Critics accuse the project of casting islanders out of their homes, being rife with corruption, and causing ecological issues.
The Geopolitical Context
The Saudis aren't the only outside power interested in a foothold in Maldives. China sees the Maldives as a key ally in its vision of a "New Maritime Silk Road, linking Chinese energy and trade interests to the Middle East. Beijing has been gradually spreading out its footprint in the Indian Ocean, including extending ties with Yameen's government. Yameen has endorsed the Maritime Silk Road project, and some reports have indicated that his government offered China space for the construction of a naval base in the Indian Ocean, close to the southern tip of India.
Meanwhile, Yameen has shown no friendship with India yet. One of his first act was to cancel a contract granted to the Indian company GMR by the Nasheed government for upgrades at the Male airport airport. Instead the contract went to a Chinese firm. Prime Minister Narendra Modi canceled his trip to Maldives to show his displeasure in March 2015, although he did conclude a visit in April 2016.
China's presence in neighboring countries in the Indian Ocean has always worried India. However, India has preferred to be silent around the contentious issue of the Maldives-Saudi project.
As Maldives balances itself amidst world powers, its domestic politics will continue to be of interest to the world.
Aaquib Khan is a freelance journalist based in Mumbai, India.
*Correction: An earlier version of this article incorrectly identified Maumoon Abdul Gayoom's relation to Abdulla Yameen.