Abe's New Vision for Japan's Constitution
Japan's prime minister outlines his plan for revising Japan's constitution by 2020.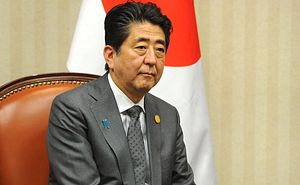 Prime Minister Shinzo Abe has finally spoken up about revising Japan's Constitution. In an one-on-one interview conducted by Yomiuri Shimbun on April 26, Abe spoke at length about his vision and timeline for constitutional revision. He also delivered a pre-recorded video message in which he articulated his determination for revising the Constitution at a gathering of Nippon Kaigi.
This is particularly newsworthy because Abe was specific in laying out his vision for the constitutional revision as well as the timetable he envisions. For instance, he clearly mentioned that he would seek to revise Article 9, which has been considered sacrosanct as the symbol of Japan's postwar identity as a peace-loving nation. Although Abe was explicit in stating that he would keep the existing two clauses (which refer to Japan's renunciation of war as a means to solve international conflict and its possession of armed forces), he announced that he would seek to add a third clause that would unambiguously legitimize the constitutional status of the Japan Self-Defense Force (JSDF). In addition, Abe also stated that the freedom of education will be prioritized. In terms of the timeline, he indicated his desire to put the revised Constitution into force by the 2020 Tokyo Olympic games.
Reactions to Abe's announcement have been strong. For instance, Asahi Shimbun published an editorial responding to Abe's call for constitutional revision critically, arguing that Japan should not negate the reality that the current constitution has enjoyed the support of the vast majority of Japanese people for the last 70 years. Mainichi Shimbun, while recognizing that a thoughtful debate on constitutional review has been long overdue, cautions that Japanese lawmakers should not rush into the conclusion that Article 9 must be revised in order for Japan to make a positive contribution to international peace. The New York Times, as well, reported strong initial opposition within Japan, citing criticism against Abe's announcement on social media, a protest that gathered approximately 55,000 people, and the recent opinion poll in which 82 percent of the respondents replied that they were proud of the Constitution that advocates pacifism.
There seem to be two major reasons why Abe's proposal for revising Article 9 meets such strong criticism. One is the deep sense of discomfort in changing the current Constitution at all. While most Japanese may not be intimately familiar with the content of the Constitution, they very much identify the Constitution, Article 9 in particular, as the ultimate symbol of Japan's postwar identity as a nation that is anchored by its strong commitment to peace. Therefore, any suggestion to amend it in any way triggers a sense of extreme discomfort.
Moreover, those who criticize Abe's announcement are deeply suspicious of his intentions. The reality is what Abe has proposed as the amendment to Article 9 is very restrained and sensible: he suggests leaving the existing two clauses intact, but adding a third clause in which the JSDF will be recognized as a constitutional, professional military organization whose mission is to defend Japan's national security. But the timing for his announcement — when Japan is facing an ever-increasing threat from North Korea while tension with China continues — and the audience to which he first spoke — Nippon Kaigi, a conservative group that often gets criticized for its alternative position on pre-1945 Japanese history, makes some people suspicious about Abe's intentions. The worry is that by first proposing a revision that seems palatable to many and getting it approved, he is paving the way for his successor, if he/she so desires, to push for a more ambitious revision of Article 9.
What is lacking in such a reaction is an appreciation that the gap between what the current Article 9 defines and reality in Japan, particularly with the JSDF, has been widening throughout Japan's postwar history. Today's JSDF is a professional organization that looks and behaves like a military force and is treated as such everywhere in the world — except by the country it serves. Despite the constraints — constitutional, legal, political, and societal — it has been operating under since its establishment, the JSDF has evolved into one of the world's most advanced military forces, which generally enjoys very strong support from the Japanese public. Given that the country calls the JSDF for service in so many ways, from disaster relief at home and abroad and participation in UN peacekeeping operations, not to mention their primary duty of national defense, acknowledging them as a constitutional entity is the minimum that the country can and should consider doing.
Also seemingly lacking in the public debate is that the Japanese people actually have a say in this. While many complain about the "true" intentions Abe may have for his country, the public also seem to enjoys the political stability that his government provides, and the determination with which he tackles some of the most complicated and challenging foreign and national security issues, including North Korea, peace treaty negotiations with Russia, and the relationship with China, to name a few. Many criticizes Abe for timing his announcement when the ruling Liberal Democratic Party (LDP)-Komeito coalition has a two-thirds majority in the House of Representatives — a critical procedural requirement for the constitutional revision process. But it is the Japanese voters who gave Abe that two-thirds majority. Finally, any constitutional revision requires majority approval in a national referendum. In other words, the short-term political landscape in Japan, in which the ruling coalition has a two-thirds majority, does not make the Article 9 revision proposed by Abe a done deal.
Ultimately, therefore, the fate of the constitutional revision proposed by Abe depends on whether Japanese people can take ownership of this issue, and take accountability for their decisions.