China Celebrates 27th Anniversary of Hong Kong Basic Law With Threats
Chinese scholars and officials emphasize that Hong Kong's autonomy is a gift from Beijing – and can be revoked.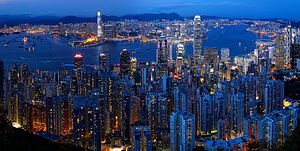 April marked the 27th anniversary of Hong Kong's miniature constitution, the Basic Law, and it seems the celebration was a golden opportunity for mainland Chinese legal academics and politicians to trash the document.
Most notably, China's Hong Kong Liaison Office legal chief, Wang Zhenmin, said the "one country, two systems" policy could easily be scrapped if Beijing sees the policy, and the Basic Law which enshrines it, being used as a tool to undermine the sovereignty of China. Wang was speaking at an event commemorating the 27th anniversary of the Basic Law, along with CY Leung, the incumbent chief executive of Hong Kong.
In his speech, Wang attacked the city's fledgling independence movement and emphasized that it was "one country" before "two systems."
"If 'two systems' severely distorts or even becomes a tool to confront and damage 'one country', then the reasons and conditions for the 'two systems' would no longer exist," said the former Tsinghua University law dean, according to South China Morning Post.
Leung also jumped in, telling the audience that while the Basic Law ensured a 50-year period where there would be no change to the system of government, it didn't actually promise full autonomy. He emphasized that the assurance of no changes only applied to the capitalist system, and only under the good graces of the motherland.
As if to ensure Wang's comments struck sufficient fear in the hearts and minds of the Hong Kong citizenry, a Peking University law professor and a key member of the Basic Law Committee under the National People's Congress Standing Committee, Rao Geping, sent a pre-recorded message to the people stating that should things become unmanageable and threaten national security, the central government may intervene in Hong Kong affairs.
The Basic Law was drafted by a much stronger U.K. and a not-yet-powerful China in the 1980s in preparation for the eventual handover of Hong Kong to Chinese control. The Basic Law was adopted by China's National People's Congress in 1990. Under Article 2, China authorizes the former British colony to exercise a high degree of autonomy and enjoy executive, legislative, and independent judicial power. But Wang threatened that should Hong Kongers continue to fail in defending the sovereignty, national security, and development interests of the country, China will become more wary of Hong Kong's autonomy.
Wang said that the "one country, two systems" policy cannot afford to fail, but if it did, then Hong Kong would suffer much more than mainland China.
"Should the system fail, the country will only lose face, but Hong Kong will lose everything," Wang said.