Does Moon Jae-in's Victory Herald a New Dawn for the Sunshine Policy?
The geopolitical context doesn't favor a direct return to the Sunshine Policy of 1998-2008.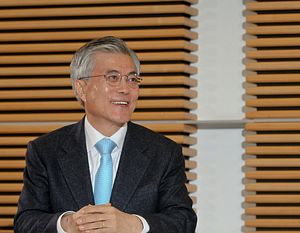 As North Korea has increased the pace of its nuclear and missile tests, the policy of choice has increasingly become one of sanctions designed to deprive North Korea of the revenue that it needs to maintain its programs. Ahead of South Korea's presidential election, there were concerns during the campaign that front-runner Moon Jae-in might turn away from the pressure designed to bring North Korea back to the negotiating table and instead implement a new version of the Sunshine Policy. Now that Moon has secured the presidency, will he upend the current policy course and move toward engagement?
While Moon campaigned on a policy of engaging North Korea, as well as on the idea of South Korea taking a leading role in returning Pyongyang to talks, any policy shift in relation to North Korea will likely be gradual. He assumes office in the shadow of the impeachment of former President Park Geun-hye and at a time when most South Koreans want a government helmed by an "upright, competent, responsive leader." North Korea cannot be ignored, but Moon's presidency will likely succeed or fail based on his ability to run a clean government and revive the economy.
In addition to taking steps to restore confidence in government, he will also need to address the deeper issues beyond corruption that animated South Koreans to take to the streets to call for the impeachment of Park: the slowdown in the economy and especially the high levels of youth unemployment that have helped contribute to the political awakening of those in their 20s. Ultimately, governing is about priorities and for the South Korean populace the economy and institutional reform are top priorities. Those will likely be the priorities for the new Moon administration as well.
When it comes to Moon's stated intent that his administration would inherit the Sunshine Policy, his pledge to reopen and expand the Kaesong Industrial Complex has been one area of concern. Kaesong was the last vestige of inter-Korean cooperation and an attempt to bring the two Koreas together through economic cooperation. However, after North Korea's fourth nuclear test it was closed due to concerns that the North Korean regime was using money earned by the complex to fund its nuclear weapons and missile programs.
While reopening Kaesong may be an aspirational goal of the Moon administration, it would also be highly complex. When Kaesong was originally opened, small- and medium-sized firms were enticed to the complex with the promise of low labor costs and a workforce that spoke Korean. They were also supported by a series of subsidies by both North and South Korea. While North Korea provided exemptions from taxes until firms reached a certain level of profitability, South Korea provided preferential loans, additional tax breaks, and political risk insurance. Even with these benefits, firms struggled with profitability.
With Kaesong suspended by North Korea in 2013 and closed by South Korea in 2016, it is difficult to imagine firms being able to secure affordable political risk insurance, which would be necessary to operate, unless it is provided by the state. However, UN Security Council Resolutions 2049 and 2321 place restrictions on states being able to provide the types of insurance and financial incentives that made Kaesong viable without prior approval of the UN. The resolutions also place restrictions on the bulk cash that was used to pay North Korea for Kaesong.
Reopening Kaesong may also run afoul of U.S. anti-money laundering provisions and become increasingly more difficult if new sanctions recently passed by the U.S. House of Representatives were to become law.
Perhaps tellingly, Moon does not mention reopening Kaesong in the policy paper released by his campaign despite a call for an eventual economic union with North Korea. Given the current state of sanctions, reopening Kaesong is clearly a long-term prospect, even setting aside the challenges of addressing issues that have never been resolved related to the direct payment of workers, internet and cell phone usage, the costs of getting the complex back into working condition, or whether North Korea would be interested in reopening Kaesong without significant payments for its closure.
Instead, the policy paper's first priority is developing the ability to defend South Korea against North Korea's nuclear and missile programs. This includes an embrace of conservative ideas such as the Kill Chain to take out North Korean missiles and nuclear facilities quickly in a conflict. The policy also calls for the resumption of family reunions and North Korean participation at the Pyeongchang 2018 Olympic Winter Games — two proposals which should easily gain wide support.
While there is no doubt that Moon wants to utilize engagement to improve relations with North Korea, he is coming into office in a much different environment than when the original Sunshine Policy was implemented. North Korea's nuclear program is no longer merely a possibility. In 1998, the Agreed Framework had seemingly dealt with North Korea's nuclear program, opening up the political space for more creative policies. Today, Pyongyang's program is quickly approaching intercontinental reach with second strike capabilities, while facing significantly stricter international sanctions.
It is this changed environment and domestic needs that will likely shape President Moon's policy toward North Korea. His policy will also need to account for an administration in Washington that has made addressing North Korea's weapons programs its top priority and settled on a policy of maximum pressure, with engagement possible only after that pressure has brought North Korea to the table. In light of the current constraints on engaging North Korea, any Sunshine Policy under the Moon administration is likely to look significantly different than in the past, in the absence of significant changes in policy by Pyongyang.
Troy Stangarone is the Senior Director for Congressional Affairs and Trade for the Korea Economic Institute of America. The views expressed here are the author's alone.