Hong Kong Chief Executive Meddled With Investigation of Secret Payments
CY Leung admits to funneling his concerns through a pro-Beijing lawmaker on the investigation committee.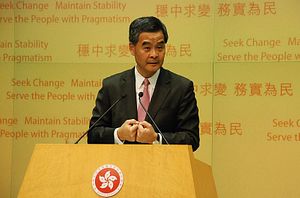 Hong Kong's Chief Executive CY Leung has admitted to meddling in an investigation into two secret payments he received in the lead up to his role as chief executive. The payments were agreed to and received before he officially took office in 2012, but after he was elected.
Australian-owned engineering firm UGL made payments to Leung in 2011 after the engineering firm had bought the insolvent property company DTZ, of which Leung was a director. The deal required that Leung would not form or join a rival firm in exchange for the agreed amount.
Leung did not declare the payment to the Executive Council, later claiming there was no conflict of interest.
The Chief Executive's Office claimed in a statement in November 2016 that the deal was "simply a non-compete arrangement" in an effort to ensure Leung would not move to a competitor or poach any people from DTZ. But accountancy sector lawmaker Kenneth Leung (no relation to the chief executive), who put forward a motion to launch the inquiry, claimed the Hong Kong leader had attempted to interfere in the affairs of the Legislative Council (LegCo).
"He is not in a position to do so," Kenneth Leung told the South China Morning Post at the time. "It's not for CY Leung to determine if it was a secret deal or not."
At the panel's closed-door meeting on Monday, May 15, lawmakers noted a number of amendments had been made to a proposal document presented by pro-Beijing legislator Holden Chow Ho-ding, from the DAB political party. The document detailed a list of questions for the probe, but a number of edits were made with the username "CEO-CE" tagged to the edits. A source speaking to the South China Morning Post, on condition of anonymity, claimed the LegCo secretariat made the discovery and alerted lawmakers.
Chow admitted that Leung had approached him and commented on the paper. Neither Chow nor Leung confirmed the origin of the changes on Monday, but Leung said he had a "need and the right to raise my views with the committee."
On Tuesday, prior to the Executive Council meeting, the chief executive admitted that he had indeed submitted revisions to the pro-establishment lawmaker Chow, who is also a vice chairman on the investigation committee.
"In the first one or two meetings, he brought up some points – which in my opinion was not necessary – that he felt did not need to be pressed further. So I discussed with him and he agreed," Leung said, referring to Chow. "So I passed him the document that I revised to include all the additional questions, and that document is now revealed."
"I am a subject of investigation, and I have the complete right to express my views to LegCo of the investigation's scope," Leung told reporters on Tuesday. He then tried to shift the focus, questioning how confidential information from a closed-door meeting could be leaked, demanding a separate probe into the probe.
Democratic Party lawmaker Lam Cheuk-ting brushed off Leung's demand for a probe into the whistle-blowing, accusing the chief executive of trying to divert public attention from an obvious "injustice." He added that Chow should resign as lawmaker as he had "lost his credibility" in this apparent purposeful breach of confidentiality and procedure.
Democratic Party lawmaker Andrew Wan Siu-kin, who is also on the investigation committee, said Leung should have made any opinions he had about the probe clearly and transparently, instead of hiding behind Chow. Wan said any proven attempt to deliberately interfere with a legislative probe could amount to a serious conflict of interest and a breach of the law.
"It's unnecessary, it doesn't look good – that's basic sense – and it could even be against the law," the Democratic Party legislator said in an interview with local media RTHK. "If a chief executive and a member do anything under the table and it involves certain interests, then it could involve misconduct in public office. Not reporting it could also be against the law."