Martial Law Comes to Mindanao
Glimpses of the Philippines' offensive against militants in Marawi City.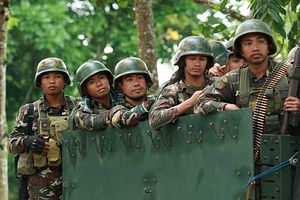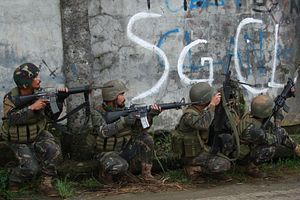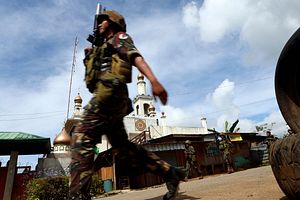 Philippine President Rodrigo Duterte has declared martial law in the southern Philippines in response to a burst of militant activity. Islamic State-linked militants had taken full control of Marawi City in Mindanao.
The military reported that 13 soldiers, two policemen, and 41 militants had been killed so far since the battle to retake Marawi City from the militants started on May 22. Around 45 soldiers were also wounded.
The military has also been conducting air strikes as part of the operation, although officers said they did not use fighter jets in flushing out gunmen linked to the Maute and Abu Sayyaf Groups.
"We used only precision-guided rockets. It will inflict maximum impact to the enemies while minimizing any collateral," according to local military spokesperson Lt. Col. Jo-Ar Herrera.
Armed Forces spokesperson Brig. Gen. Resituto Padilla said foreign fighters were believed to be among the militants trying to escape from Marawi, a city of 200,000.
The fighting was triggered when the military received reports that Abu Sayyaf leader Isnilon Hapilon, who is listed on the FBI's list of most-wanted terrorists with a $5 million bounty on his head, had been spotted in Marawi this week.
Government forces moved to arrest him, but were overwhelmed by about 100 fighters armed with high-powered weapons, officials said.
As the fighting continued, civilians fled from their homes, fearing for their lives and safety.
Jeoffrey Maitem is a photographer and journalist based in Mindanao.