Solving Indonesia's Infrastructure Gap
Indonesia's infrastructure needs are not distributed equally across the archipelago.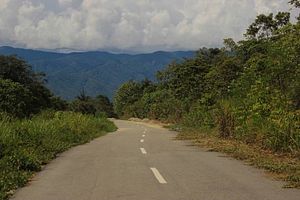 As an archipelago consisting of 17,000 islands and a mountainous topography on its land, Indonesia has one of the world's most challenging territories for any government to manage. Consequently, achieving equal infrastructure development across the nation is indeed a very difficult task.
Though budget constraints remain a major concern, the Indonesian president, Joko "Jokowi" Widodo, and the country's finance minister, Sri Mulyani, have expressed a firm commitment to infrastructure development. Indonesia has approved a Rp 4,700 trillion ($353 billion) budget to fund infrastructure development through 2019.
The chief executive of Capital Market Supervision with the Indonesia Financial Services Authority, Nurhaida, more specifically said that the funds needed to finance infrastructure development for 2017 alone amounted to Rp 1,000 trillion. However, Jakarta is only ready to disburse funds of Rp 387.2 trillion, or about 37 percent of the total cost.
This enormous number certainly cannot be funded only by the state budget. A financing distribution scheme needs to be carefully designed. Nurhaida expects 11 percent of the total cost would come from the contributions of local governments and 22 percent from state-owned enterprises (Badan Usaha Milik Negara), while the rest can be generated from the financial services sector, including banking and capital markets.
Funding is not the only issue in Indonesia's infrastructure development. It is a fact that previous governments' policies have not been aligned to bridge the development disparity gap between the western and eastern parts of Indonesia. In rural regions, remote areas, and the outer border of the country, development is scarce. Data collected by the Ministry of Villages, Disadvantaged Regions and Transmigration shows that no less than 52 percent of villages, as many as 39,000, in Indonesia are underprivileged, where the majority do not have access to electricity and telephone land lines.
Nonetheless, Jokowi has promised that the infrastructure development budget during his tenure will prioritize eastern Indonesia. The director general of Bina Marga from the Ministry of Public Works and Public Housing allocated 60 percent from its Rp 42.14 trillion 2017 budget to advance infrastructure in Kalimantan, Bali, Nusa Tenggara, Sulawesi, Maluku, and Papua. Another 6.12 trillion rupiah apportioned for road constructions will be centralized to construct the Indonesia-Malaysia border road in Kalimantan, to build the Trans-Papua road covering the Wamena-Hatem-Kenyam-Batas-Mamugu regions, and to widen the Manokwari-Maruni road.
Undeniably, this is a strategic move, considering that those regions rarely emerge as a priority in the government's development agenda.
National economic growth is positively correlated with how firmly the government is committed to building infrastructure. The constructions of highways, bridges, piers, ports, and the like are crucial for establishing connectivity between regions.
Particularly in the transportation sector, infrastructure development has long-term effects for the country, especially in reducing logistical costs. Poor quality roads and the absence of other alternatives make it difficult for large and heavy vehicles transporting goods to reach the rural areas of Indonesia, which thus isolating them from equitable distributions of primary goods and agriculture products. This then results in the soaring price of basic commodities due to a lack of availability.
Those who live in small islands scattered across Maluku province face similar problems. The poor connectivity resulting from the absence of adequate dock facilities causes commodity prices to rise. Developing infrastructure in the border areas and the outer islands of Indonesia, many of which have little to no independent economic activity, is very important for the prosperity of the nation as a whole.
Given the current state of affairs, it should come as no surprise that 80 percent of the national economic growth is attributed to western Indonesia. Hopefully, the current infrastructure development projects being prioritized for eastern Indonesia can balance this uneven percentage in the future. 
According to the Global Competitiveness Report 2016-2017, Indonesia ranks 60th overall out of 138 countries in infrastructure. More specifically, the ranking of its port and road quality is 75th. Obviously, this data shows a disappointing performance on the part of the government.
Accordingly, to support national development, Jakarta and the local authorities should immediately ink an agreement to boost infrastructure development in all parts of Indonesia. Development that drives citizens' economic independence is particularly crucial.
Roads, bridges, and port infrastructure will not only advance the industrial front, but the tourism sector as well. Tourism should be strengthened to foster economic gains for Indonesia, given that it is a country blessed with a richness of flora and fauna, along with its natural tropical beauty. Infrastructure built to facilitate access to tourism areas, in the long term, can also become a gateway for potential investments to come in, creating entrepreneurial opportunities for the surrounding population and becoming a source of revenue for the local governments.
Importantly, though, development should not only be oriented to large-scale infrastructure projects, which not only require considerable funds but often can only be enjoyed by upper class citizens, who are not the real intended targets of such development programs. Equal and fair development means focusing on improving quality of life for the marginalized poor.
Rather than hundreds of kilometers of roads, people living in drought-stricken areas urgently need artesian wells drilled hundreds meters deep into the ground. They also needs the construction of sizable dams to both provide clean drinking water and supply a sufficient irrigation system for farmers. Other villages need bridges built to help children go to school safely and quickly without having to make a dangerous river crossing. Development should be directed to these sorts of projects as well.
When a fair development that prioritizes the marginalized citizens is the root, Indonesia can reap the fruits of the growing social and economic independence of its people, who will later become the foundations for Indonesia to prosper.
Dikanaya Tarahita and Muhammad Zulfikar Rakhmat are independent researchers focusing on social issues in Indonesia. Both are the founders of Sekolabilitas, an Indonesian-based NGO dedicated to helping individuals with disabilities access education.