What Role for Japan in Africa's Security After Withdrawal from South Sudan?
There still is a big gap between the discourse and the reality of what Japan wants—and what it can achieve in Africa.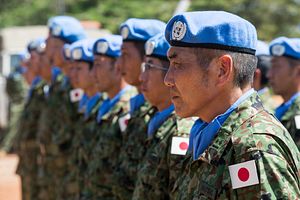 By the end of this month, the bulk of the Japan Self-Defense Forces (JSDF) acting as part of the United Nations (UN) mission in South Sudan (UNMISS) will be withdrawn from the field. While the authorities argued the contrary, the degradation of the security situation in South Sudan was the primary cause of the retreat. This marks the temporary end of meaningful JSDF participation in any UN Peacekeeping Operation (PKO), and raises doubts about the ability of Japan to play a greater proactive peacekeeping role, especially in Africa.
Over the last decade, Japan's security contribution on the continent has been actually on the rise with the unprecedented participation of the SDF in an international counter-piracy operation in the Gulf of Aden (from 2009), the subsequent build-up of its first overseas military base in Djibouti (2011), and the SDF's longest participation in a UNPKO in South Sudan (2012– 2017). These measures contrast with the traditional Japanese approach to Africa based on development aid, as characterized by the provision of development assistance and showcased by the TICAD Summit (Tokyo International Conference on African Development). Assessing the way forward for Japan's security commitment in Africa thus requires identifying the factors behind this new activism and understanding the means and limitations of Japan's security-related activities.
Japanese interests in Sub-Saharan Africa are of an economic nature, and quite modest (12 billion USD of FDI stock in 2014, three times less than China). Tokyo's active security policy is meant, in great part, to reassure a risk-averse business sector and encourage it to step up its investment in light of an increase in terrorist attacks on the continent. Japan's Africa diplomacy also aims at checking the rising Chinese presence on the continent by emulating Beijing activism and offering an alternative model of development. The importance given to keeping up with China highlights the survival of the traditional Japanese "reactive approach."
Looking more broadly, Japanese strategic security interests remain, first and foremost, centered on its immediate neighborhood, meaning an upgraded, more ambitious military commitment to Africa is unlikely to happen. Indeed, while media attention is focused on Japanese SDF dispatch in Africa, the bulk of Japan's security contribution remains very low-key: mostly in the form of financial contributions (securitization of aid) and capacity-building assistance, and it is often channeled through, or in partnership with, multilateral institutions or via a third country, such as France. The withdrawal from South Sudan shows that the government is still very much constrained when dispatching its forces abroad, and the passing of the Legislation on Peace and Security in 2015 changed nothing. If a law-enforcement mission such as in the Gulf of Aden is possible, risky operations on the ground are not. Japan is thus likely to continue to rely on comprehensive principles and approaches such as "human security" and "peacebuilding" that associate security with development and favor civil-military operations in a post-conflict environment.
That said, despite the present, limited approach, new features of Japan's diplomacy may signal the gradual, heightened integration of Africa into Japan's overall strategic interests. First, despite limitations in terms of mandates and rules of engagement, SDF deployments to Africa are being facilitated. The proactive commitment of Japan to a peacebuilding approach is providing opportunities for the SDF to act in post-conflict, safer environments, in synergy with development assistance activities. This can constitute the real value-add of Japan's security contribution in Africa.
Second, Africa is now being associated more tightly with Japan's strategic core interests. Terrorist attacks on the continent pose a direct risk to Japanese nationals. Threats to the security of vital maritime shipping routes, transiting from the Middle East to the Indian Ocean and all the way to Japan, are directly undermining Tokyo's commercial interests. The inclusion of Africa in the "Free and Open Indo-Pacific Strategy"—a Japanese counter-initiative to China's Belt and Road project—also demonstrates Japan's will to adopt a more strategic approach to Africa. This might lead to greater engagement, with respect to investment in infrastructure, maritime capacity-building and peacebuilding operations. The expansion of the Djibouti military base is an important symbol of this longer-term security commitment in the region.
These recent developments, however, have not yet led to a defined strategic approach. Despite political declarations of interest, there still exists a significant gap between the discourse and the reality of what Japan wants—and what it can achieve in Africa. As Japanese companies remain extremely risk-averse, insufficient or unsustainable interest in Africa on the part of Japan's private sector would jeopardize the current ambitions to increase Japan's economic and politico-strategic profile on the continent. Finally, Japan still lacks expertise in African affairs, which undermines its capacity to design a proper strategic approach, as advocated by Prime Minister Shinzo Abe—emphasizing increased investment and a more significant security presence. If Japan truly wants to engage more deeply in Africa, and develop a more calculated approach to the continent, , it will need to sustain political and economic interest in Africa over the long-term and continue to refine its understanding of Africa's complex political and cultural dynamics.
Céline Pajon is a Research Fellow, Center for Asian Studies, Ifri. The author recently published a policy paper: "Japan's Security Policy in Africa: The dawn of a strategic approach?", Asie.Visions, No. 93, Ifri, May 2017. This article has previously been published on the EastWest Institute Policy Innovation Blog.