What's With Indonesia's 'Big' Military Exercise Near the South China Sea?
The drills (though far more routine than headlines suggest) show that Jakarta is determined to protect its interests.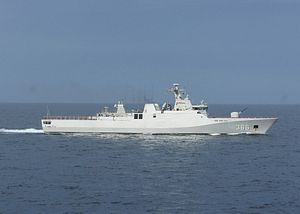 Last week, Indonesian President Joko "Jokowi" Widodo observed what news outlets termed a "massive" military exercise around the resource-rich Natuna Islands. Though the drills are both far more routine and much less dramatic than they were portrayed, they nonetheless emphasize that Jakarta has not wavered in protecting its interests as they relate to the South China Sea, despite the challenges therein.
Though Indonesia is not a claimant in the South China Sea disputes strictly speaking, it has nonetheless been an interested party, especially since China's nine-dash line overlaps with Indonesia's exclusive economic zone (EEZ) around the resource-rich Natuna Islands. As I've argued elsewhere, Indonesia's traditional South China Sea position since the 1990s might be best summed up as a "delicate equilibrium" – seeking to both engage China diplomatically on the issue and enmeshing Beijing and other actors within regional institutions (a softer edge of its approach, if you will) while at the same time pursuing a range of security, legal, and economic measures designed to protect its own interests (a harder edge) (See: "Indonesia's South China Sea Policy: A Delicate Equilibrium").
While we have seen some recalibration within this delicate equilibrium as well as newer developments since Jokowi came to office – from more run-ins with Chinese vessels to some upgrading of facilities in the Natunas – the approach itself has not changed (See: "Will Indonesia's South China Sea Policy Change Amid China's Assertiveness?").
The exercise last week fits into this broader pattern. Indonesia has carried out such drills dating back decades, and they are just one example of a broad range of security measures Jakarta is taking to shore up its position (See: "The Natunas: Why is Indonesia Developing a South China Sea Flashpoint?"). In this particular drill, 5,900 troops of the Indonesian military (TNI) participated, according to The Jakarta Post, making this exercise nearly three times the size of the Air Force's Angkasa Yudha exercises held in the Natunas last October, which involved around 2,000 personnel. Jokowi was accompanied by Indonesia's military chief, Gatot Nurmantyo, the heads of all three of the services, and several other ministers and officials, including Defense Minister Ryamizard Ryacudu.
Much like Jokowi's other visits to the Natunas, where he has inspected naval patrols and even boarded an Indonesian warship, it is meant to send a clear message that Jakarta is keen on protecting its sovereignty and territorial integrity amid several trends, including China's assertiveness in the South China Sea. And as with other such interactions, Jokowi once again spoke about this theme generally without mentioning any country (including China) directly, emphasizing that the drills were a show of the "TNI's preparedness."
Though there is no doubt that China is a key concern in spite of the lack of explicit mention, it is also true that Indonesia's broader concerns about sovereignty and territorial integrity lie not just with Beijing, but its other Southeast Asian neighbors, particularly with its crackdown on illegal fishing. This was evidenced by yet another skirmish between Indonesia and Vietnam that occurred over the weekend in the Natunas.
More broadly, as I have pointed out before, despite these shows of force, there are formidable challenges to Indonesia trying to secure its position in the South China Sea, one of them being its modest defense capabilities – including in the maritime realm – that limit its options and complicate the adoption of a tougher approach. In part due to years of underspending on defense, even Indonesian officials have admitted that the country is unable to perform basic functions such as fully patrolling the world's second-longest coastline (See: "Between Aspiration and Reality: Indonesian Foreign Policy After the 2014 Elections"). Though notable efforts are underway under Jokowi to boost the country's capabilities, including the long-delayed creation of a coast guard, Indonesia begins from a low base and faces significant challenges (See: "Confronting Indonesia's Maritime Coordination Challenge").
Indeed, this exercise itself first made headlines not for its signaling but a fatal malfunction when the Chinese-made Giant Bow anti-aircraft cannon misfired during a rehearsal on Wednesday, killing four soldiers and wounding eight others. It was just the latest in a series of such tragedies that have occurred over the past few years, several of them involving Indonesian aircraft (See: "Can Indonesia Speed Up Its Military Aircraft Modernization?").
Jokowi himself seemed to acknowledge this when he told military personnel present that Indonesia had "a lot of things to improve," especially in terms of its military technology.
"Don't let us be left behind compared to other countries only because we are late adopting advanced technology," he added.