Will Philippines Get More Indonesia-Built Warships?
Indonesian official says more vessels may be on the way.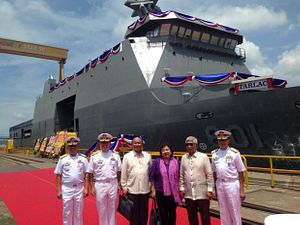 The Philippines may soon get more Indonesia-built warships after the successful delivery of two vessels over the past two years, an Indonesian official said earlier this week.
As I have detailed before, in 2014, Indonesia's state-owned shipbuilder, PT PAL, won a $92 million contract to deliver two Strategic Sealift Vessels (SSVs) to the Philippines. The inaugural export of locally-built warships was seen as a major boost to Indonesia's efforts to build up its domestic shipbuilding industry (See: "Indonesia to Export First Ever Warship in Boost for Shipbuilding Industry"). It was also a much-needed addition to the Philippines' military, which remains one of the weakest in the region.
The first SSV, called the BRP Tarlac, was sent through last May, and the second one, the BRP Davao Del Sur, was delivered earlier this month (See: "Philippines Receives Second Indonesia-Built Warship"). This is despite the fact that the deal was rocked by a corruption scandal which surfaced in April in a blow to the reputation of Indonesia's shipbuilding industry.
On May 9, Indonesian media outlets cited Fajar Harry Sampurno, the deputy for mining business, strategic industries, and media in the country's ministry of state-owned enterprises, as saying that the ship orders coming from the Philippines do not stop there. Speaking to reporters following the successful delivery of the Davao del Sur, Sampurno said that there had been talks with the Philippines for the country to receive a third and fourth SSV.
Sampurno offered few additional details about specifics, including the timeline for delivery and what they would be used for. But he did mention that these orders may have different specifications than the first and second ones.
According to previous specifications that were released by PT PAL, the SSVs delivered to the Philippines measure 123 meters long with a beam of 21.8 meters and a draught of six meters. In addition, the vessels have a full load displacement of about 11,583 tons, a maximum range of 9,360 nautical miles, an endurance of 30 days and a top speed of 16 knots.
Thus far, Philippine officials have said that the SSVs will be useful for various areas, from serving as a floating command-and-control ship during humanitarian assistance and disaster relief to taking part in operations against militancy and piracy in the Philippines which are already ongoing (See: "Confronting Threats in the Sulu-Sulawesi Seas: Opportunities and Challenges").