China Gives Belarus New Armored Vehicles
Beijing doles out a new round of military technical assistance to Minsk.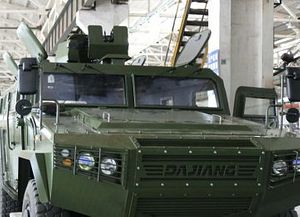 On June 21, the Belarussian Defense Ministry announced that China would be providing Belarus with new armored vehicles. The move is just the latest sign of a growing partnership between Minsk and Beijing, including in the security realm.
Though China and Belarus established relations 25 years ago, ties have been strengthening in recent years. Last year, Chinese President Xi Jinping and Belarussian President Alexander Lukashenko upgraded relations to the level of a comprehensive strategic partnership, an endeavor first announced in 2013.
The logic of ties is clear for both sides. For Belarus, China offers access to funding and technology and diversification from Russia, even though reality in some cases has not quite yet matched expectations. Beijing, meanwhile, has found Minsk a useful partner to cultivate primarily within the context of its more ambitious regional and global goals, particularly the Belt and Road Initiative (BRI).
Both sides also have an existing security relationship. China provides military technical assistance to Belarus, and Beijing has supplied the Belarussian Armed Forces with equipment over the years including the FAW HongQi L5 ("Red Banner") grand vehicles and the DongFeng Mengshi EQ2050 cross-country vehicles known as "Bogatyr."
On June 21, in a sign of this continued defense cooperation, the Belarussian Defense Ministry announced that starting from June 21, China will provide Belarus with new CS/VN3 armored vehicles.
The ministry added that the vehicles had been customized for Belarus, with controls and instructions in Russian. Belarussian servicemen have also been training in China to maintain and operate the equipment at the Chinese plant based in Chongqing where they have been produced.
Apart from this assistance, both countries have also said that they are exploring boosting wider cooperation in the security sphere. When Stanislav Zas, the state secretary of the Belarussian Security Council, met with Guo Shengkun, China's public security minister, back in April, both sides said they would explore boosting cooperation on issues such as transnational crime, terrorism, and cybercrime.
The two countries also discussed advancing their defense ties during the visit of a Chinese military delegation to Belarus in May, which was led by Colonel General Zhang Youxia, the chief of the Equipment Development Department of China's Central Military Commission. The delegation met with several Belarussian officials, including the defense minister, and attended the eighth international defense technology expo MILEX 2017.