Mounting Religious Violence in Sri Lanka
Violence against Muslims and Christians is cause for concern.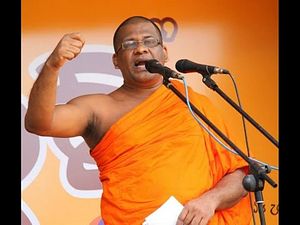 A resurgence of violations against Muslims and Christians in Sri Lanka justifiably has alarmed domestic and international observers. Religious violence in Sri Lanka is nothing new. There were similar concerns – particularly with respect to anti-Muslim incidents in 2014 – when the island nation's previous president, Mahinda Rajapaksa, ruled. Ethnic Sinhalese – most of whom are Buddhist – are the overwhelming ethnic majority in Sri Lanka. Muslims make up about 10 percent of the population; Christians comprise approximately 8 percent of the population.
"There are undercurrents of anti-Muslim and anti-Christian sentiment amongst the larger Buddhist and Hindu populations," notes Jehan Perera, executive director of the Colombo-based National Peace Council. "However, the recent violent attacks against Muslims is [sic] not by the larger community but appear to be deliberately planned and executed. This is why it is dangerous."
During Rajapaksa's tenure, there were widespread and well-founded concerns that anti-Muslim attacks had, to say the least, the tacit support of the state. And even though a new administration has come to power, there's little indication that the government wants to challenge extremist Buddhist groups, or hold perpetrators accountable for their actions.
As has happened on previous occasions, Buddhist monks – particularly a hardline group known as the Bodu Bala Sena (BBS), led by General Secretary Galagoda Atte Gnanasara – are fueling the flames of conflict.
Gnanasara evaded arrest for nearly a month, but was eventually arrested after showing up at a police station to provide a statement. He's currently out on bail.
Several weeks ago, a group of Colombo-based diplomats came out strongly against anti-Muslim violence. Other public figures and organizations have also spoken out.
A key feature of these attacks is widespread impunity, which only encourages more violence.
If President Maithripala Sirisena wants to turn things around – and it's far from clear that he does – the president and Prime Minister Ranil Wickremesinghe, among other senior government officials, should begin by explicitly denouncing the attacks on a regular basis. They could also emphasize the importance of initiating accountability processes for these transgressions and ensuring that perpetrators face justice. "The government needs to uphold law and order. Unless [this violence is] nipped in the bud, it is difficult for police to control mob action against minorities once it has been unleashed," says Perera.
The recent upsurge in religious violence adds to worries about the trajectory of Sri Lankan politics during Sirisena's (already disappointing) tenure. Now's the time for Colombo to act swiftly and decisively – before things get any worse.