Rohingya and the 'Paper Tiger' Insurgency
A new insurgency greatly exacerbates Rohingya refugee suffering.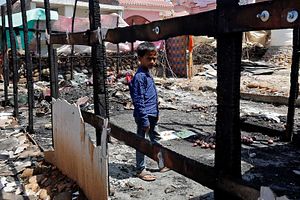 For Rohingya refugees who fled persecution and escalating violence in Myanmar, even the pretense of safety overseas may now be jeopardized by a new armed insurgency few would have wished into existence.
Harakah al-Yaqin, or the Arakan Rohingya Solidarity Army (ARSA) as it recently re-styled, was born of desperation. After decades of oppression by Myanmar security forces and seemingly no end to apartheid-like conditions, the group eschewed the Rohingyas' long-standing aversion to violence and stormed three border guard posts last October. Nine police officers were killed.
By some accounts a foreign-funded, sophisticated militant outfit, and by others a crude mob of machete-wielding guerrillas, ARSA joins a long list of Myanmar minorities pushing for self-determination through armed struggle. Most do not give the group a favorable prognosis.
"It is a paper tiger that won't achieve any of its stated aims, but only provide a justification… for more severe military operations," said Elliot Brennan, an independent Myanmar analyst.
ARSA's first campaign provoked a ferocious response from Myanmar's security forces, with civilians bearing the full and thundering brunt of retaliation. Since October, nearly 100,000 Rohingya have been forced from their homes and have joined the diaspora only to find they are also unwanted elsewhere, especially with the moniker "Muslim militancy" now hanging around their necks.
"Picking up arms is like giving the [Myanmar] military a license to kill us," said Muhammad Noor, the CEO of Rohingya Vision TV, and a Rohingya refugee in Kuala Lumpur, Malaysia.
"We cannot achieve anything through violence; we are not going to win a war. And being Muslims, if we support an insurgency like other Myanmar ethnic groups, [governments] will look for links to outside terrorist groups," he added.