Rouhani's Reelection Means Continued Iran-China Engagement
Rouhani's reelection will result in the continuation and possibly intensification of Sino-Iranian relations.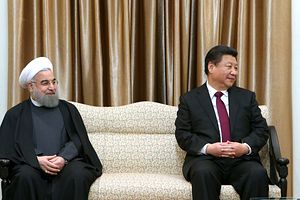 The reelection of Iran's Hassan Rouhani as president emphasizes the support for stability and re-engagement with the international community — something that will be a relief for China.
Rouhani's clear win in the Iranian election bodes well for the region, as well as for China's interests. This reelection ensures a level of continuity that would have been difficult to retain under his opponent Ebrahim Raisi, who, in general, appeared to want a return to Ahmadinejad's Iran. While China's relationship with Iran would likely have remained similar under either leader, the stability brought by Rouhani is clearly preferred.
The Campaign
The uncertainty of the campaign and global trends toward populism worked together to make the Iranian election nearly impossible to predict.  Generally, it was described as a "referendum on Rouhani's job performance." With many Iranians dissatisfied with the growth of the economy since the signing of the Joint Comprehensive Plan of Action (JCPOA), a Rouhani win was never a sure thing.  Shortly before the election, one of the other major conservative candidates dropped out and endorsed Raisi, making it seem like the conservative vote would all go for Raisi. If Raisi had won, Iran would likely have turned away from international investors and eventually moved away from the nuclear deal.
Raisi's campaign underscored that he was a nationalist – focused on Iran solving its own problems – while Rouhani highlighted that he was a globalist, seeing the benefit of a more open economy. Part of Raisi's campaign platform hinged on voters believing that the promised benefits of the JCPOA had not materialized and that the Iranian economy would benefit more from his guidance.  His campaign was filled with populist rhetoric claiming that he could improve the economy better than Rouhani.  Aspects of the campaign mirrored the election in 2005 — when a populist Ahmadinejad and Rafsanjani faced off — but Raisi's message seems to have not had the expected impact.
Raisi's campaign also made China into a scapegoat of sorts, as it has in the past, pointing to the doubling of imports of Chinese-made goods as one reason that Iran's economy is not doing as well as it could. This, however, works both ways — both imports from China and non-oil exports have increased since Rouhani started his term, rising 66.5 percent and 73 percent respectively. Oil, still the major export, rose modestly by 4.3 percent. Compared to Ahmadinejad's second term, in Rouhani's first term non-oil exports have grown from $18.7 billion to $32.4 billion. Unemployment has also decreased from 15 percent when he took office to 10 percent last year.
Even though it was not clearly fleshed out, Raisi's foreign policy left something to be desired. Overall, he told reporters that he would "establish ties with every country except Israel." Some reports, however, viewed his key policy adviser (and at that point potential foreign minister) to be Saeed Jalili, a frequent critic of the JCPOA who wants Iran's foreign policy role to be more revolutionary — challenging perceived hegemony in the world. Jalili was a nuclear negotiator under Ahmadinejad from 2007-2013.
As a result of the Ayatollah's approval of the nuclear deal, it would be difficult for anyone to unilaterally move Iran away from it. Raisi "express[ed] respect for the nuclear deal," but made it clear that it was not the solution to Iran's economic problems, as it had been marketed. Essentially, Raisi's foreign policy agenda would have been similar to Ahmadinejad's.
Rouhani Won — Now What?
Realistically, Rouhani's win means that we should expect to see a continuation of his current policies — and that's a good thing for almost everyone involved. China, in particular, will view this positively as it will all but ensure that regional stability is maintained, at least by Iran. Stability is continually preferred by Beijing as it allows for more political predictability and maintains stable economic conditions. During his term, Ahmadinejad's rhetoric became trying and stability was constantly threatened, so a similar administration would be disastrous — especially with the Trump administration in power in the United States. After Rouhani won his first term, he began a refreshing process of reengaging with the international community. Rouhani's reelection with 57 percent of the vote will give him further support as he moves ahead with reforms and continues to further Iran's ties with the rest of the world.
Even as the Trump administration moves to "review" the JCPOA, the vote of the Iranian people shows the world they have clearly chosen to support the process. That gives China a strong reason to continue to support the JCPOA. This should be a clear sign that Iran wants to keep progressing under the agreement — any move away from full implementation would be squarely on the United States. Reengagement with the United States will likely be difficult, but beneficial in the long run.
The main result for Sino-Iranian relations will be a continuation and possibly intensification of current relations. More infrastructure investments will likely be made, given Iran's enthusiasm for the "One Belt, One Road" concept. In general, though, deals made before the election — such as China's redesign of the Arak nuclear reactor as well as whatever OBOR projects already underway — will continue as scheduled. Overall, this election shows that continued stability and reform is important to Iran, something that China will be happy with.
Daniel Johanson is a Ph.D. candidate at King's College London focusing on Chinese foreign policy toward North Korea, Iran, and Sudan.