South Korea's Chaebol Needn't Fear Moon
Despite campaign pledges, a precarious hold on parliament will make far-reaching reforms difficult to achieve.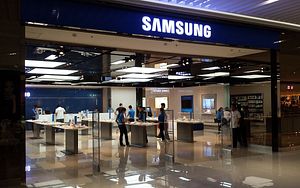 South Korea's newly elected President Moon Jae-in has declared an end to cozy ties between government and business as part of his attack on the power of chaebol conglomerates. However, parliamentary and business opposition likely will prevent the first left-leaning president in a decade from making significant reforms to Asia's fourth-largest economy.
In his inaugural speech to South Korea's National Assembly on May 10, Moon declared that: "Under the Moon Jae-in government, politics-business connections will disappear… I will lead [the] reform of chaebol."
A corruption scandal involving former President Park Geun-hye's ties with the chaebol caused her impeachment and ultimately Moon's landslide election victory, in which he won 41 percent of the vote in a five-way race. Park is accused of pressuring chaebol, including Hyundai Motor and Samsung, to donate funds to foundations run by her friend, Choi Soon-sil, a scandal that led to the imprisonment of both Park and Choi, along with Samsung Electronics Vice Chairman Lee Jae-yong.
Moon's pledges of chaebol reform are considered positive for long-term economic growth, given the conglomerates' oversized influence. Sales revenue from South Korea's top five chaebol — Hyundai, LG, Lotte, Samsung, and SK Group — is worth more than half the nation's entire economy, while their ruling families' combined private assets of 39 trillion won ($34 billion) exceed the Seoul metropolitan government's annual budget.
"Strong anti-corruption, rule of law, and transparent corporate governance likely would be positive for the long-term outlook. In our view, these issues are long overdue," Bank of America Merrill Lynch economist Woo Jae-joon told the Nikkei.
Other analysts suggest such measures could help reduce the "Korea discount" stemming from opaque corporate governance and low shareholder returns.
Nevertheless, previous political efforts to tackle the chaebol have been long on promises but short on action.
Park campaigned for chaebol reform, or "economic democratization," as part of her 2012 presidential campaign, with her party pushing through changes to monopoly and fair trade regulations affecting such issues as cross-shareholdings and preferential business dealings. However, her administration later reversed course, symbolized by the presidential pardons given to the chairmen of the SK and CJ groups.
An early test for Moon will be whether he pardons Samsung group heir Lee on August 15, South Korea's Liberation Day, as senior chaebol leaders have been pardoned by previous administrations.
Despite Moon's crushing election victory, his Democratic Party has only 120 of 300 seats in parliament and lacks the three-fifths majority necessary to push through legislation unilaterally. Even a liberal coalition supported by the People's Party and Justice Party would have a combined total of 166 seats, with considerable opposition expected from the conservative Liberty Korea party (107 seats) and Bareun (20).
With the next parliamentary elections not due until 2020, Moon will be forced to compromise and is unlikely to enact strong curbs on chaebol influence, the Economist Intelligence Unit (EIU) suggests.
"The EIU does not expect any onslaught against the chaebol, as their contribution to the economy remains decisive. However, we believe that Moon Jae-in will make a significant breakthrough on this issue, with a host of amendments to the Monopoly Regulation and Fair Trade Act beefing up the regulatory framework around the chaebol and its enforcement," the consultancy said in a June report, "South Korea: Making up for lost time."
Moon's nomination of "chaebol sniper" Kim Sang-jo as head of the Fair Trade Commission (FTC) is seen symbolic of his new tougher stance. Yet the new antitrust boss has already sought to lower expectations of dramatic change, saying: "Chaebol reform is never about destroying or disbanding chaebols. Chaebol reform is about helping and inducing them to grow into important assets in the South Korean economy through rules."
Kim said unravelling cross-shareholdings among chaebol group affiliates that help cement family control was "not an urgent matter" as the chaebol had already made changes themselves. He said seven conglomerates now had 90 cross-shareholding ties, compared to 98,000 at 14 companies five years earlier.
Shares in chaebol such as Hyundai Motor rose by 4.7 percent to their highest level in nearly two months following the reported comments.
"His news conference shows there is little commitment from the government to reform chaebols," Seoul National University professor Park Sang-in told Reuters.
The Korea Chamber of Commerce and Industry has strongly resisted chaebol reform, with a spokesman saying, "We shouldn't twist the arm of the conglomerates" by imposing added restrictions.
Labor Reform Challenged
Moon is also seen struggling to enact major labor market reform, despite his campaign pledge of being "president of jobs." Backed by a 9 trillion won ($8 billion) stimulus package, he vowed to create 810,000 public-sector jobs as well as raise the minimum wage from 6,470 won per hour to at least 10,000 won, while supporting small and medium-sized enterprises (SMEs).
While SMEs employ an estimated 88 percent of all Koreans, SME workers face harsher work conditions and lower levels of social protection and career prospects compared to the regular employment offered by chaebol, according to the EIU.
Chaebol workers enjoy average monthly pay of $4,580 compared to the $2,880 paid by SMEs, while labor productivity at SMEs is considered to be only 30 percent that of the conglomerates.
The labor market has also become increasingly split, with one in three workers currently working on a contract or part-time basis, earning on average just two-thirds of their full-time peers. While the unemployment rate fell to just 3.6 percent in May, youth unemployment has risen above 10 percent, sparking growing discontent that helped deliver Moon's victory, the EIU said.
However, plans by the previous administration to cut red tape and liberalize the services sector became stuck in the legislative pipeline. Moon's plan to end contract work even in the public sector has already attracted criticism from business leaders, while his plans for a fiscal stimulus have been criticized by opposition lawmakers.
According to the EIU, Moon will struggle to get his reforms through parliament, yet major structural reform "will be a necessary condition if the government's industrial policy shift is to work."
This shift toward a "fourth industrial revolution" is aimed at shifting the nation's economy from export-oriented manufacturing toward one driven by "innovation and creativity." However, this "nebulous concept" will likely result in increased public spending on research and development, as well as increased investment in innovative SMEs, the EIU said.
"While this policy focus overlaps nicely with the renewed push to curb the economic and political influence of the conglomerates, we do not expect the new administration to hurt significantly the chaebol's activities, which the South Korean economy still relies on for its export performance. Moreover, with the economy showing only fragile signs of recovery, we continue to believe that, like the previous government, the new administration will accord a high priority to supporting export-oriented industries," the EIU said.
The chaebol could even benefit from any shift toward an industrial revolution, with the process likely to take longer than Moon's single five-year term, it added.
In addition, the chaebol will be indirectly involved in Moon's plans for employment growth, with the Korea Employers Federation included in a key committee on the project.
Trade-Dependent
South Korea's economy expanded at an annualized rate of 2.9 percent in the first quarter, helped by exports and construction growth. However, the manufacturing sector has contracted for 10 straight months, while private consumption has remained subdued amid a housing boom that has resulted in soaring household debt, currently more than 90 percent of GDP.
On May 25, the Bank of Korea kept its policy rate at a record low 1.25 percent, a rate that it has held steady since June 2016. Analysts expect the central bank to keep rates on hold through 2017, despite surging house prices.
With around half the Korean economy relying on exports, an upturn is dependent on a revival in global growth. Yet Moon faces challenges from major trading partner China, which has imposed unofficial economic sanctions over Seoul's installation of the U.S. THAAD missile defense system, along with protectionist sentiment from Washington, with U.S. President Donald Trump threatening to terminate or renegotiate the "horrible" U.S.-South Korea free trade agreement.
The EIU sees South Korea's economy expanding by around 3 percent this year on the back of improved global trade, but with a drop next year due to weaker expected growth in China.
EIU Asia analyst Agathe L'Homme said Seoul had already started acting to reduce U.S. criticism over its trade deficit with South Korea by increasing U.S. energy imports. She said further tensions with North Korea would have a limited economic impact since "this has already been incorporated into sovereign and credit risk ratings," while Beijing had been careful not to impose sanctions on more crucial sectors such as Korean manufacturing imports.
Moon is expected to meet Trump at the end of June, with chaebol heads accompanying him on his visit. With Samsung and LG announcing plans for new plants in the United States, Moon already has some useful backing for his discussions with the protectionist U.S. leader.
For the chaebol though, the next five years appear far less threatening under the Moon administration than perhaps previously feared.
"Moon has only a limited majority in parliament so will have to make tough choices on where to focus his efforts," L'Homme said. "We still think he can get corporate governance reforms through amendments to existing regulations, or get things done on enforcement, but a broad challenge to the influence of the chaebol is fairly unlikely."