Thailand's New Army Chief Makes First Singapore Visit
Chalermchai Sitthisad made his introductory trip to the city-state this week after taking over his new post late last year.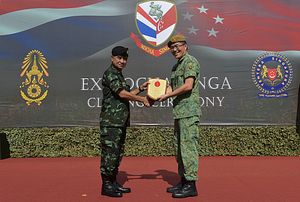 Thailand's army chief paid his first visit to Singapore this week in a trip that underscored the defense ties between the two Southeast Asian states.
Singapore and Thailand have a close defense relationship. Bilaterally, beyond traditional aspects like exchanges, visits and exercises, the Singapore Armed Forces (SAF) has also had an overseas training area in Thailand, one of several arrangements it has with countries including Australia and the United States (See: "Strengthening US-Singapore Strategic Partnership: Opportunities and Challenges").
The two countries are also involved in multilateral interactions, whether it be established ones like Singapore's full participation in the Cobra Gold exercises since 2000, or newer manifestations of trilateral cooperation between the two countries and the United States (See: "US, Singapore, Thailand Launch First Trilateral Exercise in the South China Sea").
This defense relationship also includes links between the Royal Thai Army and the Singapore Army. For instance, since 1997, the two armies have conducted Kocha Singa, an annual bilateral army exercise that includes professional interactions, combined training sessions, and a live-fire component as well. Last year's exercise involved more than 800 personnel on the Singapore side alone.
From 30 to 31 May, Commander-in-Chief of the Royal Thai Army (RTA) General Chalermchai Sitthisad was in Singapore for an introductory visit that placed the bilateral relationship in the spotlight once again. Chalermchai, who was previously assistant commander-in-chief, had officially assumed his position last September following the retirement of General Teerachai Nakwanich. It was part of a large reshuffle of hundreds of high-ranking military officers that occurred last year in Thailand, which has been run by a military junta led by Prayut Chan-o-cha since a bloodless coup in May 2014.
During his visit, he had meetings with several Singaporean defense officials, including Defense Minister Ng Eng Hen, Chief of Defense Force Lieutenant-General Perry Lim, and Chief of Army Major-General Melvyn Ong. He also co-officiated the closing ceremony of this year's Exercise Kocha Singa with his counterpart Ong at the Murai Urban Training Facility, which marked its 19th iteration.
"General Chalermchai's visit underscores the close and long-standing defense ties between Singapore and Thailand," Singapore's defense ministry (MINDEF) said in a statement released during his trip to the city-state.
Chalermchai's visit also comes just days before the start of the annual Shangri-La Dialogue, Asia's premier security summit that is held in Singapore and organized by the British think tank the International Institute for Strategic Studies (IISS) with support from the Singapore government (See: "The State of Asia's Security Dialogues").