US-China Economic Relations: Impact on the Asia-Pacific Region 
Insights from Ulrich Volz.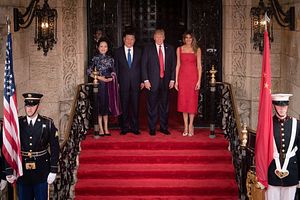 Trans-Pacific View author Mercy Kuo regularly engages subject-matter experts, policy practitioners, and strategic thinkers across the globe for their diverse insights into U.S. Asia policy. This conversation with Ulrich Volz – Head of the Department of Economics at SOAS University of London and Senior Research Fellow at the German Development Institute – is the 95th in "The Trans-Pacific View Insight Series."
Assess U.S. economic leadership in the absence of a U.S.-led Trans-Pacific Partnership (TPP) and emergence of the China-led "One Belt, One Road" initiative and Regional Comprehensive Economic Partnership (RCEP).  
By withdrawing from the TPP, and by acting unreliably and unpredictably, the United States is clearly ceding influence in the Asia-Pacific region to China. At the same time, China's attempts to assert herself as the leading power in the region with initiatives like RCEP and One Belt, One Road are not without problems. The other countries in the region are understandably worried about China's economic and military dominance. And problems of China's outreach are already becoming apparent in places like Sri Lanka, which are now stifled by Chinese debt.
The United States and China recently announced a 100-day action plan as part of the overarching U.S.-China Comprehensive Economic Plan. What is your outlook for longer-term equitable bilateral trade relations?  
China made some small concessions regarding the import of beef and market access in finance, but this will change nothing in the greater scheme of things. A comprehensive Sino-American investment treaty remains a distant prospect, and it is unrealistic to expect manufacturing jobs to return to the United States. One should also not forget that a significant share of Chinese exports to the United States were only assembled in China while components have been produced elsewhere. Bilateral trade statistics are hence misleading, and parts of the products imported from China were actually produced by or for U.S.-based firms, such as iPhones for Apple. With growing wages, China itself is increasingly losing manufacturing jobs to cheaper places like Bangladesh.
The key question for future Sino-American trade is: Which country will be developing the most innovative goods and services? And this is closely linked to the question of who is having the better policies in the areas of education and R&D. For the time being, China seems to be investing more in these areas and is rapidly catching up with the United States.
What is the potential impact of the Plan on the operation of U.S. financial institutions in China?   
The Chinese financial sector is in a difficult place. While the recent downgrade of Chinese sovereign debt by Moody's does not herald imminent crisis, it was yet another reminder that Chinese economic growth has been driven by a debt binge, which is causing significant problems now. The Chinese financial sector is massively over-leveraged, non-performing loans are growing even though they are not properly disclosed, and the shadow banking sector is becoming an even greater source of risk to the economy. This is not an environment which U.S. financial institutions or anyone else want to buy into. Until these problems are properly addressed, the Chinese authorities should better be careful with further liberalizing the in- and outflow of capital.
Identify three trends to watch in Asia's regional economic integration.
In December 2015, the ASEAN countries established an ASEAN Economic Community as a framework for further economic integration. This process is progressing slowly but is becoming increasingly meaningful, and international observers should pay attention.
A lot of attention is already being paid to One Belt One Road (OBOR). But there may be quite a few surprises waiting for President Xi as China will find out that infrastructure investments in developing Asia and beyond require much more than pouring in money and supplying Chinese technology.
A third trend to watch is Japanese efforts to play a more meaningful role again in Asia. With China's more assertive role and a wobbly United States, Japanese investments across the region are seen as a welcome alternative.
What concerns and encourages you most about the direction of U.S.-China trade policy?
The current U.S. government seems to lack both strategy and vision, as well as an understanding of the economics underlying the Sino-American relationship. Both economies are dependent on each other, something that China's government is keenly aware of while the Trump administration seems to be less so. At the end of the day, the mutual dependency will force both governments to work together. Everything else would be madness, which we can only hope we will not have to live through.