What Did China Say After US Announced Exit From Paris Agreement?
China will "unswervingly uphold the global climate management," said the Chinese Foreign Ministry.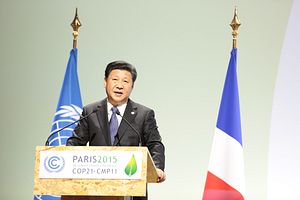 News about U.S. President Donald Trump's decision to withdraw the United States from the Paris Agreement, a landmark global agreement to combat climate change, exploded in China. The topic dominated almost every public sphere, from a foreign ministry press conference to local social media.  
During the Chinese Foreign Ministry's regular press conference on June 2, six out of 15 questions centered around the Paris Agreement. The Chinese Foreign Ministry's spokeswoman, Hua Chunying, showed her best patience in answering questions on the same topic again and again.
Regarding China's position on the Paris Agreement, Hua expressed China's commitment:
We believe that the Paris Agreement embodies the broadest consensus of the international community on climate change, and the parties should cherish and maintain this hard-won outcome… In the future, China will continue to do a good job in dealing with climate change, actively participate in the multilateral process of climate change, and unswervingly uphold the global climate management.
Regarding China's attitude toward President Trump's pullout, the spokeswoman's reply was (surprisingly) non-condemning and unassuming:
China is closely following the announcement of the U.S. withdrawal from the Paris Agreement… At the same time, we are willing to strengthen international cooperation in addressing climate change with the international community, including the United States, to promote global green, low-carbon and sustainable development.
The spokeswoman's comments demonstrated China's ambition to take the lead on climate change. With the United States seeming to abdicate leadership on the issue, Beijing has expressed interest in working not only with other major powers, such as the European Union, but also small island states and other vulnerable countries. With regard to the least developed countries, many of which will be devastatingly impacted by climate change, China has expressed a willingness to provide financial and technical support, with certain conditions.
Regardless of how well China ultimately upholds such pronouncements, the positive expression at this point in time undoubtedly has won popularity domestically.
On social media, Chinese netizens were not as polite as the Foreign Ministry's spokeswoman. Most Chinese netizens either sneered or condemned the U.S. exit. Meanwhile, many Chinese people believed that China should take advantage of Washington's isolationist trend and lead the world, especially by taking up leadership in tackling climate change.