12 Regions of China: The Yangtze Delta
China's "land of fish and rice," today a high-tech hub, has long been the country's wealthiest region.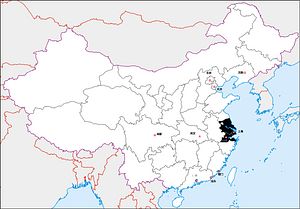 This article series explores 12 distinct "regions" within China: six "core" regions long dominated by the majority Han ethnic group and six "periphery" regions home to many of China's ethnic minorities. The series overview is available here. To view the full series, click here.
At the imperial "southern capital" of Nanjing, the Yangtze River turns east into its final stretch, widening at points to over three kilometers. This low-lying country, watered by a plethora of smaller rivers and lakes, is traditionally called the "land of fish and rice" (鱼米之乡).  A marshy frontier in ancient times, by the second millennium AD this was the richest and most economically developed part of China, possibly having reached the brink of an industrial revolution by the 18th century; this wealth underpinned imperial regimes that were still based in the less productive north, linked to the Yangtze delta by an unbroken canal system stretching nearly 1,800 km. The high culture of China's lettered gentry reached its apogee in this region's garden and library-filled canal cities. It was devastated by the Taiping wars of the mid-1800s, but from this period Shanghai grew into East Asia's greatest port, and the epicenter of foreign influence in China.
Today this region is again China's wealthiest per capita, and accounts for a fifth of national GDP. It has been the second main hub of foreign investment and export-oriented manufacturing (after Guangdong's Pearl River delta) during China's "reform and opening" era. Breakneck development has produced the world's biggest concentration of adjacent metropolitan areas, with 20 cities containing some 80 million urban residents, connected by a dense high-speed rail network. Suzhou contains China's first industrial park developed with a foreign government (Singapore), while nearby Wuxi is the center of the global solar panel industry and location of the world's fastest supercomputer, built with Chinese-made microprocessors.
Shanghai is now the world's most populous city and China's second financial center after Hong Kong, with the world's busiest container port and the nation's largest free trade zone. The city's natives have a reputation around China as hardnosed businesspeople and cosmopolitan snobs, even among their prosperous neighbors in the provinces of Jiangsu and Zhejiang.
Zhejiang's capital, Hangzhou, described by Marco Polo in the 13th century as the greatest city in the world, is famed for its picturesque West Lake and the generations of painters and poets it inspired. One of China's rising information technology and startup hubs, Hangzhou hosted the G20 gathering during 2016. Headquartered here is the internet corporate behemoth Alibaba, which in 2016 surpassed Walmart as the world's largest retailer by volume and revenue. Were it a province, Alibaba would be China's sixth largest economy.
Zhejiang's second city of Ningbo was in imperial times the designated port for trade missions from Japan. Today it is the world's second busiest port after Shanghai, with the two cities linked by a 35 km-long bridge across Hangzhou Bay. Ningbo is also the homeport of the navy's East Sea Fleet with China's largest concentration of naval forces, while the People's Liberation Army's Eastern Theater Command is headquartered at Jiangsu's capital Nanjing. It commands military operations in the East China Sea, including responsibility for Taiwan and the Diaoyu/Senkaku islands disputed with Japan.
Next up: The Southeast coast.
John Lee is a former visiting fellow of the Mercator Institute for China Studies. He tweets at @J_B_C16.