Abe, Putin Meet at G-20 as Disputed Northern Territories Recede Into Distance
Despite Japan's "new approach" to relations, Russia's position on the disputed islands has hardened.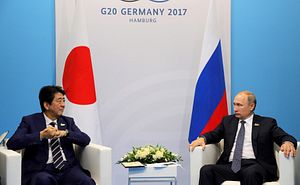 On July 7, Japanese Prime Minister Shinzo Abe met with his Russian President Vladimir Putin for an impressive 18th time. Occurring on the margins of the G-20 summit in Hamburg, Germany, the encounter was significantly delayed by the overrunning of the Russian leader's first meeting with U.S. President Donald Trump. Other than this, the talks seemed to proceed well, lasting around 50 minutes, including 15 minutes with only interpreters present. Subjects included the peace treaty issue, economic cooperation, and North Korea. The sides also looked forward to Abe's planned visit to Vladivostok in September to attend Russia's Eastern Economic Forum. Yet, despite positive appearances, recent developments highlight serious problems in the prime minister's "new approach" to Russia.
Announced in May 2016, the "new approach" consists of the Japanese government's use of frequent high-level contacts and an eight-point economic cooperation plan to promote a positive dynamic in bilateral relations. This is intended to create momentum toward resolving the countries' long-standing territorial dispute over the Northern Territories (known as the Southern Kurils in Russian). Another underlying aim is to encourage Russia to distance itself from China, thereby neutralizing the perceived threat of an emerging Sino-Russian united front against Japan. This became a more pressing concern after the Ukraine crisis of 2014 when Russia's international isolation left it relying more heavily on China.
Until now, the key achievement of the "new approach" has been the agreement to discuss joint economic activities on the disputed islands. This was the most noteworthy result of Putin's visit to Japan in December 2016, a controversial event given that it took place against the advice of then-U.S. President Barack Obama and while Russia remained under G-7 sanctions. The announcement on joint economic activities was claimed as a significant breakthrough because it was accompanied with the claim that these activities would be carried out under a special legal framework, and not under Russian law. This would enable Japanese entities to be active on the islands without tacitly acknowledging Russian sovereignty, thereby re-establishing a Japanese presence that had been extinguished when the original residents were expelled following the seizure of the islands by the Soviet Union after World War II. Optimists also regarded this agreement as an indication of Russian willingness to compromise on the issue of sovereignty, thus paving the way to an eventual system of joint administration over the islands.
Following this announcement in December, Japanese and Russian officials met in March to determine specific areas for cooperation, with emphasis placed on aquaculture, healthcare, and tourism. Subsequently, at the end of June, a Japanese delegation of business leaders and officials conducted a five-day survey visit of the disputed islands to identify concrete project sites. Hasegawa Eiichi, Abe's special adviser who headed the delegation, returned proclaiming "big potential for future development."
However, despite positive rhetoric from the Abe administration, the reality is that Russia's position has significantly hardened of late. Firstly, Moscow has begun to explicitly link the territorial dispute to wider security issues. Specifically, on June 1, Putin raised concerns that a transfer of the islands to Japanese control could mean that "tomorrow some [U.S.] bases or elements of missile defense will appear there, for us this is absolutely unacceptable." Showing that this was no isolated remark, on June 15 the Russian leader told journalists that, while joint activities with Japan on the islands were possible in principle, problems remained: "Namely, there are security issues, including in this region and regarding Japan's commitments to its allies. … Depending on how these issues are addressed, a final decision will be made [on joint economic activities]. At present, it is premature to say."
This demonstrates that, rather than economic cooperation serving to soften Russia's position, as intended by the Japanese side, it is rather the case that Russia is trying to use the territorial dispute as leverage over Japan on regional security issues. Specifically, Russia is making progress on the islands issue conditional on Japan distancing itself from its U.S. ally.
As if this were not discouraging enough, on the eve of Abe and Putin's G-20 meeting, Yury Trutnev, Russia's deputy prime minister, announced a plan for the disputed islands to be designated a priority development zone (TOR in Russian), which entails the use of preferential tax conditions and reduced administrative procedures to attract investment. This measure goes directly against Japan's hopes for joint economic activities since the zone would operate under Russian law and not a neutral legal framework. This would have the effect of excluding Japanese companies, who are not permitted to operate under Russian jurisdiction on the islands, while simultaneously attracting foreign investment, thereby further legitimizing Russian control over the territory. The intended message is clearly that, if Japan does not drop preconditions and move quickly to participate in the development of the islands, Russia is going to proceed without it.
Overall, although the latest Abe-Putin meeting resulted in an agreement to continue discussions of joint economic activities at the end of August, it is apparent that the main "success" of Abe's Russia policy has really proved a failure. As if faced by some type of optical illusion, it seems that the harder the Japanese leadership tries to move closer to the disputed islands, the further they recede into the distance.
James D.J. Brown is associate professor of Political Science at Temple University, Japan Campus.