Abe's Nordic Tour and Japan's Arctic Ambitions
Japan's Nordic diplomacy is falling behind China's outreach to Arctic countries.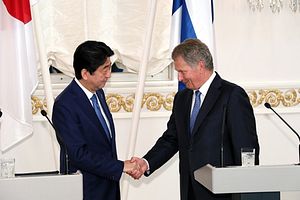 Earlier this week, after the G20 summit in Germany, Japanese Prime Minister Shinzo Abe was touring Europe to strengthen partnerships that Japan has long considered "exotic" – due to the difficulty that comes with conceptualizing how, practically, Japan can work with such geographically distant partners. Abe's visit was cut short by a day – he did not make it to Estonia, the last leg of his trip – due to the torrential rain affecting southwest Japan, but he did visit Sweden, Finland, and Denmark.
The focus of his visit was on North Korea's provocations and Arctic resources development.
In Sweden, Abe and Prime Minister Stefan Lofven demanded North Korea halt missile tests and pledged increased cooperation in the UN Security Council. Abe also condemned the April attack in central Stockholm, and said Japan and Sweden would work together to combat terrorism. Japan and Sweden are also looking to increase their bilateral trade ties as the two countries celebrate the 150th anniversary of diplomatic relations next year.
With Finnish President Sauli Niinisto, Abe expressed Japan's desire to play a greater role in the Arctic Council – a body Finland currently chairs and Japan has observer status in. Japan and Finland signed several agreements, including on developing environmental cooperation. Russia was also mentioned during their talks; Abe said, "We reaffirmed our close collaboration in our relationship with Russia," and congratulated Finland on its 100th anniversary of independence from Russia, a country with which Finland shares a 1,300 kilometer border.
On his final stop, Abe spoke to Danish Prime Minsiter Lars Lokke Rasmussen, affirming Japan and Denmark's cooperation in free trade and in resources development and research in the Arctic and Greenland. Rassmussen also strongly condemned North Korea's provocative acts, and affirmed the importance of China's role over North Korea's nuclear and missile development.
Japan is particularly interested in the Arctic due to the possibility of a Northeast Passage – a shipping route across the top of Russia and Siberia, which could shorten shipping routes from Asia to Europe by 10 days compared to traversing through the Panama Canal.
Commenting to Yale Environment 360, Jared Vineyard of Universal Cargo, which specializes in international shipping and logistics, remarked:
China and Russia have been working hard to take advantage of Arctic shipping. The aspirations of these countries to control and monetize Arctic routes are clear. Between Russia using their geographical advantage to claim control of the entire Northern Sea Route portion of the Northeast Passage and China already cutting through ice to send commercial ships through the Arctic, the U.S. could quickly be on the outside looking in.
Pretty much the same thing can be said of Japan; Abe has fallen behind China in this regard as well.
Before his first meeting with Donald Trump earlier this year, Chinese President Xi Jinping stopped over in Helsinki – a visit clearly meant to signal that, if Washington is going to increasingly turn inward with its "America First" doctrine, China's diplomatic focus will shift past the United States. During his April visit to Finland, the first by a Chinese president since 1995, Xi highlighted China and Europe's shared goals, which include combating man-made climate change, but are primarily about free trade.
China's economic clout is not only opening doors to Xi, but is also drawing leaders to China. Norwegian Prime Minister Erna Solberg visited China in April, the first such visit since China and Norway resumed ties in December. Relations between Oslo and Beijing had been frozen since jailed dissident Liu Xiaobo (who passed away earlier today from liver cancer) was awarded the Nobel Peace Prize in 2010. Discussion of human rights may be off the table for a while, as China continues to insist that "human rights" should not be used to interfere in their domestic politics and Norway caved to their largest trading partner in Asia. Norwegian companies, such as Marine Harvest and Grieg Seafood, had been having issues seeking to do business in China.
In early May, Xi met with Rassmussen in Beijing, and Xi affirmed the importance of strengthening the China-Denmark comprehensive strategic partnership. He also stressed that both sides should actively explore cooperation in the China-led One Belt, One Road imitative.
As geographically distant partners, Japan and China both have to work extra hard to woo the Nordic states. But as China's economy – and hold on Europe's commercial appetite – grows, Japan will have to become more creative in engaging with this group of countries.