Asia Growth on Track Despite Washington Worries
The IMF's latest World Economic Outlook Update remains bullish on Asia growth.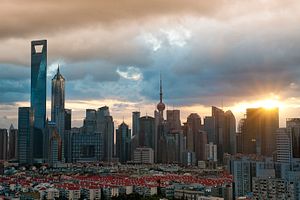 Asian growth has picked up speed as the global economy continues its slow recovery from the global financial crisis. However, with risks including China's financial sector, "Trumponomics," and growing protectionism, policymakers have been urged not to take their foot off the pedal.
In its latest "World Economic Outlook Update" for July, the International Monetary Fund (IMF) left unchanged its forecast for the world economy compared to its April projections, with global growth still projected to grow by 3.5 percent this year and 3.6 percent in 2018.
However, the unchanged forecast masked a downgrade for the world's biggest economy, the United States, with its gross domestic product (GDP) growth rate revised down from 2.3 percent to 2.1 percent this year and from 2.5 percent to 2.1 percent in 2018 on concerns over U.S. President Donald Trump and his administration's ability to deliver its promised fiscal boost.
"[U.S.] fiscal policy will be less expansionary than previously assumed, given the uncertainty about the timing and nature of U.S. fiscal policy changes. Market expectations of fiscal stimulus have also receded," the Washington-based institution said.
Yet the Eurozone enjoyed an upgrade, with GDP growth seen rising to an estimated 1.9 percent this year on the back of stronger domestic demand, even while Britain's outlook was revised down amid its negotiations to quit the bloc.
For Asia, India remains the region's fastest-growing major economy, although heavyweights China and Japan are both seen improving, along with the region's emerging economies.
China, the region's largest economy, is expected to post a repeat performance of last year's 6.7 percent expansion in 2017, dropping to 6.4 percent in 2018, up 0.1 percent and 0.2 percent respectively on the IMF's previous forecasts.
This year's upturn follows previous policy easing and supply-side reforms, while next year's improved projection reflects expectations that Beijing will delay further fiscal adjustment to meet its target of doubling 2010 real GDP by 2020.
However, the IMF warned that this delay could come "at the cost of further large increases in debt," increasing the risk of an abrupt growth slowdown with adverse spillovers to the rest of the region.
Japan is also expected to enjoy improved GDP growth in 2017 of 1.3 percent, up 0.1 percentage point on the April forecast, on the back of stronger private consumption, investment, and exports, although it is seen slowing to just 0.6 percent growth in 2018.
While India's growth forecasts were left unchanged, the South Asian powerhouse is expected to post GDP growth of 7.2 percent this year and 7.7 percent in 2018, outperforming the world's major economies. While demonetization has slowed India's economy, last year's 7.1 percent expansion was higher than anticipated, helped by strong government spending.
Elsewhere, emerging and developing Asia enjoyed a 0.1 percentage point growth upgrade, with expected GDP growth of 6.5 percent this year and next, while the "ASEAN-5" of Indonesia, Malaysia, the Philippines, Thailand, and Vietnam are expected to expand by 5.1 percent this year, up 0.1 percentage point, rising to 5.2 percent in 2018.
ADB: Exports Boost
The IMF's upgraded growth projections for Asia follow similar forecasts by the Asian Development Bank (ADB), which sees developing Asia benefiting from improved export demand.
On July 20, the ADB upgraded its growth outlook for the region from 5.7 percent to 5.9 percent for this year and from 5.7 percent to 5.8 percent for 2018.
"Developing Asia is off to a good start this year with improved exports pushing growth prospects for the rest of 2017," ADB chief economist Yasuyuki Sawada said. "Despite lingering uncertainties surrounding the strength of the global recovery, we feel that the region's economies are well-placed to face potential shocks to the outlook."
The ADB revised upward its projections for East Asia to a 6 percent expansion this year and 5.7 percent in 2018, compared to its previous forecasts of 5.8 percent and 5.6 percent, respectively. This followed upgrades for China, South Korea, and Taiwan, with the former seen growing by 6.7 percent this year and 6.4 percent in 2018, while South Korea is expected to expand by 2.7 percent for this year and next and Taiwan by 2 percent and 2.2 percent, respectively.
Japan's outlook was also upgraded to 1.1 percent GDP growth this year and 0.9 percent in 2018, helped by stronger exports and improved business sentiment.
However, the ADB suggested South Asia would remain the region's fastest growing area, with growth on track to reach 7 percent this year and 7.2 percent in 2018. This is primarily due to India's continued expansion, rising by 7.4 percent in 2017 and 7.6 percent next year, following strong consumption growth, the Manila-based institution said.
Southeast Asia is also seen expanding by 4.8 percent this year and 5 percent in 2018, with accelerating growth for Malaysia, the Philippines, and Singapore, it said.
Risks Ahead
Nevertheless, the IMF pointed to growing medium-term risks for the world economy, including threats from Trumponomics, Brexit, and other geopolitical risks; financial tensions such as excessive credit growth in China and the effects of the U.S. Federal Reserve's monetary tightening; and "inward-looking policies" such as protectionism that could lower global productivity and disrupt supply chains.
Non-economic factors such as rising geopolitical tensions, domestic political discord, and shocks from weak governance and corruption could also weigh on economic activity, the Fund said.
Policymakers could improve the outlook by continuing fiscal support "in advanced economies where demand is still lacking and inflation too low," while elsewhere monetary policy "should normalize gradually," the IMF said.
"Countries in need of fiscal consolidation should do so with growth-friendly measures. Emerging market economies should continue to allow exchange rates to buffer shocks, wherever possible," it said.
The IMF also urged efforts to "accelerate private-sector balance sheet repair and ensure sustainability of public debt," as well as "well-sequenced and tailored structural reforms" to boost productivity, narrow gender gaps and aid "those hurt by shifts in technology or trade."
In a warning against protectionism, the Fund said the "pursuit of zero-sum policies can only end by hurting all countries, as history shows."
"Because national policies inevitably interact and create spillovers across countries, the world economy works far better for all when policymakers engage in regular dialogue and work within agreed mechanisms to resolve disagreements. A rule-based and open world trading system is especially vital for global prosperity, but it must be supported by domestic policies to facilitate adjustment, not only to trade but to rapid technological change," it said.
Commenting on the latest global growth forecasts, Capital Economics said world growth "almost certainly picked up a bit in [the second quarter]. We expect it to remain fairly rapid for the next year or two, even as China's economy loses steam."
The London-based economic consultancy said the U.S. economy should produce a "decent" 2.2 percent expansion in 2017, up from 1.5 percent last year, due to a broadening recovery, while it described the outlook for the Eurozone as "brighter than it has been for some time."
For China, it said its "China Activity Proxy" suggested GDP growth of 6.4 percent in the second quarter, only slightly below the official rate of 6.9 percent.
"However, this strength is unlikely to last. Official efforts to contain financial risks have already driven a slowdown in credit growth, which will weigh on economic growth in the second half of this year," it said.
Nevertheless, with improved growth in the advanced economies, it sees global growth averaging 3.3 percent in the next year or two.
"While lower than during the pre-crisis years, this would still be an improvement on 2016," it added.
For Asia, building on the improved momentum should keep policymakers busy for the remainder of 2017, as the globe continues its slow but steady recovery.