Can Chiang Mai Avoid the Environmental Costs of Development?
An uncompromising push for development has come at heavy price.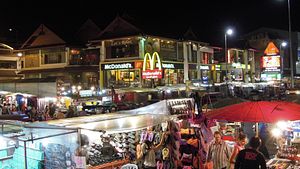 Chiang Mai is a city in a hurry.
Like so many second-line cities, northern Thailand's largest city has been taking rapid strides toward a changing panorama. Its roads are chock-full of fast cars while the city brims with street food hawkers and stupas – an intertwining of tradition and avant-gardism. This week, Chiang Mai came in third place in the New York-based Travel + Leisure magazine's list of the World's Top 15 Cities.
In Chiang Mai, per capita gross domestic product (GDP) has increased from 55,833 to 80,915.23 baht ($1660 to $2410) in less than a decade. A more affluent Chiang Mai has seen ownership of private cars, lorries, and vans grow by 53 percent between 2010 and 2015. A master plan to promote the city as an international meetings, incentives, conferences, and exhibitions (MICE) destination has entered its final phase.
There is, however, an all-too-familiar flipside to this narrative.
During this year's dry season, the Disaster Prevention and Mitigation Center mobilized specialized vehicles to spray water into the air in a bid to alleviate dusty air conditions.
In a 2012 study by Yuming Guo, Kornwipa Punnasiri, and Shilu Tong in Environmental Health, considerable warming of the once-pristine city has been linked to an increased risk of mortality. The Meteorological Department of Thailand has noted an ambient temperature increase by 1 degree Celsius in just 30 years. During morning rush hours, Chiang Mai sees an upsurge in harmful airborne particulate matter well above national ambient air quality standards. Public hospitals are overwhelmed with patients needing treatment for respiratory illness. In Chiang Mai, we find one of Thailand's highest rates of lung cancer.
These consequences are, often, considered part and parcel of growth – underpinned by avowals that fiscal paybacks will far outweigh collateral public health costs. This is too simplistic a defense; no city can survive at this rate.
In a perennial ­clash of outlooks – whether to pursue a better life or a cleaner environment, a small village in northeastern Chiang Mai demonstrates that the notions are not antithetical.
The Ban Mae Kampong, a mountainous community two hours from the city, is home to a population of just 418. The village introduced community-based eco-tourism in 1999 to serve as an alternate source of revenue arising from a falling demand for miang – fermented tea leaves, the sales of which continue to form a major income source for villagers.
Residents in the host community fully embrace this initiative. Every day, households open their doors to facilitate home stays, and villagers play an active role in developing and managing eco-tourism activities. A proportion of income from eco-tourism goes to a village cooperative account that funds hydropower to provide the village electricity at low cost, as well as to bolster funding for education and healthcare.
While multifarious and 1.7 million-strong Chiang Mai cannot be likened to a small village, the Ban Mae Kampong's experience with sustainable development points to an important lesson – a better life need not come at adverse environmental cost.
It is a hopeful sign that the Chiang Mai Municipality has worked with the Global Environment Facility to promote the use of non-motorized transport. The coverage of roads with bicycle lanes has more than doubled, while annual Bike Festivals encourage cycling in lieu of driving. Last month, the Nakorn Lanna Cooperative announced that the city will see 450 new electric tuk-tuks on its roads next year. A Chiang Mai mass rapid transport system is also in the works.
While this is a step in the right direction, there is little doubt that more can be done.
Among the more devastating, and inadequately tackled, causes of worsening air pollution in Chiang Mai is the open burning of corn farms. Spurred by a high demand for corn – a cash crop that can be planted several times within a season – many farmers consider burning as a low-cost means of achieving a faster turnover to increase corn supply.
The resulting smog has spurred action from abroad; in 2015, Singapore defense forces mobilized 50 personnel and two Chinook helicopters to assist in putting out forest fires after a request from the Thai government. Active measures to deter forest burning, and bring to bear conglomerates that incentivize it, are in order.
Spraying water into the air to alleviate dusty conditions, as was done this year, is ­a trivial solution to a multifaceted threat. Chiang Mai is one of the world's best cities. It is time for local governments and urban planners to ensure it remains so.
Sunil Nambiar researches on water policy at the Institute of Water Policy in the Lee Kuan Yew School of Public Policy, Singapore.