China's Women's National Lacrosse Team: The Future of Chinese Sports
Without state backing or public attention, the team has made its first-ever World Cup.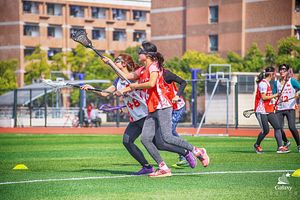 Later this month, the Chinese women's national lacrosse team will make its first ever appearance at the Women's Lacrosse World Cup in Guildford, England, taking on teams representing Belgium, the Czech Republic, Israel, and the Netherlands. As a rookie team, China is unlikely to finish at the top of this year's tournament; nonetheless competing on the world stage presents a tremendous opportunity for the nation.
Contrary to the widespread attention China's Olympic athletes receive, few Chinese nationals are even aware that a women's national lacrosse team exists. While lacrosse has been played in Beijing since the 1990s, the sport remains unheard of to the average Chinese citizen. In fact, the Chinese term for lacrosse, 棍网球 (gun wang qiu) is as foreign to most Chinese as its English name.
A Chinese women's team was established in 2013 and since then has played in a number of international tournaments throughout the Asia-Pacific region. The team that will be competing in the upcoming World Cup is not made up of professionally trained athletes, but rather, a geographically diverse group of university students and young women with full-time jobs. Team China's organizing committee is composed of both local Chinese and expatriate volunteers, including coaches Morgan Banaszek (American) and Jesse Porter (Canadian).
With scarce financial resources, next to no domestic competition, and little public awareness of the sport in China, the development of the women's national team has been challenging. Despite China's history of using its success in international sports as a tool to gain international respect and rid itself of the lingering memory of national humiliation, lacrosse has not been included in China's state-sponsored sports system. Instead, the sport has been developed entirely at the grassroots level in China.
The lack of government involvement in the sport does come as a surprise to many. However, it was precisely the pursuit of international prestige that prompted China to initiate its Olympic strategy in the mid-1980s. The purpose of the strategy was to maximize the nation's success in international sports, with winning Olympic gold medals as the highest goal. Consequently, from 1986 on, the government has devoted its human and financial resources to target Olympic sports such as shooting, weightlifting, and diving. Non-Olympic sports, like lacrosse, are generally overlooked. Thus, despite the fact that the Chinese women's national team will be representing its country at the highest level of international competition for lacrosse, the team has been excluded from government sponsorship.
Nevertheless, owing to its spectacular economic growth over the past 30 years, China is now well positioned to devote financial resources to non-Olympic sports programs without sacrificing its performance in targeted Olympic sports. Just as China has drawn upon the international achievements of its women's volleyball and women's soccer teams to earn international prestige in past decades, women's lacrosse could pave the way for China's future success in international sports. By ignoring its women's lacrosse national team, China is missing an incredible opportunity to succeed on the international stage.
Although it is unlikely that a young Chinese team would outperform lacrosse powerhouses such as the United States and Canada, in five years time, China could be a strong competitor at the international level. Furthermore, the Federation of International Lacrosse is optimistic that lacrosse will once again be recognized as an Olympic sport in the near future. Men's lacrosse was an Olympic sport in 1904 and 1908 and a demonstration sport in the 1928, 1932, and 1948 Olympics. If China waits until lacrosse becomes an Olympic event to provide the program with funding, it is unlikely the team would qualify in the first year. This is not to say that adopting lacrosse into China's widely criticized state-sponsored sports system is necessarily the best move; however, the program could benefit immensely from some form of government support.
China's women have tremendous potential to flourish in international lacrosse, but without sufficient resources, their success will be stunted. The Chinese women's debut performance at the World Cup is a crucial opportunity to increase public awareness of the sport back home and demonstrate to its government that this is a sport worth investing in. Regardless of the outcome of this year's tournament, the world should be on the lookout for the rise of women's lacrosse in China.
Maguire Padley has an MA in International Studies from Johns Hopkins University and Nanjing University. She also manages the Chinese women's national lacrosse team.