Fixing Afghanistan's Struggling Security Forces
To make the ANDSF an effective force, there needs to be some drastic changes.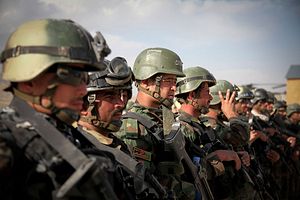 In order to prevent the increasingly damaging deadly suicide attacks in the Afghan capital and across the country, reduce the unsustainable battlefield casualties of the Afghan National Defense and Security Forces (ANDSF), and reverse insurgents' unprecedented territorial gains, Kabul and Washington must rethink their current strategy and address inherent problems in their approach to building the ANDSF. Time has proven that restricting the U.S.-led foreign troops' role to training and advising in building a professional ANDSF has failed to produce the desired outcome, and ignoring the need to invest in and revitalize the Afghan intelligence agency – the National Directorate of Security (NDS) – has been a costly mistake.
Therefore, rather than solely concentrating on short-term fixes, the Trump administrations and the Afghan government must look for lasting solutions and prioritize reforming the neglected NDS and jointly embark on depoliticizing the ANDSF.
Purging the ANDSF
Right now, due to deeply entrenched patronage networks, catastrophic but prevalent nepotism, and rampant ethnic favoritism, endemic corruption and poor leadership are haunting ANDSF institutions and ruining the Afghan forces' capabilities. Tales of commanders stealing fuel, food, and even weapons are widespread, as are the stories of incompetent commanders failing to lead or at least stay with their soldiers during hard times.
Therefore, to prevent political meddling and clientelistic practices in ANDSF institutions, purge it of inept and corrupt elements, and make the ANDSF a professional, apolitical, and impartial national force, the Afghan government must once again allow its allies – as it did in the formation of the President Protective Service (PPS) – to handle ANDSF recruitment, promotions, and nominations for leadership positions.
The current condition of the ANDSF is not different from early days of the personal protection team of the Afghan president, now known as the PPS. Back in 2002, the American security advisers for Presidential Palace realized that unless they took charge of building the PPS, their training and advisory role in establishing a viable protective agency would not have the desired outcome. After reporting their concerns to the former Afghan president and receiving permission, they took control of recruiting, training, and structuring the PPS. That way, the Americans were able to make PPS a diverse, depoliticized and highly competitive protective agency where ordinary but talented Afghans were able to shine and occupy key positions.
The new U.S. administration and the Afghan government must once again agree on a similar arrangement and allow the NATO-led Resolute Support (RS) mission to fix the struggling ANDSF. Foreign troops are the best source for institutionalizing merit-based recruitment and promotion in the Afghan defense and security sector, and a viable option for depoliticizing the ANDSF. This, however, shouldn't sound odd to anyone; the coalition forces are not only already heavily involved in training, advising, and equipping the ANDSF, but also as experts with on-the-ground experience, they know very well the potential ANDSF leaders to fill the current void.
To successfully implement this, RS mentors and advisers must expand their presence and try to reach out to all Afghan National Army (ANA) and the Afghan National Police (ANP) units deployed across the country, and start interacting with the mid- and low-level officers as well as soldiers. The current approach of restricting themselves to the "ministerial and Army Corps level" has proven to be ineffective both in fighting corruption and in spotting incompetent commanders. Although such a move would increase the probability of insider attacks – incidents in which Afghan soldiers or policemen turn their guns on coalition forces  – making the visiting ANA and ANP unit commanders responsible for the safety and security of foreign troops should minimize the risk. If an ANDSF commander does not know about potential enemy infiltrators in his unit, he does not deserve to be leading a unit.
The American and NATO mentors must also encourage whistle blowing within the ANDSF and establish a mechanism to protect whistle-blowers from repercussions to fight corruption and other abusive practices. They need to also challenge and change a deeply embedded tradition in the Afghan armed forces' domestic training; under the guise of disciplining service members, Afghan officers traditionally pressure low-ranking members and soldiers to the extent of demoralization. That is why Afghan soldiers and police do not dare to question and are less likely to stop high-ranking officials vehicles or other cars similar to those of the top brass at the checkpoints – an unintended consequence of wrong training often exploited by the terrorist groups and criminal networks to easily pass through security checkpoints.
Meanwhile, the leadership of the Afghan government must also stand against political meddling in ANDSF institutions and strongly reject political recommendations for promotions or transfer of ANDSF officials. All such recommendations should be filed against the named ANDSF officials. The government leadership also needs to reassess their current approach of limiting their interactions to video conference calls with ANA and ANP's high-ranking officials and regional commanders, who are less likely to provide a honest assessment of the situation on the ground and or confess their own ineptness and embezzlements.
And finally, the Afghan government must make its high-ranking defense and security officials and commanders vulnerable and prone, as ordinary Afghans and soldiers are, to enemy attacks for two main reasons: to make them vigilant, and to prevent misuse of ANDSF resources. Right now, a considerable amount of highly scarce and much-needed ANDSF resources are wasted in the service and protection of those who are employed to protect the people and the country. Most of these officials and commanders have turned their houses and offices into small fortresses with reinforced concrete blast walls and guard towers. While on the road, they have 360-degree protection inside their bulletproof vehicles and an added layer of safety provided by their artillery mounted pick-up trucks' escort – not to mention the number of security personnel and government vehicles serving and guarding their immediate family members. These fortresses and heavily armed motorcades inside the capital Kabul and other main cities not only haunt and torture ordinary Afghans psychologically, but also create lots of other problems such as traffic jams, road blockades, and other intimidating obstacles and practices that make daily life a misery for commoners.
Revitalizing the Neglected NDS 
Equally important is NDS revitalization and reform. Overwhelmed with the need for local fighting force in their "war on terror" campaign in Afghanistan, the Bush and the Obama administrations overlooked the importance of the indigenous intelligence agency – the NDS – and hedged their bets on building the Afghan army and police force. History has proven that ignoring NDS was a deadly mistake. Not only have ordinary Afghans and ANDSF been bleeding largely due to intelligence failures, but also insurgents' surprise assaults and deadly suicide attacks have been badly hurting the popularity of an already struggling Afghan government.
To mitigate threats and prevent further damages and losses, NDS reform and capacity building must be a key component of the new American policy for Afghanistan. The United States and its NATO allies need a vigilant, proactive, and formidable Afghan intelligence force to minimize ANDSF's vulnerabilities and to thwart insurgents' deadly suicide attacks against soft and hard targets in Afghanistan. The following measures would help revitalize the forgotten NDS.
First of all, to upgrade, diversify, and depoliticize the agency's human capital, NDS needs a transparent, systematic and open to all – online – recruitment policy and procedure. Right now, due to a highly flawed and restrictive recruitment method, it is almost impossible to join NDS without an affiliation, no matter how highly educated and or talented one is. The agency is haunted by the practice of closely guarding its job application forms. Only individuals with links to influential people or current NDS officials can get one, which provides opportunities for nepotism, ethnic favoritism, and preferential treatments.
Second, illiterate and unqualified individuals from the rank and file of the NDS should be removed through an impartial audit and merit-based requalification tests. To fill the gap, minimize the agency's drastic dependence on pen and paper as the primary means of communication and exchange, and boost its capacity with a highly educated new generation who knows the language and technologies of the modern world, a nationwide campaign should be launched to indiscriminately recruit the young Afghan Fulbrighters, Chevening scholars, and recipients of various other scholarships from different countries around the globe, as well as top local graduates.
Third, the United States and NATO allies must also help with the latest training, modern equipment, and structural reform. A structural overhaul to replace the old Soviet era arrangements of the NDS, which the agency has inherited from its predecessor, is a must to make the agency compatible with the modern world and ready to address threats emanating form highly adaptable terrorist organizations and foreign adversaries.
Fourth, pay reform; in its current range, an NDS salary is almost a starvation wage, making employees prone to favors and corruption. Right now, the average NDS salary is a tiny fraction of what international organizations, NGOs, foreign embassies, and the private sector pay to their employees in Afghanistan. In addition to minimizing embezzlement pretexts, pay raise would also help attract highly competent applicants.
And last, to further decrease the probability of insider attacks against RS personnel working with the ANDSF, the authority of the NDS should be extended to oversee ANA and ANP recruitment and to establish a permanent presence in all ANDSF units deployed across the country. In addition to minimizing the possibility of enemy infiltration in the armed forces, doing so would also help in monitoring and reporting misuse of resources and all sorts of abuses to the leadership of the Afghan government.
Depoliticizing ANDSF institutions and revitalizing the neglected NDS are the only viable options to strategically turn the tide of the battle in the Afghan war theater, save American treasure and Afghan blood, and convince Pakistan that its terror proxies cannot overthrow the democratic Afghan regime. Otherwise, no matter how many extra coalition troops the United States and its NATO allies pour into Afghanistan, it will only achieve short-term tactical advantages that would once again evaporate with the drawdown of foreign forces.
Ghulam Farooq Mujaddidi is a protective security expert, Fulbright scholar, and independent researcher. His research interests extend from state-building challenges in war-torn countries to insurgency and suicide attacks, with a particular focus on Afghanistan.