Learning From South Korea's Energy Breakthrough
Public pressure is helping move South Korea away from coal and toward renewable energy.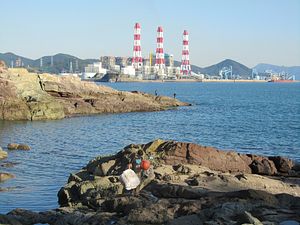 At the G20 meeting last week in Hamburg, I witnessed a significant and positive turning point in the battle against climate change. Even as the world's biggest contributor to greenhouse gas emissions chose to stand on the sidelines, the other 19 countries — urged on by people power — pulled together and reaffirmed their commitment to the hard-won Paris Agreement.
As Greenpeace activists scaled a local bridge, the newly-dubbed G19 nations stood united against a now-isolated U.S. President Donald Trump. Their final joint communique labelled the historic Paris climate deal as "irreversible" and reaffirmed a shared commitment to push forward toward a low-carbon future. More than just a rebuttal of Trump's attempts to ignore the unfolding climate crisis, the move highlights the growing importance of the role other nations can and must play to keep the momentum going.
To put their words into action, the G20 must now accelerate the global clean energy transition and set sail from Hamburg with an agenda of change. I'm in South Korea this week to see what's possible and to witness firsthand how people power has the ability to radically change national agendas and inspire global change.
It's been a busy few weeks on the Korean peninsula. Just last month, the country's new President Moon Jae-in promised to scrap existing plans for new nuclear plants, not extend the life of existing ones, shut down ten old coal power plants, and cancel new coal projects. This watershed moment marks the first major new international commitment away from coal since Trump announced his decision to pull out of the Paris plan. By putting "safety and the environment" at the top of the agenda, Moon is responding to a wave of people power that has radically altered the political landscape and now heralds a brighter future for all South Koreans.
The country currently has the highest concentration of nuclear reactors in the world: 25 operating, with 11 additional units planned or under construction. South Korea also has 59 coal-fired units, with five more under construction and nine new projects in the works. Giving that all up is a huge leap forward, and the story of this remarkable energy turnaround is one of ordinary citizens and campaign groups uniting to demand positive change.
Although active since the 1990s, the grassroots movement in South Korea gained traction in 2011 following the Fukushima Daiichi nuclear disaster in Japan, which shocked ordinary citizens. It was a "too close to home" glimpse of what can go wrong barely 100 kilometers from the peninsula. Then on September 12, 2016, the strongest-ever earthquake in South Korea was recorded at Gyeongju, a mere 30 and 50 kilometers away from the Wolsong and Shin Kori nuclear power plants, respectively.
New reactors for the Kori cluster had been approved earlier that summer, but the earthquake made clear the fact that most of these reactors were built within the dangerous vicinity of multiple faultlines, and were very likely not capable of withstanding an earthquake of higher magnitude. Greenpeace filed a class-action lawsuit against the permits for Shin Kori 5 and 6 with the help of over 500 South Korean citizen plaintiffs on that same day.
In October 2016, serious allegations of corruption surfaced against then-President Park Geun-hye. Candlelight vigils calling for change grew in size and intensity — from an estimated 20,000 in October up to 1.5 million in Gwanghwamun Square in the center of Seoul in December. These were the biggest protests South Korea has ever seen, organized by more than 1,500 voluntary-based civic groups. Incredibly regular and peaceful, they led directly to an impeachment, and later the investigation and jailing of Park for corruption.
The ensuing election campaign took place amid a backdrop of record levels of air pollution. Particulate pollution in Seoul grew so bad that the city was ranked second-most polluted globally, behind only New Delhi, one day in March. Decades of coal-heavy, now-outdated energy policy under previous governments became intricately linked with health concerns, and a daily frustration for voters – especially families with young children. Anti-coal groups including Greenpeace mobilized against one of the biggest coal power plants in the world: Dangjin. And this time, perhaps for the first time, presidential candidates across liberal and conservative parties listened to their concerns.
South Korea's energy transition still faces a long road ahead, both for this government and the ones to follow, but it will set South Korea up to compete in clean technology in the future and promises immeasurable improvements for the health and safety of the country's 50 million people. Alongside this new direction in energy policy comes a fresh willingness to engage with North Korea over its weapons tests – a fitting time for dialogue given the recent vote at the United Nations by the world's non-nuclear nations to ban all nuclear weapons outright.
Both these breakthroughs show what countries like South Korea can achieve even when others, like the United States, seem unwilling to play a leadership role and work cooperatively. Public support and public pressure will continue to be key, providing Moon with the necessary backing to make these difficult tasks possible. With the people setting the agenda, countries like South Korea are poised to make a positive impact both within and, crucially, beyond their borders.
Jennifer Morgan, together with Bunny McDiarmid, is the Executive Director of Greenpeace International. Jennifer Morgan spoke at Ewha Womans University in Seoul on July 12 as part of a wider trip to South Korea to engage with leaders on energy, renewables, and nuclear non-proliferation.