South Korea's Brain Drain
Why so many young South Koreans think of their country as "hell."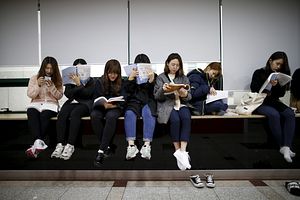 When Moon Jae-in became South Korea's president last May, he inherited a divided country, and that's not just referring to the physical demarcation of the Demilitarized Zone (DMZ), which has split the Korean peninsula since 1953. South Koreans themselves are fragmented and increasingly pessimistic about the future.
At first glance, these problems seem hidden beneath the country's remarkable achievements. Over the past 70 years, South Korea has developed into one of the world's largest economies, despite lacking natural resources and facing continuous threats from the North. Thirty years ago, South Koreans achieved a (mostly) peaceful transition from dictatorship to democracy and have emerged as a regional leader in Asia and a competent "middle power" nation.
Today, South Korea can boast the fastest internet and longest life expectancy in the world. It is a country where you can walk alone at night in nearly any neighborhood without feeling threatened. Its culture of quick, friendly customer service and its comprehensive public transportation systems make it one of the most convenient countries in the world.
Korean pop culture is the envy of Asia, from its tear-jerking melodramas and films to its sadistically sugary K-pop music. Korean students are among the highest performing in the world; Korean companies like Hyundai and Samsung are global leaders in their fields; and next year the country will host the Olympics for the second time. The national healthcare system is inexpensive and effective, and their high tech hospitals have become a new center for medical tourism. And when Koreans unwind, they do so with unparalleled vigor. HiteJinro, a company specializing in the Korean rice-based liquor, soju, is the world's best-selling spirits brand.
But beneath this veneer of "Gangnam Style" glitz and first-world efficiency lies a different story. Ask most Seoulites in their 20s and 30s about living in Korea, and you're likely to hear a litany of complaints. This trait is especially acute in the country's highly educated youths, particularly amongst those who have worked or studied abroad.
The 2016 IMD World Talent report ranked South Korea 46th out of 61 countries on its Brain Drain Index, placing it below less developed nations like India and the Philippines. The same report listed South Korea 47th countries on quality of life, and a pitiful 59th on worker motivation.
In recent years, young South Koreans have begun referring to the country as "Hell Chosun," a reference to the Chosun Dynasty that lasted on the peninsula for 500 years, until the late 19th century. While "hell" is certainly hyperbole, if not outright offensive to those who live in war zones and abject poverty, the emergence of this phrase provides insight into Korean youths' perceptions of their society.
Heo Seung-hee left South Korea in 2011 and now works as a registered nurse in Sydney, Australia. Before emigrating, she was employed at one of the most prestigious hospitals in Seoul.
"My strongest motivation to leave was the work culture," she said. "There was really bad corruption. The doctors and nurses only get jobs because they graduated from a specific university or knew the right people."
This idea of earning the right credentials and making the right contacts is drilled in from an early age. South Korea places enormous pressure on its youth. From elementary school onward, most students must attend an array of extracurricular cram schools to help them outpace their peers, often working late into the night to complete their assignments. These years of effort have only one goal: to prepare them for the ultra-competitive and life-defining college entrance exam.
After a brief stint of soju-infused bonding at university, the men are sent off for around two years of national service, usually in the military or police. Later, when they begin to look for work, Koreans of both genders must slog through months or years of part time jobs, unpaid internships, and qualifying exams just to enter a workforce that is conservative, as hierarchical as the military, and dominated by men.
"There was really bad gender discrimination," said Heo. "Anyone that was male would ask me to bring them coffee. When we went to a hoesik [a company dinner], I had to sit next to them and pour alcohol for them. I felt uncomfortable, but it was a very common practice."
Low wages in a country where living costs have risen precipitously also add to the burden of the youth. In order to survive on their meager earnings, many South Koreans live with their parents until they get married. Even after starting their own families, the obligation to fulfill filial duties is a deeply ingrained societal restraint that can force people into careers and relationships that they find deeply unsatisfying. A culture of conformity and respect for authority (which is often based on age, rather than qualification) can give the feeling of entrapment under an endless array of shifting responsibilities. This sense of helplessness has resulted in South Korea having the highest suicide rate in the OECD.
Seoul native Heo Minyoung (no relation) attended university in the United States before completing her Ph.D. in biophysics in France. Today she lives in Paris.
"People in Europe respect the balance between work, free time, and family time. Koreans don't really respect that," she said. "You don't want to be sticking out. You just want to be in the flow. If you stick out, you won't be happy in Korea."
On top of these personal pressures, there is a sense that the social contract has been broken and the system stacked in the interests of the powerful. As the outpouring of frustration against former President Park Geun-hye illustrated earlier this year, South Koreans are fed up with what they view as endemic corruption between the government and the seemingly omnipotent conglomerates. With democratization, Koreans had hoped that the rampant cronyism of the country's post-war boom decades would become a thing of the past. As this recent scandal showed, the problem had only become more deeply embedded.
The Millennial generation in South Korea grew up with different expectations than their parents and grandparents. As the country developed, everyone was guaranteed a steady, if difficult and perhaps menial, job. By contrast, today's youth have no such guarantees and wouldn't likely take such a job if they were offered it. No one wants to study every waking hour of their childhood just to work in the same factory that their parents did 40 years ago. They want well-paying, white collar jobs, and just as in other developed countries, there aren't enough of those jobs to go around.
On top of all this, South Korea's air quality has rapidly deteriorated in recent years, and in this health conscious country, Koreans are increasingly frustrated about the government's lackadaisical response to the problem.
Since coming to power, President Moon has taken steps to address some of these issues. For the moment, he enjoys broad support and has pledged to end the corrupt practices that toppled the previous administration. He has promised to dramatically increase public sector jobs and shut down ten of the country's coal power plants. So far, his cabinet includes four women, twice as many as the previous administration.
But once this honeymoon period is over, Moon will be forced to make some difficult decisions. Today, South Korea's challenges include dealing with North Korea's nuclear and missile programs, managing a sluggish economy overly reliant on fickle export markets, and boosting one of the lowest birthrates in the world. The overseas flight of its brightest young minds will only make these problems more intractable.
And yet the country has overcome greater hardships before. What remains to be seen is whether the new president can restore confidence in Korea's institutions while making his country optimistic again. It is a tall order.
According to South Korean émigré Heo Seung-hee, "If the country changes what it values, it would be great [to return]. The way people think is the reason why I left. That is something the government cannot fix."
Ben Forney is a research associate at the Asan Institute for Policy Studies, a foreign policy think tank in Seoul.