What Will New Russian Tanks Mean for Vietnam's Military?
A deeper dive into a much-anticipated acquisition.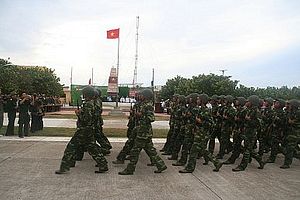 After years of rumors and waves of expectations, it has finally been confirmed that Vietnam is going to acquire a total of 64 T-90 main-battle tanks from Russia in two variants: the export version T-90S and the commanding version T-90SK. This move officially marks the biggest modernization effort of the Vietnam's army since the end of the Vietnam War and it is expected to help enhance the force's capabilities and combat readiness.
Information about new arms acquisitions in Vietnam is hard to track and verify. In the case of the T-90s, there have been rumors over the past years in several defense-related blogs and newspapers regarding the possibility for the Vietnam People's Ground Forces (VPGF) to obtain the new tanks.
These rumors were based on various speeches, speculations and statements delivered by Russian defense analysts and contractors. They were also drawn from other developments, including Vietnamese military officials' compliments on the T-90 tank, the purchase of the KZKT-7248 heavy tank tractor (which was said to be preparation for the arrival of a totally new type of tank), and the confirmation of Uralvagonzavod that Hanoi was in negotiation with them for a contract of the tanks back in 2016. Back in 2015, Colonel General Vo Van Tuan, the Vietnam's People Army's chief of staff, had also said that the ground forces will become the next focus of defense modernization.
For defense observers, rumors can be either an indicator of possible new contracts or merely a distraction, especially in countries lacking transparent acquisition procedures. Fortunately, the rumors relating to T-90s in Vietnam ended up taking the form of the former. At the sidelines of MAKS 2017 in the outskirts of Moscow, the head of Russian arm exporter Rosoboronexport, Alexander Mikheev, officially confirmed that Vietnam would receive the new tanks with the aid of Russian export credit. Earlier, on July 4, Uralvagonzavod published the final report on its activities for 2016, in which Vietnam was included with the 64 T-90 tanks (though the report was subsequently removed from the company's website).
As mentioned earlier, this contract would be the biggest effort to modernize the VPGF in decades. Since 2009, the other two branches of the military, the Air Force and the Navy, have been catching the eye of most defense analysts because of their rapid modernization and upgrades. This is the result of rising security uncertainties and the potential for conflict in the maritime domain surrounding the country.
In contrast, the VPGF's modernization has been late and slow-paced. That stems from two main rationales: (1) low threat perceptions – or, more specifically, little worry that there would be an imminent invasion or large-scaled border incursion from either the northern border with China or the southwestern border with Cambodia and; (2) the lack of resources for comprehensive modernization that could benefit all major branches of the military.
The decision to purchase a whole new batch of T-90 main battle tanks, considered one of the most modern third-generation tanks currently being commissioned, is definitely based on careful consideration of the VPGF's means and ends, and its doctrine more generally. The principle of this doctrine, in essence, is to construct a modern and powerful armored force capable of maneuvering within various formations of integrated tactical offensive or defensive missions. But first, this armored force has to be able to survive any surgical or preemptive strikes from potential enemies.
Modern warfare, especially from the First Gulf War on, has been largely characterized by advanced technologies and the skillful command and control of an integrated force, where each component of that force is tasked with different but coordinated tactical and strategic missions. As illustrated in Afghanistan and Iraq, the attackers – in this case, Coalition forces led by the United States – usually possess more formidable and deadly firepower, with the deployment of highly advanced long-range missiles, a sophisticated C4ISR network and a nearly invincible and overwhelming air force. In general, speed, accuracy, lethality and efficient of weapons have been drastically increased.
Supported by destructive long-range surgical strikes, enemy armored forces gathering not too far from the border or from the battlefield could be quickly called into battle through airlifts, trains, or amphibious ships. These forces, which normally comprise hundreds of tanks, armored vehicles, and self-propelled artillery platforms put into an integrated formation with air power and are supported by both short-range and medium-range artillery firepower, can easily break through any defensive lines. They then become major offensive strike forces, with high mobility, continuing to fulfill other tactical tasks such as occupying important towns and cities and creating defensive strongholds. These kinds of campaign often last from several days to around three months.
With that scenario in mind, the VPGF considers anti-tank warfare part of a bigger and more comprehensive asymmetric defensive plan scheme, in which using tanks versus tanks is one essential tactical component (besides others like long-rang anti-tank firepower, anti-tank mines and other man-portable anti-tank systems).
It is worth noting that this "tanks versus tanks" notion is not similar to that from the World War II era where large-scaled battle including thousands of tanks alone facing each other in a single battle (like the famous Battles of Kursk in 1943, for example). Because most of the Vietnamese tanks currently in service are old and back from the Vietnam War era, a common tactic would be relying on terrain (three-quarters of Vietnam's topography is mountainous covered by tropical forests) to launch ambushes when enemies are maneuvering or preparing to attack. According to one estimate often cited by Vietnamese defense experts, tanks and other self-propelled artillery platforms in close-ranged combat would help cover 20 percent of all anti-tank missions in the battlefield.
Moreover, experiences from the two Gulf Wars show that tanks and other armored units have to be protected by strong anti-air regiments by either coordinating with the Air Force or by using portable anti-air missiles (the VPGF has not created its own branch of air-defense but coordinated with the Vietnam's People Air Force to include air-defense regiments in the battle formations).
The purchase of 64 T-90 main battle tanks in two different variants serves to offset several weaknesses that have affected the VPGF's tank force for years. For the first time in history, the VPGF will have in its service a third generation type of tank that is truly embedded with a high level of technology suitable for modern warfare. Older type of tanks, whether it be the legendary T-54/55 or the T-62 which are currently the most modern tanks in the VPGF service, were created for warfare in old era when smart weapons and precision strikes were merely the stuff of fiction fiction.
In contrast, the T-90 main battle tank possesses better firepower including night-time targeting capabilities, an upgraded fire control system, and laser rangefinder/designator allowing gunners and commanders to detect targets beyond the range of their weapons, and enhanced survivability through a triad of defense measures to stay alive in combat.
Furthermore, the credibility of T-90 main battle tanks has, to a certain degree, been proved through their performance in Syria, even though those missions are admittedly mostly concentrated on counter-insurgency rather than fighting in an asymmetrical scenario against a bigger army. All of the above-mentioned qualities are critical for a tank force trying to match the requirements of modern warfare as stipulated under the VPGF's unique doctrine of asymmetrical warfare.
Nonetheless, there are still hurdles ahead. While a batch of 64 tanks is enough to upgrade a single tank regiment, the VPGF has a dozen of tank brigades spreading across the country. This contract reflects a cautious approach of the military in acquiring new equipment given a limited defense budget (although the price per unit is cheap compared to other types of tank from some Western countries or from Japan).
In the near future, the VPGF will still be utilizing a mixed of modern and old tanks in combat by extending the service and upgrading the old T-54/55 and T-62 tanks (there are several upgrading programs currently underway to enhance the survivability, lethality, and mobility of the old tanks). More effort will be needed to fit the new acquisition with the overall doctrine, as many parts of it have to be realized through the concrete and coherent combination of training and receiving more and more modern weapons.
In that sense, the new T-90 contract can be seen as the first step of a long but steady modernization trajectory that will have deep implications on not only the tank force but also the whole VPGF itself.
Nguyen The Phuong is an associate researcher from the Saigon Center for International Studies (SCIS), Vietnam National University-Ho Chi Minh City.