Young Voters Will Decide Timor-Leste's Parliamentary Election
What issues will drive votes from Timorese young people?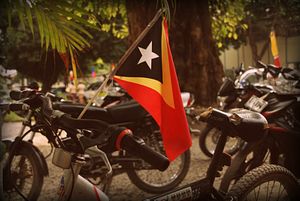 A total of 21 political parties are registered to contest the Timor-Leste parliamentary election on July 22. In the race for political office, many observers are keeping an eye on four political parties – the Revolutionary Front for an Independent East Timor (Fretilin), National Congress for Timorese Reconstruction (CNRT), Democratic Party (PD), and People's Liberation Party (PLP).
In our previous article, we noted that young voters will help to decide the result of the upcoming parliamentary election as their loyalties are up for grabs.
Youths are a significant part of the 2017 election for many reasons. For one, they represent a large bloc of voters — approximately 70 percent of Timor-Leste's population is below 30 years old. More specifically, this will be the first election in which Timorese born after the 1999 independence referendum will be eligible to vote.
A research report titled "New Voices: The Engagement of Young Timorese in the Political Process," jointly conducted by Counterpart International and Belun in December 2016, showed that while Timorese youths are cynical about political leaders and political manipulation, their level of political interest remains high.
The recent International Republican Institute (IRI) and Asia Foundation (AF) polls reaffirm those findings. The AF poll indicated that there's growing discontent among young Timorese, in particular those younger than 25 years old, while the IRI poll shown that 46 percent of voters are still undecided. Below, we will explore the patterns of young voters, many of whom are likely undecided voters.
It is reported that 51 percent of the total registered voters currently fall under the category of young people. Recognizing the importance of young voters, including first time voters, the Technical Secretariat for Electoral Administration (STAE) and UNDP Electoral Project (LEARN) initiated a campaign, "Our Votes Determines Our Future," to motivate them to participate in the election.
Young voices are critical for this election. At the macro level, economic opportunity is the major concern that youths are facing. This is primarily driven by the fact that a big portion of the population is of prime working age. Moreover, the existing economic structure cannot accommodate the growing number of youths.
According to 2015 the Demographic Census, aside from self-employment and farming activities, the public sector employs more people than any other sector in the country, with most of the employment opportunities concentrated in the capital Dili.
To overcome the challenge, the government employs several approaches. One is by creating job opportunities in the private sector. This is observed through the construction activities financed by the government. This is, however, not a sustainable approach.
Another approach is by promoting self-employment and rural employment through the Secretary of State for Employment Policy and Vocational Training. The government also promotes labor migration by facilitating overseas employment in South Korea and Australia. Many Timorese are also working in the United Kingdom under Portuguese passports.
Speaking to youths around Dili, there appears to be a mixture of reactions when asked to describe political leaders and government performance. We found that while most of the youths that we spoke with tend to be either neutral or critical, there are also some who are more inclined to choose certain political figures when it comes to deciding whom to vote for. On the other hand, some of the youths we spoke to, who left their home districts years ago to work in Dili, said that they would not be voting due to the costs of travelling back home.
Regardless of their backgrounds and political affiliations, most felt that the elected government should pay more attention to areas such as basic health and education, roads, and agriculture in order to meet basic community needs.
Marcos Pinto, a graduate from Benguet State University in the Philippines who is currently working in the field of natural resource management, will be a third-time voter. Asked about how he will decide whom to support in the upcoming parliamentary election, he said he has decided to vote for a political party based on the party program and the extent to which it focuses on the needs of the community. He believes that the elected government should focus on key areas such as education, agriculture, and most importantly, balancing infrastructure development for every municipality.
For Isac Mascarenhas, who originated from Viqueque district but is currently living in Dili, this election will be his second time exercising his right to vote. He is a senior undergraduate student in the international relations department at the National University of Timor Lorosa'e (UNTL) and also a volunteer researcher at the Peace Center. Asked about how would he decide whom to vote for, he said, "I will seek for their vision, mission, and the program that they will implement during five years, if they elected VII Government Constitutional Republic Democratic of Timor Leste (RDTL)." (all sic)
Sharing some similarities to Marcos, Isac believes that the elected government should focus on increasing the quality of education, infrastructure, health, security, and defense; expanding the agriculture sector; combating corruption; and also defending state sovereignty, specifically referring to the dispute maritime boundary with Australia. Isac thinks that the government has a weak policy on how to increase youth knowledge, particularly leadership skills, and also not much of a plan to tackle the high unemployment rate. Asked about his hope for the country, he said, "My personal aspiration to my beloved country is we need the leader who might be lead by example to the people around Timor-Leste."
Eugenia Correia works at a national non-governmental organization (NGO) in Dili, While remaining undecided on whom to vote for, as she is unclear about each party's program and action, she opines that the government should not merely focus on the oil as a single source for running the country. For example, she says, in order to develop the agriculture and tourism sector, the government needs to create good quality infrastructure to link people to tourism areas and farmers to markets.
These issues cannot be neglected in Timor-Leste's political discourse, as the problems are obvious in every part of the country. Encouragingly, most youths that we spoke to focused on policy platforms rather than simple affiliation to a political party. Social media has also shown a pattern of some concerted efforts by the young, educated elite to motivate people to vote based on issues and programs rather than political parties and individuals. It will be crucial for this young country to not just practice a democratic system but to continue to uphold democratic values.
Khoo Ying Hooi, Ph.D., is Senior Lecturer at the Department of International and Strategic Studies, Faculty of Arts and Social Sciences, University of Malaya.
Guteriano Neves is Timorese independent researcher and a postgraduate student at the Crawford School of Public Policy, Australian National University.