A More Muscular Britain in the South China Sea?
The hype surrounding the UK's future role on the issue needs to be put into proper perspective.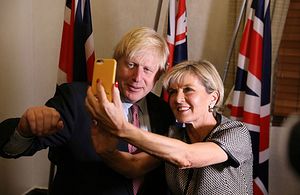 Late last week, a series of remarks by British officials about the country's future actions in the South China Sea quickly reverberated across the world, prompting headlines that suggested a more muscular role by the Britain in the disputed waters. Though those remarks were significant as part of a series of actions already being taken by Britain individually as well as in concert with other like-minded countries in the South China Sea, they also need to be kept in perspective.
Britain's rising concern about the South China Sea is nothing new. Indeed, British officials have been making clear over the past few years that even though they do want to develop their economic ties with China, they are concerned by Beijing's unlawful actions in the South China Sea that undermine the rules-based order they are committed to.
Apart from statements, the British response has also included a series of actual and intended actions. The flying of RAF Typhoons through the South China Sea announced last year and their participation in exercises with Japan, South Korea, and Malaysia was a case in point. British officials had also said last year that aircraft carriers would be sailed to the Pacific from 2020 on, though they had provided few specifics about exactly how this would shape up.
But last week, as we saw British officials in Australia to attend the annual two-plus-two meeting between their foreign and defense ministers dubbed AUKMIN, we saw a series of comments leading to headlines suggesting a more muscular British presence in the South China Sea. First, on Thursday, Foreign Secretary Boris Johnson was reported as saying during a speech organized by the Australian think tank the Lowy Institute for International Policy that Britain would indeed sail its two new aircraft carriers to the South China Sea (even though Johnson had in fact said that he would send the carriers to the Straits of Malacca, a different body of water).
Then, on Friday, Defense Minister Michael Fallon told Reuters that a British warship would be sent next year to conduct freedom of navigation exercises (FONOPs) (even though the South China Sea was not specified). That, combined with Australian Defense Minister Marise Payne's suggestion that we could see joint patrols and other engagements between Britain, Australia, and others as they identify opportunities for cooperative activities when assets are around the same area, led to another set of headlines.
These statements are no doubt significant. They represent the latest in a series of developments that illustrate both Britain's rising concern about developments the South China Sea as well as an increased willingness in playing a role both on its own as well as with other willing countries like Australia, Japan and the United States.
That being said, they must also be viewed in perspective lest we get carried away. Take Johnson's comments about aircraft carriers in the South China Sea, for instance. Despite all the hype, the fact is that of the two carriers that he mentioned – the HMS Queen Elizabeth and the HMS Prince of Wales – the first has just left to begin sea trials and will not be in operational military capability till 2020, while the second is still in the shipyeard and will be ready only in 2023.
Johnson himself admitted this in response to a question following his remarks. Pressed about the carriers, he quickly said that while they "were coming," observers should not "expect them tomorrow," and that the British government had not quite decided to do that just yet.
It is also far too early to determine the impact of these actions without some important specifics that still remain unavailable as of now. For example, during his comments on Australia's national public broadcaster ABC, Fallon declined to provide details of the carrier deployment, saying that they had not been mapped out yet. Similarly, in his remarks to Reuters on freedom of navigation operations, he made clear that Britain had not finalized exactly where they would take place. While Fallon's unwillingness to get too far ahead of events is understandable, it is also true that not disclosing such details makes any meaningful assessment of their significance impossible.
Lastly, as I have repeatedly emphasized before, even as media accounts tend to focus on individual kinetic actions such as FONOPs or flashpoints like the South China Sea, it is also important to keep in mind that this should not distract observers from maintaining a wider aperture. FONOPs and carrier operations, flashy though they may be, are just the more visible – and sometimes even not the most consequential – examples of a broader range of military as well as diplomatic, legal, political, and economic measures countries are taking in the South China Sea.
And as Johnson himself correctly noted, apart from China's actions in the South China Sea, principles like freedom of navigation as well as efforts at security cooperation targeting regional states also involve other bodies of water, such as the Straits of Malacca and the Sulu Sea, as well as other areas such as counterterrorism and piracy that need to be urgently built out as well. That big picture perspective is needed lest one drowns in the sea of headlines that often accompany each statement or action related to the South China Sea.