Can the Philippines Afford Duterte's Infrastructure Spending Spree?
Some fear a huge construction program aimed to boost employment and foreign investment could rack up unsustainable debt.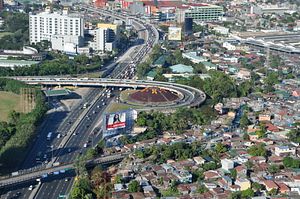 Plans by the Philippines' firebrand President Rodrigo Duterte to bolster the economy with an ambitious multi-billion dollar infrastructure program are coming under scrutiny amid nervousness over the financing and implementation of proposed projects.
Critics have been particularly concerned that loans sought from China could saddle the country with heavy debts and possibly leave it vulnerable to Chinese pressure over the South China Sea. The Philippines recently won an arbitration award invalidating Beijing's claim to most of the international waterway, but Manila has not attempted to enforce the ruling in its eagerness to secure funds from China.
Duterte's first year in office has been hugely controversial, characterized by a brutal anti-drug policy, strained relations with the United States, and the president's unpredictability more generally. Yet the country's economy has somehow weathered the political and diplomatic storms.
The Philippines' rapid economic growth of recent years, driven largely by surging domestic demand, has continued under Duterte. Unemployment fell to a historic low of 4.7 percent in 2016 and the World Bank forecasts that GDP will grow at a rate of 6.9 percent in 2017.  One blot on the economic landscape is foreign direct investment. The Philippines, which has trailed other big economies in the region on FDI, saw it slump 32 percent to $2.4 billion between January and April compared to the same period last year.
In October, as part of efforts to promote investment, Duterte signaled a major foreign policy shift. On a trip to Beijing, he announced a "separation" with long-time ally the United States and embraced China as a new economic partner. The president returned home with $24 billion worth of credit and investment pledges. Beijing also lifted a ban on Philippine agricultural products, and eased restrictions on Filipino fishermen in contested fishing grounds in the South China Sea. Duterte has additionally strengthened ties with Russia in an attempt to further diversify sources of finance and trade.
Then, in April, the government launched a major public spending program, focused on big infrastructure projects, costing some $167 billion, in an effort to boost employment and provide a more attractive environment for investors. Underspending on infrastructure is said to have deterred investment in the past, inhibiting growth. The new policy is a key component of the president's socioeconomic program, whose goal is to turn the Philippines into an upper middle-income country by 2022.
What has been dubbed by the government as the "golden age of infrastructure" will see the construction of new roads, bridges, railways, and airports – improving competitiveness, which currently lags behind neighboring countries. Manufacturers have long been put off by the country's dilapidated infrastructure, which has created profit-draining transport bottlenecks. Traffic congestion in Manila alone is estimated to cost the economy $17.5 billion annually.
Government spending on infrastructure is expected to rise from 5.4 percent to 7.4 percent of GDP by the end of Duterte's term in five years' time. The projects will be funded through a combination of tax reforms, public-private partnerships (PPPs), and overseas loans – mostly from China. But questions are being raised about each of these sources of finance, in particular the latter, which some fear could plunge the Philippines into ruinous debt. The infrastructure-related debt crisis that plagued the economy in the 1980s is a reminder of the perils of public spending sprees driven by large amounts of foreign borrowing.
A tax reform bill has been approved by the House of Representatives with a number of amendments. Congressmen were concerned the package would hurt the poor – and it is likely to be watered down further in the Senate where there are similar reservations. The proposed legislation, which will also pay for social spending, involves cutting personal and corporate rates, removing VAT exemptions for certain sectors, and increasing excise duty on a range of items, including fuel, cars, sugary drinks, and alcohol.
Some estimates suggest the House amendments will mean the tax reforms will meet half the government's revenue-generation target – one senior official warning that the infrastructure program may have to be scaled down. With senators saying they want major revisions to the bill, the eventual sum could be even less.
While the government is looking to PPPs as a means of financing projects, it appears to have concerns over potential delays and costs. In May, officials canceled five regional airport proposals, just as investors were preparing their bids, in favor of other unspecified forms of funding.  Officials say they want a hybrid approach to PPP implementation where the state develops an infrastructure project – using public funds, bilateral loans, or overseas development assistance – then bids out operation and maintenance. But some analysts argue that the approach carries with it the risk of cronyism and corruption, and others doubt whether the government can build big-ticket schemes faster and more efficiently than the private sector.
Loans are arguably the thorniest funding source. An article in Forbes in May ruffled feathers in the administration by suggesting that expensive Chinese loans could leave the Philippines in virtual debt bondage to China. That, it argued, might force Manila into making political and economic concessions to Beijing. The government insists that it will borrow mainly from banks and other financial institutions in the Philippines and would be "very careful" with project financing from the Chinese government.
Yet many Filipinos distrust Beijing and appear to be worried about over-reliance on their neighbor. Some opposition politicians and commentators are concerned that loans from China may ramp up debt to unsustainable levels; require that Chinese contractors and materials are used on projects; and erode Philippine sovereignty in the South China Sea, possibly denying Manila the right to exploit oil fields and fishing grounds.
There is little doubt that the Philippines is in urgent need of an infrastructure makeover, but the country runs the risk of mortgaging its future in the process.
Yigal Chazan is an Associate at Alaco, a London-based business intelligence consultancy.