China Defends Pakistan After Trump Calls Pakistan a Terrorist Haven
U.S. President revealed his Afghan strategy where he stated Pakistan often gives safe haven to agents of terror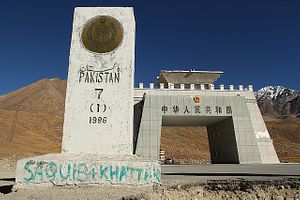 A survey conducted by Pew Research Center in 2014 showed that Pakistan is China's strongest supporter in Asia as 78 percent of Pakistanis view China favorably. The strong preference doesn't come out of nothing. China seems to be the only nation that dare to defend Pakistan against the United States.
On August 21, the U.S. President Donald J. Trump issued his grand strategy in Afghanistan and South Asia, aiming to comprehensively crush terrorism in the region. In particular, he singled out Pakistan and made a harsh criticism on its failure — or even suspicious intentional failure — in counterterrorism in his speech:
Pakistan often gives safe haven to agents of chaos, violence, and terror…Pakistan has also sheltered the same organizations that try every single day to kill our people. We have been paying Pakistan billions and billions of dollars at the same time they are housing the very terrorists that we are fighting… It is time for Pakistan to demonstrate its commitment to civilization, order, and to peace.
Faced with Trump's grim remarks, China expressed full sympathy toward Pakistan. On August 22, China's foreign ministry spokeswoman  Hua Chunying defended Pakistan at the regular press conference:
Pakistan is at the forefront of the counter-terrorism efforts. For many years, it has made positive efforts and great sacrifices for combating terrorism and made important contributions to upholding world peace and regional stability. We believe that the international community should fully recognize the efforts made by Pakistan in fighting terrorism.
Hua implied that the United States hasn't fully recognized Pakistan's efforts in the international community.
Of course, as the nation which does fully recognize Pakistan's sacrifice, China also "supports the international community in enhancing the international counter-terrorism cooperation and forming synergy." In addition, Hua didn't forget to mention China's "constructive role" in maintaining "sound and steady Pakistan-Afghanistan relations" which serve the entire region's interests.

As Hua noted, China's foreign minister Wang Yi did visit Afghanistan and Pakistan in late June and tried to mediate for reconciliation between the two countries.
In contrast, Pakistan chose to keep low-profile in the first place. On August 22, Pakistan's foreign ministry first released a short two-paragraph statement, revealing that U.S. Ambassador David Hale paid a courtesy call to Pakistan and briefed Trump's speech. In the end, the statement said: "Highlighting Pakistan's immense sacrifices in the enduring fight against terrorism, the [Pakistan's]Foreign Minister underlined Pakistan's continued desire to work with the International Community to eliminate the menace of terrorism. "
What's interesting is that Pakistan's attitude shifted from low-profile to high-profile after Pakistan's foreign secretary Tehmina Janjua gained Wang Yi's "strong support" on the same day. Later on August 22, Pakistan's foreign ministry published another emotional and lengthy statement to fire back at the U.S.:
No country in the world has done more than Pakistan to counter the menace of terrorism. No country in the world has suffered more than Pakistan from the scourge of terrorism, often perpetrated from outside our borders. It is, therefore disappointing that the US policy statement ignores the enormous sacrifices rendered by the Pakistani nation in this effort… As a matter of policy, Pakistan does not allow use of its territory against any country. Instead of relying on the false narrative of safe havens, the US needs to work with Pakistan to eradicate terrorism.