China Holds Live-Fire Naval Drills Near Korean Peninsula
Dozens of missiles, of various kinds, were fired during the drills.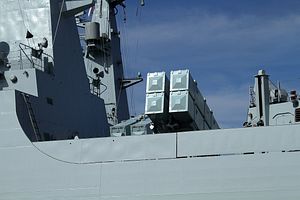 On August 7, China's defense ministry announced that the People's Liberation Army Navy (PLAN) had conducted live ammunition combat drills in the Bohai Sea and the Yellow Sea simultaneously. The Yellow Sea is located between China and the Korean Peninsula.
The drills aimed to test the navy's maximum combat capability and the efficiency of the weapons and equipment; dozens of various kinds of missiles were fired during the drills, according to the defense ministry.
The defense ministry revealed that while the navy was the main force involved, the PLA Air Force also participated in the drills. Dozens of surface vessels and submarines, more than ten aircraft, as well as troops of the coastal defense force conducted ten types of exercises, including joint operations against offshore and onshore targets and air interceptions.
The state-run China Central Television (CCTV) reported that Navy commander Vice Admiral Shen Jinlong and the political commissar, Miao Hua, participated the drills with the senior naval officers of the Northern Theater Command overseeing. The Northern Theater Command, which was founded in February 2016 as one of the five war zones of PLA, covers five jurisdictions — Heilongjiang, Jilin, Liaoning, Shandong, and Inner Mongolia — surrounding the Korean Peninsula.
Although the defense ministry claimed that the drills were "a regular arrangement organized in the military's annual exercise plan," most China observers believe that it was actually a response to North Korea's latest intercontinental ballistic missile (ICBM) test, conducted on July 28.
The United Nations Security Council on August 5 passed an unanimous resolution imposing new, tougher sanctions on North Korea for its violations of UN resolutions. China also voted in favor of the new resolution.  One day after the UN issued the sanctions, Chinese Foreign Minister Wang Yi met with his North Korean counterpart Ri Yong-ho in Manila and pressed North Korea to follow UN resolutions and not to launch any missiles.
However, Wang also emphasized that all parties should be cautious so as not to escalate the tension.
Thus, as many researchers analyzed, the latest naval drills were a deterrent not only to North Korea (although North Korea was indeed the most critical object), but also to the United States, which frequently threatens to use force to solve the crisis.