Locating Taiwan on Australia's Strategic Radar
Australia faces fundamental strategic choices when it comes to Taiwan.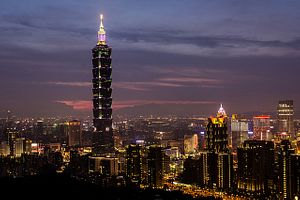 Australia and Taiwan have enjoyed healthy economic, cultural, and political relations for a number of years. However, debate about Australia's strategic balancing act between China and the United States has clouded vision of the solid relationship that exists between Australia and Taiwan.
Australian strategists overwhelmingly view Taiwan solely through the prism of China and Canberra's adherence to the so-called "one-China policy." While China's claim to Taiwan, and its adherence to the threat of force, makes Taiwan profoundly significant to Australia, this hides important questions that should also be addressed by Australian strategists. What should Australia's future Taiwan posture be given it is committed to the "one-China policy"? How can Australia and Taiwan continue a positive relationship into the future despite threats to stability in the region?
Cross-Strait relations are a protracted security dilemma, and among the biggest challenges facing the region at the moment. It is important for Australia to have a clear and strong conception of its relationship with Taiwan, which could be tested in the near future.
Why Taiwan Matters to Australia
Australia and Taiwan share much in common. Both are liberal democratic islands in the Pacific, each with populations of about 24 million people. Both possess a population of indigenous people and both share complex relationships with the United States and China. The close geographic location of the islands has aided the growth of solid ties and encouraged successful economic relations. Taiwan was Australia's eighth-largest merchandise export market in 2014-15, with major exports of coal, iron ore, aluminum and beef. Bilateral economic, trade and agricultural consultations are held annually to encourage and support cooperation. In addition to this, Taiwan is a large tourism and education market for Australia, and each country has a mutual working holiday arrangement. On face value, the bilateral relationship between Australia and Taiwan appears healthy and stable.
In reality, and despite these commonalities, the relationship is not straightforward. Like most countries, Australia recognizes the People's Republic of China as the sole legal government of China and does not recognize the authorities in Taiwan as a national government. Therefore, Australia and Taiwan effectively operate an unofficial state-to-state relationship, with four representative Taipei Economic and Cultural Office locations in Australia, and one Australian Office in Taipei. For Australia, Taiwan's fragile political relationship with China has restrained the bilateral relationship in political and economic terms. It has also posed challenging questions for policymakers and strategists regarding Australia's alliance system and strategic framework. For Taiwan, beyond simply being a good economic partner, Australia is uniquely placed as one of only a few countries which would plausibly assist the United States in its defense of Taiwan if a Chinese provocation was to occur.
On occasion, Australia has pursued an independent foreign policy toward Taiwan. More often than not, however, Australia's relationships with the United States and China have dictated its decision-making regarding Taiwan. Recently, Australia has been finding this balancing act more difficult, and this is likely to continue into the future. Understanding the history of the Australia-Taiwan relationship assists in illuminating its dynamics today. This will be highly important as we enter a new phase of unpredictability in the Asia Pacific region.
Early Diplomatic Relations

Australia began its official diplomatic relations with Taiwan during the 1960s, when Australia opened its first embassy in Taiwan. Australian Minister for External Affairs, the Hon. Paul Hasluck, cited Taiwan's fast-growing economy as justification for doing so. He explained that Taiwan's economic progress "led to rapid expansion in trade and travel" and facilitated "growing co-operation in international organizations for economic development and political co-operation." Minister Hasluck went on to say that the lack of Australian representation in Taiwan was a gap in its effective participation in the diplomacy of the region. This decision set Canberra somewhere between Washington's absolute support for the Republic of China and the recognition of Beijing by London, Paris, the Soviet Bloc and others.
During this time, the Australian government justified its support of de jure independence for Taiwan with reference to the principle of self-determination for Taiwan's people. Support for the Taiwanese right to self-determination became a part of the rhetoric for many Australian ministers. Minister for External Affairs, Sir Garfield Barwick said "it was a matter of Australian honor because Australia had fought in two world wars for the right of people to self-determination and it ought not depart from that principle." This is significant because it is evidence of ideological independence in Australian foreign policy thinking towards Taiwan. This would become harder for Australia to sustain as it made commitments within the region and solidified its alliance framework.
Despite early evidence of independence in Australian foreign policy towards Taiwan, Australian strategic thinking increasingly became aligned with that of the United States. This was institutionalized with the signing of the Australia, New Zealand, United States Security (ANZUS) Treaty in 1951. The Treaty enshrined cooperation between the United States, and Australia in the Pacific region. It also solidified Australia's strategic and military alliance with the United States, but failed to specifically define and articulate expectations of either country. This has left the Treaty open to interpretation on both sides, particularly regarding the possibility of Australian assistance in the case of a Chinese attack on Taiwan. In the 1950s, Sir Robert Menzies made it clear that Australia felt no obligation to join in a war with the U.S. to defend Taiwan. The ANZUS Treaty marked the beginning of discussions that posed questions about Australia's strategic commitment to defending Taiwan, which has remained an important and understudied question for Australian strategists and policymakers.
The momentum that Australia-Taiwan relations had gained in its first decades was lost as the global opening to China began in the early 1970s. It was not until later in that decade and into the 1980s that relations were revitalized. The signing of the U.S. Taiwan Relations Act in 1979 was symbolically important for Australia's relations with both the U.S. and Taiwan.  The Act potentially requires the United States to intervene if China were to invade Taiwan, and would therefore also possibly invoke Australian support under the ANZUS Treaty. This would start to pose real questions for Australian strategists and policymakers.
In 1995, Australia opened a diplomatic 'Office' in Taipei and re-started official contacts both economic and diplomatic. This heightened level of interaction with Taiwan was a cause of concern for China. Australia's trade with China was growing, and it was increasingly being seen as a crucial partner for Australia's economic growth. In 1994, Foreign Minister Gareth Evans found it necessary to provide reassurance to the "old friends of the PRC that they should not worry about Australians' revised position on Taiwan because they would always honor the commitments they had made with Beijing."
Australian policymakers and strategists had to start more actively considering Australia-Taiwan bilateral relations in the context of the intricate U.S.-China-Taiwan triangle. This came with a number of challenging moments that exemplify the constraints Australia faces in its current regional alliance and reliance system, and serve as a reminder about the difficult choices that will continue to be faced in the future.
Recent Challenges to Australia's Diplomatic Balance
The most recent 20 years of Australia-Taiwan relations have been marked by stable bilateral growth, but have been weighed down by the constraints of a delicate and non-official diplomatic relationship. Australia's growing interconnectedness with China came with challenges for policymakers to manage. For example, during the 1996 presidential election in Taiwan, China conducted missile tests in the Taiwan Strait. In response to this action, the U.S. government moved two aircraft carrier groups into the area to both monitor the tests and reaffirm its interest in Taiwan's security. Australian Minister for Foreign Affairs, the Hon. Alexander Downer, openly welcomed the U.S. decision as a sign of U.S. commitment to the security of east Asia. For Australia, this was a public show of support for the U.S. in the face of provocative Chinese behavior. Situations of this nature continue to play out in the region and test Australia's conception of its relationships with the United States, China and Taiwan. Australia has been faced with making difficult choices, and the results have not always been consistent.
In 2004, when asked about Australia's obligations under ANZUS Treaty to bring itself into a conflict between Taiwan and China, Downer stated that, "the ANZUS Treaty is a treaty which of course is symbolic of the Australian alliance relationship with United States, but the ANZUS Treaty is invoked in the event of one of our two countries, Australia or the United States, being attacked. So some other military activity elsewhere in the world … does not automatically invoke the ANZUS Treaty." This comment was in defiance of article IV of the ANZUS Treaty, which suggests that attacks on U.S. interests in the Pacific is considered a trigger for invoking the Treaty. In other words, suggesting that a Chinese attack on Taiwan would not require Australian assistance. While this comment was later refuted by Australian Prime Minister John Howard, it illustrates the very sensitive nature of Australia's understanding of its requirement to become involved in the defense of Taiwan.
Commander of U.S. Pacific Command (PACOM), Admiral Harry B. Harris has mirrored the uncertainty that surrounds Australian and allied engagement in the defense of Taiwan, stating "As far as the allies go, we have five treaty allies in the Pacific of varying degrees of capability but whether they would be with us in every fight is a matter for them to decide… depending on the situation at hand and their own national decisions we might have to fight alone." This admission is a realistic and harsh representation of the reality faced by Australia in its relationship with the United States and its conceptualization of Taiwan.
Public discussion about Australia's choices when it comes to the recognition and defense of Taiwan has been muted. As Australia's economic relationship with China grows, there has been a tendency to steer clear of confronting this tricky question. In 2015, Professor Hugh White, one of Australia's leading strategic thinkers, suggested that "it is time to start worrying about Taiwan again." White suggests that differences over Taiwan could explode U.S.-China relations and cause a major crisis in Asia, and that there is "not much the US can realistically do to help Taipei stand up to serious pressure from Beijing." From White's perspective, no country would be willing to sacrifice its relations with China in order to defend Taiwan, including Australia.
The harsh reality that White outlined has been mirrored in Australia's recent economic relationship with Taiwan. Australian businesses have been expecting negotiations for a Free Trade Agreement between Australia and Taiwan to begin in 2017. Both Singapore and New Zealand were able to sign FTAs with Taiwan once an agreement was in place with China (Australia and China completed a FTA in 2015). However, political sensitivities in the region have been heightened recently. In particular, the U.S. president has antagonized the one-China policy, and it is unlikely the Australian government will pursue an economic agreement that would provoke China at such a delicate time. Following President Trump's infamous phone call to President Tsai Ing-wen in 2016, Australian Prime Minister Malcolm Turnbull confirmed that Australia would not re-think its approach to Taiwan, stating that "our position on Taiwan has been consistent for decades and there will be no change in that."
These examples illustrate the limited capacity Australia has to act in its relationship with Taiwan. This capacity has become more limited as Australia's relationship with China has deepened, and turned into one of reliance. Australia's alliance with the United States has also affected the decisions Australia has taken toward Taiwan, and could conceivably see Australian entry into an armed conflict in the Taiwan Strait.
(In)decision Point?
As the discussion above has illustrated, there is a deep history to Australia-Taiwan relations. Understanding this in the context of today's regional challenges will assist in the development of an informed, calculated Australian foreign policy. When considering how it deals with Taiwan, Australia faces fundamental strategic choices that challenge its support of democracy and its understanding of the national interest. As the possibility of conflict between Taiwan and China is a distinct possibility, it simply cannot be viable for Canberra to continue to hedge in its balancing act between China and the United States. Australia will be forced to make a decision, and this is an important debate for the Australian public to start engaging in now. To consider the answers to these questions in the midst of instability unfolding could result in poor decision-making.
Sinclaire Prowse is a Non-Resident Handa Fellow at Pacific Forum CSIS.