Thailand to Upgrade More F-5 Fighter Jets
The Southeast Asian state continues to modernize its aging aircraft.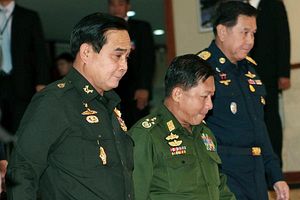 Last week, the Royal Thai Air Force (RTAF) said that the Thai government had cleared a project to upgrade the air force's F-5 fighter aircraft. The development is just the latest in a series of steps that the Southeast Asian state is taking to modernize its aging military equipment.
Thailand, like several other Southeast Asian militaries, has struggled to maintain and modernize its defense equipment. The F-5 fighter aircraft for the RTAF, which have been in service since the 1970s, have not been immune from this, amid several challenges including those on the budgetary side (See: "The Truth About Thailand's New Military Budget 'Hike'").
That had motivated the government's decision to delay retiring and to continue to upgrade its F-5s, even as it acquired some new aircraft, though to a much lesser degree than was initially expected. The first phase, approved by the government in 2014, had been for the upgrade of 10 units under the name of Super Tigris, costing around 2.05 billion baht ($61.57 million).
On August 1, the RTAF announced that the cabinet had approved a further and full upgrade of four F-5s for 3.2 billion baht ($90.69 million).
It also announced some details about the upgrade program, which it said would add about 15 years to its total service life. These include, among other things, new communications and avionics equipment, the installation of a Link-T tactical datalinks, and the addition of the Rafael Litening III targeting pod and Skyshield electronic jamming pods, Python-4 and I Derby beyond-visual-range air-to-air missiles, and Elbit's DASH helmet-mounted display system.
Though the multimode radar system was not disclosed, some have said this is likely to be the Elta Systems' ELM-2032 radar.
In addition to the F-5s, Thailand also currently operates Saab JAS-39 C/D Gripens as well as Lockheed Martin F-16A/B Fighting Falcons. Among the priorities for the RTAF are the purchase of additional Saab Gripens, along with other transport aircraft and helicopters (See: "What's Next For US-Thailand Military Ties Under Trump?").