The India-Vietnam Relationship: Beyond the BrahMos Connection
The strategic partnership between India and Vietnam goes beyond a prospective BrahMos sale.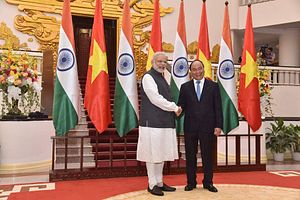 At a time when India and China are facing each other in a precarious standoff on the Doklam Plateau, Vietnam gave an indication last week that that it has acquired BrahMos anti-ship cruise missiles from India, a weapon system that has been a priority for Hanoi for some time now. Without going into the specifics, Vietnamese Foreign Ministry suggested that "The procurement of defense equipment (BrahMos) by Vietnam is consistent with the policy of peace and self-defense and is the normal practice in national defence." The Indian Ministry of External Affairs response was to term these reports as "incorrect." But there is no doubt that Hanoi is increasingly at the center of India's 'Act East' policy.
Prime Minister Narendra Modi visited Vietnam last year, rather pointedly, on his way to China to attend the G-20 summit. Modi's visit made it clear that New Delhi was no longer hesitant to expand its presence in China's periphery. It was the first visit by an Indian prime minister to Vietnam in the last 15 years, ostensibly to celebrate 10 years of a strategic partnership between the two nations.
India under the Modi government has made no secret of its desire to play a more assertive role in the larger Indo-Pacific region. Modi himself has argued that India can be an anchor for peace, prosperity, and stability from Asia to Africa and from Indian Ocean to the Pacific. Therefore, a more ambitious outreach to Vietnam should not be surprising. The Modi government has also indicated that it remains willing to sell the supersonic BrahMos missile, made by an Indo-Russian joint venture, to Vietnam after dilly dallying on Hanoi's request for this sale since 2011. Though India's ties with Vietnam have been growing in the last few years, this sale was seen as a step too far that would antagonize China.
But the Modi government last year directed BrahMos Aerospace, which produces the missiles, to expedite this sale to Vietnam along with four other countries including Indonesia, South Africa, Chile, and Brazil. India is already providing a concessional line of credit of $100 million for the procurement of defense equipment and in a first of its kind has sold four offshore patrol vessels to Vietnam, which are likely to be used to strengthen the nation's defenses in the energy-rich South China Sea. India's outreach comes at a time when the U.S. has also lifted its longstanding ban on sales of lethal military equipment to Vietnam. New Delhi's abiding interest in Vietnam too remains in the defense realm. India wants to build relations with states like Vietnam that can act as pressure points against China. With this in mind, New Delhi has been helping Hanoi beef up its naval and air capabilities.
The two nations also have stakes in ensuring sea-lane security, as well as shared concerns about Chinese access to the Indian Ocean and the South China Sea. Hence, India is helping Vietnam to build capacity for repair and maintenance of its defense platforms. At the same time, the armed forces of the two states have started cooperation in areas like information technology and the English-language training of Vietnamese Army personnel. The two countries potentially share a common friend too in the United States. New Delhi has a burgeoning relationship with Washington with the two signing a logistical support agreement this week, while Vietnam has been courting America as the South China Sea becomes an increasingly tense flash point. As these three countries ponder how to manage China's rise, they have been drawn closer together.
It is instructive that India entered the fraught region of the South China Sea via Vietnam. India signed an agreement with Vietnam in October 2011 to expand and promote oil exploration in South China Sea and then reconfirmed its decision to carry on despite the Chinese challenge to the legality of India's presence. Beijing told New Delhi that its permission was needed for India's state-owned oil and gas firm to explore for energy in the two Vietnamese blocks in those waters. But Vietnam quickly cited the 1982 United Nations Convention on the Law of the Sea to claim its sovereign rights over the two blocks in question. Hanoi has been publicly sparring with Beijing over the South China Sea for the last few years, so such a response was expected.
What was new, however, was New Delhi's new-found aggression in taking on China. It immediately decided to support Hanoi's claims. By accepting the Vietnamese invitation to explore oil and gas in Blocks 127 and 128, India's state-owned oil company ONGC Videsh Ltd (OVL), not only expressed New Delhi's desire to deepen its friendship with Vietnam, but ignored China's warning to stay away. This display of backbone helped India strengthen its relationship with Vietnam.
Hanoi is gradually becoming the linchpin of this eastward move by New Delhi. Hanoi fought a brief war with Beijing in 1979 and has grown wary of the Middle Kingdom's increasing economic and military weight. That's why in some quarters of New Delhi, Vietnam is already seen as a counterweight in the same way Pakistan has been for China. If China wants to expand its presence in South Asia and the Indian Ocean region, New Delhi's thinking goes, India can do the same thing in East Asia. And if China can have a strategic partnership with Pakistan ignoring Indian concerns, India can develop robust ties with states like Vietnam on China's periphery without giving China a veto on such relationships.
With its outreach to Hanoi, Delhi seems to ready to challenge Beijing on its own turf. And for the moment at least, this stance is being welcomes by states like Vietnam who fear the growing aggression of China. A more engaged India will also lead to a more stable balance of power in the region. While India may want to downplay the BrahMos connect at this particular point in its engagement with Vietnam, a final decision on this will have to be made soon. The Doklam crisis cannot be the determining variable. India's decision will have to be based on the nation's long term foreign and security priorities.