The Murder of Amjad Sabri
How the death of a Sufi singer lays bare Pakistan's violent contradictions.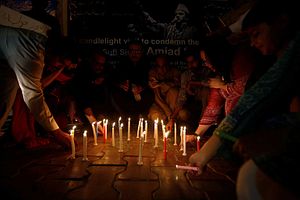 "Mein kabr andheri mein ghabraoon ga jab tanha
Imdad meri karnay aa jana Rasool Allah"
("In my dark grave, when I am afraid and alone
Come to my aid, O Prophet of Allah.")
On June 22, 2016, Amjad Sabri, a revered Pakistani Qawwali singer, was gunned down in the city of Karachi.
In hindsight, it is tragically ironic that the verse above was among the last Sabri sang before his assassination. His performance, which aired less than 12 hours before he was killed, was part of a Ramadan program. The ghazal Sabri performed, called "O Sabz Gunbad Walay" ("O you of the green dome"), is a plea to the Prophet of Islam and God for mercy in the hereafter. True to Sufi tradition, the ghazal contains no direct reference to the performer's faith or beliefs – it is meant to be for everyone who believes in the power of God. It is a message of salvation, if not peace – one that can help, and certainly not harm.
While Sabri's life was dedicated to peace and unity, his death was predictably divisive in a nation notorious for its numerous fissures. Two months after the assassination, Pakistani media reported that he had been gunned down on the orders of a political party worker for failing to pay extortion fees. Five months after Sabri's murder, the Counter-Terrorism Department arrested two members of the anti-Shia Lashkar-e-Jhangvi in Karachi, alleging that they assassinated Sabri for his religious denomination. The arrests contradicted the Pakistani Taliban's initial claim of responsibility for the attack.
Sabri's murder leaves Pakistanis clueless about who to trust. The military establishment targets political parties in Karachi, even as the political parties accuse the military of fueling internal conflict. All the while, civil society raises questions about Pakistan's draconian blasphemy laws, which Sabri was accused of violating.
But despite this confusion, ultimately it does not matter who killed Amjad Sabri. All pillars of the state – government, opposition parties, law enforcement agencies, and the military – are in some way complicit in generating an environment of fear. This environment is fueled by poorly thought-out short-term policies and sustained through silence and collective apathy. The tragedy of Sabri's assassination demonstrates how violence in Pakistan has reached a point where no pillar of the state can be deemed trustworthy or effective.