Understanding the Russia-Taliban Connection
Recent media reports underline Russian arms sales to the insurgent group. What is Moscow's end game?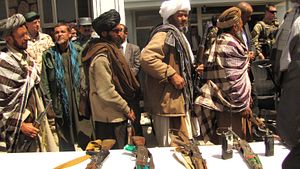 On July 25, 2017, representatives from two Taliban cells told CNN that Russia had supplied them with guns via its regional ally, Iran. This revelation caused allegations of Russian support for the Taliban to circulate widely across international media outlets. The Russian Foreign Ministry's spokeswoman Maria Zakharova responded harshly to these rumors, by vehemently denying allegations that the Kremlin has provided military support to the Taliban and alleging that the United States fabricated Moscow's purported Taliban links to further its disinformation campaign against Russia.
While the scale of Russia's military support for the Taliban remains unclear, Moscow's apparent decision to provide arms to the Sunni extremist organization can be explained by Russia's desire to expand its influence over Afghanistan. By arming the Taliban, Russia aims to displace Pakistan and the Saudi-led Gulf Cooperation Council (GCC) as the Taliban's leading security partner, and to pressure Kabul to embrace its inclusive approach to diplomacy in Afghanistan.
The Rationale Behind Russia's Military Support for the Taliban
Even though negative memories of the 1979-1989 Soviet War in Afghanistan have made Kremlin policymakers very resistant to a potential Russian troop deployment to Afghanistan, Moscow's arms provisions to the Taliban underscore Russia's ambitions of becoming a major political stakeholder in Afghanistan.
From a strategic standpoint, Russia's alignment with the Taliban enhances its leverage over Afghanistan, as Moscow is seeking to become the principal military backer of a powerful political faction that has few other international supporters. This strategy allows Russia to compete directly with the United States for influence in Afghanistan, and gives Russia a proxy in the Afghanistan conflict.
In order to become the Taliban's leading international military partner, however, Russia must dilute Pakistan's influence over the Taliban's day-to-day military operations. Even though Russia-Pakistan relations have improved in recent years and Moscow has actively engaged with Islamabad on stabilizing Afghanistan, Afghan Ambassador to Russia Qayyum Kochai told the New York Times in February that Russia is seeking to displace Pakistan as the Taliban's leading international sponsor.
Kochai believes that Russia could achieve this goal, as the Taliban's "lack of free will" makes it vulnerable to subordination by Moscow. Even though Kochai's assessment of the Taliban underestimates the organization's ability to balance diplomatic relationships with major powers, like China, Iran, and Saudi Arabia, Russia's ability to supply the Taliban with more sophisticated forms of weaponry than Pakistan could increase the Taliban's long-term dependency on Moscow.
In addition to restricting Pakistan's ability to shape Afghanistan's political trajectory, Russian military support for the Taliban could significantly weaken the GCC's influence over the Taliban. Even though Saudi Arabia formally suspended ties with the Taliban in 2001 and officially supports Ghani's government, King Salman has allowed Saudi sheikhs and businessmen to provide covert financial assistance to the Taliban, as he fears a Sunni extremist backlash against the Saudi monarchy.
Despite this support, the recent breakdown in relations between Saudi Arabia and Qatar has raised doubts about the long-term viability of the GCC-Taliban partnership. The United Arab Emirates (UAE) has fiercely condemned Qatar's decision to host Taliban representatives, and has repeatedly highlighted the security risks associated with a Doha-Taliban alliance. As the UAE abandoned the Taliban in the days leading up to the 2001 war in Afghanistan, discord within the GCC could remind Taliban officials of the Riyadh-led bloc's unreliability as an ally, and cause the Taliban to pivot towards an alternative external sponsor: Russia.
Russia's decision to arm the Taliban during a period of unprecedented discord within the GCC demonstrates that Moscow is attempting to upstage Riyadh as a stakeholder in Afghanistan. As Kremlin policymakers believe the Saudi Arabia-Taliban alliance empowers Wahhabi extremists in Central Asia, weakening the GCC's influence over the Taliban could help prevent instability in Afghanistan from diffusing to Russia's Eurasian allies.
The Impact on the Moscow-Kabul Relationship
Even though Russia's Taliban links have strained its relationship with Afghan President Ashraf Ghani's government, Kremlin policymakers have tried to prevent Kabul-Moscow tensions from spiraling into an open confrontation. To ameliorate tensions with Ghani's government, Russian Foreign Minister Sergei Lavrov has expressed his unequivocal commitment to cordial Kabul-Moscow relations. The Russian state media has also highlighted Ghani's interest in Russian MI-35 helicopters and Afghan Foreign Ministry spokesman Ashraf Haidari's request for Russian logistical support for the Afghan army and police.
Russia's unwillingness to suspend ties with Ghani's government suggests that Moscow's preferred strategy in Afghanistan is to balance between Kabul and the Taliban, rather than forging a firm alliance with either side. In this context, Russia's arms sales to the Taliban could ultimately motivate a simultaneous improvement in Moscow-Kabul relations.
Russia's arms sales to the Taliban demonstrate to Ghani's government that resisting Moscow's push for inclusive diplomacy has pernicious consequences for Afghanistan's security. As many Kremlin policymakers believe that Ghani's opposition to diplomacy with the Taliban is the product of his subordination to the United States, Moscow's decision to arm the Taliban could be a way of testing the strength of the Kabul-Washington alliance.
The Trump administration's reluctance to expand U.S. military support for Afghanistan's government after revelations of Russian support for the Taliban could eventually cause strains between Ghani and Trump. An increase in tensions between Kabul and Washington could cause Ghani to launch an aggressive diplomatic outreach to the Taliban to prevent further Russian arms sales to the insurgent group. If Ghani accepts Russia's calls for dialogue between Kabul and the Taliban, under the threat of forceful retaliation from Moscow, Russia will be able to compellingly showcase its influence over Afghanistan to the international community.
Even though Russian small arms sales to the Taliban are unlikely to significantly shift the balance of power in the Taliban's favor, Moscow's arms provisions could have profound implications for the balance of power in Afghanistan. Russia's military support for the Taliban expands its ability to influence the insurgent organization's activities, dilutes Pakistan's hegemony over the Taliban, and reduces the power projection capacity of its strategic rivals, the United States and Saudi Arabia, in Afghanistan. Therefore, while Russia's arms provisions to the Taliban are unlikely to be publicly confirmed, Moscow's covert security cooperation with the Taliban is likely to remain an enduring feature of the Kremlin's Afghanistan strategy for the foreseeable future.
Samuel Ramani is a DPhil candidate in International Relations at St. Antony's College, University of Oxford. He is also a journalist who writes regularly for the Washington Post and Huffington Post. He can be followed on Twitter at samramani2 and on Facebook at Samuel Ramani.