Are the Rohingya Facing Genocide?
A single word; the most heinous of crimes.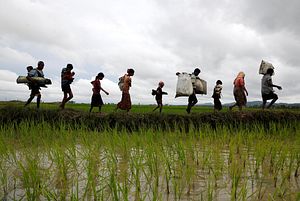 Teenagers executed with rifles. Babies drowned in rivers. Hundreds of thousands fleeing to squalid refugee camps in Bangladesh as their villages were set ablaze by soldiers and Buddhist militias.
The horror stories streaming from the mouths of Rohingya Muslims fleeing Myanmar's Rakhine State, as the country's armed forces launch a brutal offensive in response to militant attacks on August 25, has resulted in widespread condemnation over the treatment of what many call the most persecuted minority on the planet.
While a top UN official recently called the treatment of the Rohingya a "textbook example" of ethnic cleansing, some, including the Bangladeshi foreign minister, have taken it a step further by accusing the Myanmar government of committing what has been coined the "crime of all crimes."
"The international community is saying it is a genocide. We also say it is a genocide," Abul Hassan Mahmood Ali told reporters in Dhaka on September 10.
Ethnic cleansing has never been recognized as an independent crime under international law, meaning there is no exact definition and has resulted in the term being used liberally by politicians and journalists. In popular discourse, ethnic cleansing is generally defined as using violence or terror to disperse a group in order to make an area ethnically homogeneous.
The UN's Genocide Convention, however, legally defines genocide as "acts committed with intent to destroy, in whole or in part, a national, ethnical, racial or religious group."
Those acts listed under the convention include killing members of the group, causing serious bodily or mental harm to members of the group, and "deliberately inflicting on the group conditions of life calculated to bring about its physical destruction in whole or in part."
Alicia de la Cour Venning, a researcher at the International State Crime Initiative (ISCI), who has studied the treatment of the Rohingya extensively, said a genocidal practice was being enacted in Myanmar and that genocide should be seen as a protracted process, rather than the sole focus being on acts of mass murder.
"Our research reveals that the historic and current conditions of persecution against the Rohingya minority have developed into genocidal practice," de la Cour Venning said.
The Rohingya have been subject to stigmatization, harassment, isolation, and systematic weakening, the lawyer said, which are four of the six stages of genocide, according to a model devised by Daniel Feierstein, president of the International Association of Genocide Scholars.
The remaining two are extermination and symbolic enactment, which is the reconstruction of a new society in which the victims of genocide are physically and symbolically "gone."
"Understanding genocide as a process, which takes place over years, even decades, allows us to identify genocidal processes in motion, enabling us to step in to prevent escalating violence, including mass killings, which is just one part of the genocidal process, which begins with stigmatization and dehumanization of the target group," she said.
"Until genocide is understood in this way, rather than solely as mass killings, which is just one component of the genocidal process, we will be unable to prevent this form of violence whilst in motion," she said.
Although the Rohingya have faced persecution for generations, many trace the source of the escalated oppression in recent decades back to a 1982 law that refused to recognize them as one of the 135 "national races" of Myanmar. This has only intensified in recent years as members of government have denied the existence of any ethnic group named "Rohingya," referring to them as illegal "Bengali" immigrants.
"Once we take into consideration the Myanmar government's systematically oppressive policies and practices in regards to the Rohingya from the 1980s onwards, a very clear picture emerges of intent to eradicate this group," she added.
Thomas MacManus, a researcher at Queen Mary University of London who authored an ISCI report "Countdown to Annihilation: Genocide in Myanmar" with de la Cour Venning and scholar Penny Green in 2015, said that the recent atrocities illustrated "the latest phase in the genocide of the Rohingya."
"The stages don't always happen in such a clear cut, step by step, way and often repeat and overlap and what I was saying is that we have entered a 'new' phase since August," MacManus said.
"I would say that 'systematic weakening' is well under way and that we now need to start investigating whether 'annihilation' has begun in earnest."
Myanmar's de-facto leader Aung San Suu Kyi — who was a darling of the West during her years under house arrest at the hands of the military junta — has come under hitherto unheard of international scrutiny for her silence over the atrocities being committed in Rakhine. Many have called for her Nobel Peace Prize to be revoked, claiming her refusal to speak out is giving the green light to the most heinous of crimes.
"Aung San Suu Kyi will play a major role in blocking recognition of the Rohingya genocide. Diplomats worked for years to get her freed. They idealized her until she got a Nobel Peace Prize," said Gregory Stanton, president of Genocide Watch.
"Now they are portraying her as having no power to stop the genocide. In fact her only power is moral, yet she won't use it."
Despite increased calls from academics to label the atrocities in Rakhine as genocide, Phil Robertson, deputy Asia director of Human Rights Watch (HRW), said he did not believe there was enough evidence available to prove genocidal intent on the part of the military — a requirement under international law.
"Not yet, but that doesn't preclude that there might be at some point in the future, if more evidence can be collected about the intent of the Burmese government and Tatmadaw," Robertson said, using the official name of the armed forces of Myanmar.
"There is a clear legal standard that needs to be met under the Genocide Convention and in our view, we would need to be able to get on the ground in Rakhine state to investigate in order to make that kind of determination, and ideally be able to uncover some government documents that lays out their plans."
In comparison, Robertson cited the mobilization of militias, the use of government radio and speeches of Rwandan leaders in 1994 as an example of an "abundantly clear" genocidal intent against the Tutsi minority.
Robertson said he actually felt that efforts to tout the term genocide by some of the exiled Rohingya community and human rights activists could have had a detrimental effect on advocacy efforts.
"It's not that simple by a long shot, and there are some strong arguments that by over-claiming without adequate evidence, the exiled Rohingya community has hurt its credibility with precisely those governments that they need to get on board if international justice for the Rohingya is going to be obtained," he said.
However, HRW has accused the Myanmar authorities and Buddhist militias of committing crimes against humanity in a campaign of ethnic cleansing against the Rohingya in 2012, and Robertson accused the international community of having "no strong interest" in addressing accountability for those atrocities.
While agreeing that the requirement to prove genocidal intent makes it far more complex in comparison to crimes against humanity, which simply requires that the acts be committed in a widespread or systematic way, mass atrocity scholar Kate Cronin-Furman said there were grounds to "accuse Burma of genocide."
The reluctance on the part of the international community to call it such was due to a belief that it would then require action, she argued, when in fact the Genocide Convention imposes no obligation for intervention to stop a genocide.
Member states of the United Nations do, however, have an obligation through its endorsement of the "responsibility to protect," a global political commitment which was agreed on at the 2005 World Summit to prevent genocide, war crimes, ethnic cleansing and crimes against humanity, Cronin-Furman pointed out.
"Someday, it may be an international prosecutor's job to decide whether to charge members of the Burmese military or civilian leadership with genocide. For now though, it doesn't really matter whether they're acting with genocidal intent," she said.
"What matters is that the Rohingya are being slaughtered, raped, and burned out of their homes in huge numbers, all while the world watches."
George Wright is a freelance journalist based in Phnom Penh.