Asia's Richest Man, Jack Ma, Has Huge Ambitions for Alibaba
Chinese e-commerce giant Alibaba celebrates its 18th anniversary.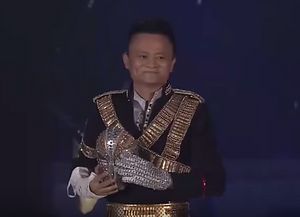 On September 8, around 40,000 employees of Chinese e-commerce giant Alibaba Group swarmed to Hangzhou City from dozens of countries and regions all over the world just to attend a party. The event celebrated Alibaba's 18th anniversary as well as the birthday of the company's executive chairman, Jack Ma, who was born on September 10, 1964.
At the fancy annual fete, Ma dressed up in a glamorous costume and entertained thousands of his employees by performing classic dances inspired by superstar Michael Jackson. After the dancing, he changed back into a white shirt and made a speech brimming with ambition.
"Today's Alibaba is not an ordinary company; it is already a new type of economic entity," said Ma, "in terms of size, Alibaba is already the world's 21th largest economic entity today." Then he put forward his grand goal for the Group: "In another 19 years, we aim to make Alibaba the world's 5th largest economic entity… We hope to provide 100 million jobs around the world, serve 2 billion consumers, and create a profit platform for 10 million small and medium enterprises."
Ma's goal may sound like hyperbole, but it is achievable based on Alibaba's performance so far. According to Alibaba's own quarterly financial report, by June 30 the Group has made an annual revenue of RMB50,184 million ($ 7,403 million), an increase of 56 percent over last year. Domestically, its annual active consumers number more than 466 million. Internationally, its cross-border and international consumer businesses continue to grow as well. By June 30, revenue from its international commerce retail business reached RMB2,638 million ($389 million), an increase of 136 percent year-on-year.
The outstanding performance also pushed up Alibaba's shares, listed on the New York Stock Exchange. Meanwhile, Ma's personal wealth has soared. Ma, worth $37.4 billion, is Asia's richest man according to the Forbes real-time billionaires list. In the latest rankings, Ma ranks as the world's No. 18 richest man.

Ma has become not only China's most successful entrepreneur, but also the Beijing's shadow trade representative.
As The Diplomat reported, in July, Ma led a group of Chinese business tycoons to negotiate with the U.S. Department of Commerce in Washington D.C. during the U.S.-China Business Leaders Summit.
From China's perspective, Ma's Alibaba also showcases China's best technology and robust innovation.
Recently, China's state media has repeatedly boasted about China's "four great new inventions" in modern times: high-speed trains, e-commerce, mobile payments and dockless shared bicycles. Although the claim is certainly an exaggeration, it's unquestionable that China is at the forefront of each of these movements. And two of the four movements — e-commerce and mobile payments — have been dominated and pushed forward by Alibaba.
Ma himself is never shy about his global ambitions, as he said, "to win the respect for Alibaba, we must bear the society, the country and the world in mind. We must take the responsibility of the world."