Battle for Marawi Deepens Philippines' Military Budget Challenge
The rising terror threat also affects the country's budget plans for its military modernization.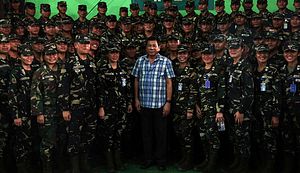 As I've noted in these pages, the Philippines ongoing fight against terrorism – most recently manifested by a siege in the southern city of Marawi by Islamic State-linked militants which began on May 23 – has exposed the challenges faced by the Armed Forces of the Philippines (AFP) (See: "Battle for Marawi Exposes Philippines' Intelligence Crisis").
That reality is not just true in terms of the metrics that often grab the headlines – such as personnel or equipment – but also financing as well. As the Philippines seeks to modernize its military after decades of underfunding to confront a vast array of challenges, the rising terror threat has not only affected the country's perceptions of the threats it faces, but also imposed even greater resource constraints on it as it seeks to boost its capabilities (See: "What's Next for Philippine Military Modernization Under Duterte?").
Though it is still early days and the battle for Marawi is still very much ongoing – with government estimates indicating a few dozen fighters left in the city despite clear advances being made by the AFP – the numbers that Philippine defense officials have been providing so far about budget realities have still been quite striking (See: "Why Has the Philippines' Military Struggled in its Terror Fight Under Duterte?").
To take just one example, at a hearing earlier this month, Defense Secretary Delfin Lorenzana said that in addition to the 3.5 billion pesos the AFP has spent since the outbreak of the Marawi crisis, it may have to ask for an additional P7.5 billion to hire 20,000 soldiers and 10,000 police personnel. Lorenzana also rightly emphasized that the cost would not only need to factor in hiring the personnel but also training as well, and that, in his estimation, for every 10,000 soldiers, the government would need at least P2.5 billion to train and equip them.
Of course, that amount is just a small slice of the budget proposed by the Department of National Defense (DND) for next year recently approved by the Senate Finance Committee, which is at P195.4 billion (about 8 percent higher than the current budget of P181.3 billion). Yet this is not inconsequential. Though the AFP has been using existing funds allotted to deal with the Marawi crisis, it will need to replenish those funds lest it run out of money towards the end of the year, which is a process already underway.
Also, while we are on the narrow subject of defense budgeting post-Marawi, it is important to note that there is a broader context here in terms of negotiations on the national budget more generally, some of which is tied not to what is happening on the ground but other factors from the priorities of the Duterte government to bureaucratic politics around different institutions. For instance, there have been comparisons between the much beefier boost in intelligence funds for the Philippine National Police tasked with carrying out the Duterte administration's drug war relative to the AFP, which was granted only a P220 million increase as opposed to the full P280 million increase it sought.
Finally, the defense dimension is also only part of the broader rehabilitation effort in Marawi. After a recent trip there, Lorenzana said that this effort as a whole could end up being much more than the initial government estimate of around P56 billion, and that lawmakers will need to approve an additional P 10billion for this year to start that process. Though part of this can be achieved with the help of foreign donors which have already begun pledging some funding, including Australia, the United States, Japan, Thailand, China, and the European Union, there will need to be some funding allocated domestically for this as well (See: "US Terror Aid to Philippines Signals Enduring Defense Ties Under Duterte").