China Claims 'Great Sacrifices' on North Korea Issue
Foreign Ministry spokeswoman says Beijing "has made great sacrifices… at great cost" in regards to North Korea.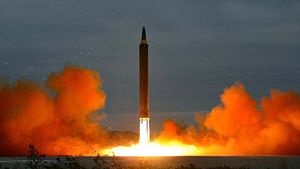 Days after  the UN security council approved a new round of sanctions against North Korea, the Kim regime launched another intermediate-range ballistic missile (IRBM) which flew over Japan in the early morning of September 15. In response, China emphasized its "great sacrifice" on the North Korea crisis and called for the United States to take responsibility.
Faced with North Korea's blatant defiance against the international condemnation, the U.S. secretary of state, Rex Tillerson, issued an immediate statement, urging the international community, China and Russia in particular, to take "new measures" against North Korea.
"China supplies North Korea with most of its oil. Russia is the largest employer of North Korean forced labor. China and Russia must indicate their intolerance for these reckless missile launches by taking direct actions of their own," Tillerson said.
Regarding Tillerson's latest remarks as well as North Korea's new launch, Chinese Foreign Ministry Spokeswoman Hua Chunying made a lengthy reply at the regular press conference on September 15. She implied that the U.S. should not question China's sincerity in dealing with the North Korea issue by emphasizing China's sacrifices:
[T]he Chinese side has fully and strictly implemented the relevant resolutions of the UN Security Council, and has made great sacrifices for this at great cost. China's resolution and sincerity to promote the denuclearization of the peninsula, to maintain the international nuclear non-proliferation system, and to earnestly fulfill the relevant international obligations are unquestionable.
However, she didn't clarify what "tremendous sacrifices" China has made. Instead, she said that it is the United States, rather than China, which should take the responsibility:
The fundamental problem of the North Korea issue is security, and its core is the contradiction between the U.S. and North Korea… China is not the key to solve the peninsula nuclear issue… Only the one who starts the problem can end it. We believe that the immediate parties concerned should assume their responsibilities and fulfill their obligations.

In recent months, China has repeatedly made similar remarks. However, what's notable is that China's attitude toward North Korea has seemed to harden. After North Korea conducted its sixth nuclear test, the Chinese foreign ministry immediately issued a public condemnation and CCTV broadcasted the announcement in its prime-time news program — both were extremely rare reactions for China.
China used to silently "punish" North Korea rather than announce public condemnation. Both Chinese and Korean cultures are influenced by Confucian philosophy in which "losing face" in public is worse than being punished secretly. This helps explain, in part, why China often refuses to publicly condemn North Korea's provocations as loudly as the U.S. does. At the same time, China did ultimately vote for the latest round of sanctions on North Korea in the U.N. Security Council.