Earthquake in North Korea Sparks Worry in China
Although Chinese scientists finally determined that the tremor was a natural occurrence, the Chinese public is still worried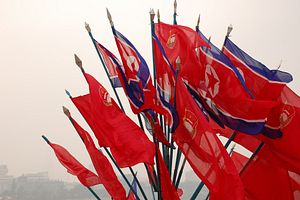 North Korea's missile and nuclear tests in recent months have set the Chinese public's nerves on edge. On September 23, the China Earthquake Administration (CEA) detected a earthquake in North Korea and called it "a suspected explosion." The suspicion immediately agitated the Chinese public, as Chinese media and numerous netizens suspected that North Korea had just conducted a new nuclear test. Although CEA later announced that the tremor was a natural occurrence, the Chinese public remains notably worried about potential nuclear pollution.
Around 5:00 p.m. on September 23, CEA announced both on its website and through its Weibo account that it had detected a suspected explosion equal to a 3.4 earthquake in North Korea at 4:29 p.m., with the focal depth of about 0 km. It also noted: "The epicenter is about 70 kilometers from the capital of the northwest district of Hamgyong, about 390 kilometers from Pyongyang." Located near the same place where North Korea had conducted its sixth nuclear test on September 3.
The information posted on Weibo immediately attracted more than 16,000 views and thousands of comments. Many of the comments condemned North Korea and asked the Chinese government to protect its citizens — particularly the people living close to the North Korean border — in a more constructive way.
At 10:50 p.m., CEA once again posted on its Weibo claiming that the quake was not a nuclear detonation but a natural occurrence. CEA said the conclusion was based on various data — including data collected from North Korea's previous nuclear tests — analyzed by experts from multiple departments.
However, the announcement didn't fully dispel people's concerns, as a number of netizens doubted the credibility of CEA's new confirmation.
The Chinese Academy of Sciences had to publish a report with detailed data analysis, further demonstrating that the incident was "obviously not an explosion."  Meanwhile, numerous agencies worldwide, such as South Korea's presidential office and the Comprehensive Nuclear–Test–Ban Treaty Organization (CTBTO), announced similar conclusions that the tremor was a natural occurrence. The international consensus somewhat calmed the Chinese public.
However, as the tremor took place in the same location where North Korea conducted its sixth nuclear test, many believe that the latest quake, even if it was natural, may have been caused by geological stress or landslides resulting from the recent nuclear explosion. Thus the new quake could still trigger serious nuclear pollution from the testing site. Thus, Chinese netizens continue to urge their government to keep monitoring for potential nuclear radiation. As The Diplomat reported earlier, China's Ministry of Environmental Protection launched the "nuclear radiation environment related contingency plans" immediately after North Korea's sixth nuclear test, and claimed that the test didn't affect China's environment and public.