Firings, Reforms Follow US Navy Mishaps in Pacific Fleet
New policies and new commanders while collision investigations continue.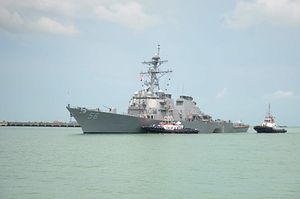 In the aftermath of two deadly collisions of Japan-based U.S. warships, the USS Fitzgerald and USS John S. McCain, with merchant vessels in busy Western Pacific sea lanes there have now been two high-profile hearings in Congress and two broad studies of Navy policy and practices are being conducted for the Chief of Naval Operations and the civilian Secretary of the Navy. While these studies and the investigations into the individual mishaps are ongoing, the tragedies have already shaken-up senior leadership and brought big changes to how the U.S. Navy's surface fleet does business.
While it is common for ship captains to be removed after serious incidents, the number of senior U.S. Navy commanders either removed or set to retire early due to the mishaps in the Pacific is an unprecedented house-cleaning.
Most recently, Admiral Scott Swift, commander of the Pacific Fleet, announced that he will be retiring after being informed he would not be nominated to succeed Admiral Harry Harris as head of the U.S. Pacific Command, as had been previously reported. Admiral Swift's retirement was not officially attributed to the recent spate of mishaps and readiness questions in the Western Pacific, but the announcement was highly unusual because it specifically addressed that he was told he would not be nominated to lead Pacific Command. Disappointed contenders for top jobs typically just retire after the nominee is announced, thus this statement reflects the widespread the expectation that he would be promoted into the post.
But the first senior commander to go was Vice Admiral Joseph Aucoin, the commander of the Seventh Fleet and responsible for all Naval Forces in the Western Pacific. Admiral Aucoin was set to retire in the coming weeks in any case, but formally removing such a senior commander still sent a powerful message within the Navy. He is the most senior navy commander to be relieved for an operational reason, rather than personal conduct or an ethics violation, since Admiral Husband Kimmel, who was head of the U.S. Pacific Fleet when Japan attacked Pearl Harbor in 1941.
Just last week, the Navy removed Captain Jeffrey Bennett, commander of the Yokosuka, Japan-based Destroyer Squadron 15, in charge of both the USS Fitzgerald and the USS John S. McCain, as well as his boss, Rear Admiral Charles Williams. Rear Admiral Williams commanded the Japan-based aircraft carrier strike group and had also previously commanded Destroyer Squadron 15.
While these officers, as well as the captains and executive officers of the two damaged destroyers, hold the most direct responsibility for the tragedies, some have expressed frustration that the root causes of the collisions lay with training, operational tasking, and resourcing decisions made by even more senior officers over the past twenty years.
Vice Admiral Thomas Rowden, in charge of policy, personnel, training, and equipping the U.S. Navy's surface ships, announced that he will be retiring early, in recognition "of the need for new leadership in the Surface Forces" and help speed along the transformations necessary to improve the fleet's practices. Admiral Rowden has focused his tenure on making the surface fleet more combat effective, spearheading some sweeping initiatives to build a more deadly force, including the distributed lethality concept, introducing new anti-ship weapons, and training a new cadre of officers with specialized expertise in tactics and combat operations.
But the collisions shined new public light on longstanding concerns about how hard crews were being worked, irregular training for the Japan-based ships, the fleet's proficiency as mariners, and lack of sleep. In response to revelations that most ships in the Japan-based 7th Fleet have been operating with expired training certifications, a new staff is being established to assess the readiness of the ships in the Japan-based 7th Fleet and oversee their certifications to operate going forward.
Efforts to adjust either the manning or workload on ships to relieve stress on crews is still being studied, although, Senator John McCain, whose admiral father and grandfather are the namesakes of the USS John S. McCain remarked at a recent hearing that "if we know someone is working a 100 hour work week, we do not need a study." If it can't reduce sailors' workloads, the surface fleet is at least mandating that ships adopt changes to provide sailors with schedules that do not interfere with their circadian sleep rhythm. While some ships adopted shift schedules that permit sailors to get predictable amounts of sleep at the same time, most still operate on rotations that force sailors to work different shifts each day, forcing them to change their sleep schedule daily, which exacerbates stress and fatigue.
In another change, U.S. warships will now transmit location data through the Automated Information System (AIS) in busy or crowded traffic areas. AIS is a transponder that all large vessels are required to carry and transmits information like a ship's name, size, position, course, and speed to help avoid collisions. U.S. warships have the system as well, but previously only used them to receive other ships' information and did not transmit their own data out of concern that it could be exploited by potential threats or used to glean intelligence. The CNO told the Senate Armed Services Committee that this previous practice was the result of a "distorted perception of operational security." He made the point that in crowded traffic conditions where AIS might help avoid collisions most a warship would already be in visual range of the ships around it.
AIS would be especially critical in crowded conditions at night. The superstructures of Arliegh Burke-class destroyers like the Fitzgerald and John S. McCain incorporate some stealth designs, making them appear much smaller on a commercial radar than their 9000 tons. Combined with the prior practice of not transmitting AIS data, if a merchant ship could not visually see that a contact was in fact a large warship, they might discount it as a much smaller fishing or pleasure vessel, exacerbating situations that could lead to collisions.
Even more sweeping reforms are likely as both the investigations into the two collisions and the two broad studies into the U.S. surface fleet's practices are concluded.