Has China Really Made Great Progress on Human Rights?
As the 19th Party Congress approaches, China has compiled a book on great achievements in human rights.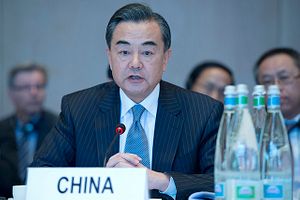 To welcome the incoming 19th National Congress of the Chinese Communist Party (CCP), the Chinese authorities have compiled a book called "China's New Achievements in Human Rights (2012-2017)," with the preface written by China's Foreign Minister Wang Yi.
In the preface, Wang used 3000-plus words to compliment China's great progress on human rights under the leadership of Chinese president Xi Jinping, who has been in office since 2012.   
On September 14, the CCP's mouthpiece People's Daily published Wang Yi's preface in full.
In the preface, Wang first used a lengthy paragraph to quote Xi's various remarks on China's unique route, such as "China has tried monarchy, constitutional restoration, parliamentary system, multi-party system, and presidential system but failed…until the Chinese Communists found the right answer" and "China has combined the universal principle of human rights with China's reality and found a route suited to China's national conditions."
Then he elaborated on China's "brilliant achievements" in four areas in the five years. The following are Wang's points:
The CCP has adopted a top-down approach to protect the human rights. For example, in order to realize the great rejuvenation of the Chinese nation, China has established and revised multiple laws including "General Principles of Civil Law" "Charity Law" and "Anti-domestic Violence Law".

As China's economy keeps growing, the poverty is greatly reduced. China's per capita gross national income has increased from $5940 to $8,260. Rural poverty has been significantly reduced with more than 13 million people lifted out of poverty annually.

The level of democracy and rule of law continues to improve. For example, China has launched the world's largest network to publish the judgments online and corrected 34 major criminal cases of miscarriage of justice.

China has more broadly participated in international human rights governance. For example, in five years, China has had 50-plus dialogues on human rights with more than 20 countries. In addition, China has twice curbed the attempts of some countries to interfere in China's internal affairs in the name of human rights, which preserved China's image.
Wang concluded that the key to China's achievements in human rights lies in the advantages of the China's political system — socialism with Chinese characteristics. "Only the person wearing the shoes can tell if the shoes are comfortable. Only the Chinese people have the most say in China's human rights situation. It's the people's choice. " said Wang.
Unfortunately, the Chinese people's say that Wang referred to — including comments on this specific piece of news posted on Weibo — have been deleted completely by Chinese censors.