Malaysia to Get New China Security Equipment
Agreement in principle reached in the context of growing bilateral defense ties.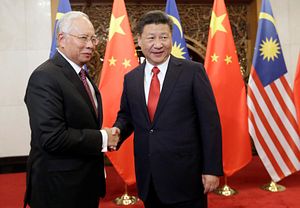 On September 27, Malaysian Deputy Prime Minister Ahmad Zahid Hamidi disclosed that he had agreed in principle to acquire high-tech equipment to combat crime from China following his engagements with Chinese counterparts this week. The move is another step in the slow development of defense ties by the two sides in spite of challenges that remain.
As I have noted before, though the defense component of the China-Malaysia relationship has tended to lag significantly behind its other dimensions, inroads have been made incrementally over the past few years in some areas like the establishment of regular consultative mechanisms, exercises, and even defense deals (See: "Malaysia's New China Warships Deal: Promises and Prospects"). Despite disagreements over issues like the South China Sea, Malaysian officials continue to prioritize cultivating a good relationship with Beijing even as the Southeast Asian state also cements partnerships with other countries including the United States (See: "(See: "Malaysia's South China Sea Policy: Playing it Safe").
To be sure, Zahid's visit this week to China, his third since assuming office in July 2015, had an international dimension as well apart from the bilateral component, since he was attending the 86th General Assembly of Interpol at the China National Convention Center along with government leaders and senior security officials from around 158 countries. Zahid led the Malaysian delegation and was accompanied by other officials including Malaysia's Ambassador to China Zainuddin Yahya, the deputy secretary general of security at the Home Ministry,  Mustafa Ibrahim, and Police Inspector General Fuzi Harun.
But his visit also put China-Malaysia security ties in the spotlight as well. Aside from Interpol President Meng Hongwei, Zahid also met with Chinese officials including Public Security Minister Guo Shengkun and Political and Legal Affairs Secretary Meng Jianzhu. At those meetings, Zahid was expected to exchange views on several issues of common interest including terrorism, immigration, radicalization, and cybercrime, as well as share updates on developments in Malaysia such as work on the Regional Counter-Messaging Communications Center run by Malaysian police.
The headlines focused on various components of bilateral security ties. For instance, Zahid highlighted Malaysia's sharing of biometric information with China which, along with other areas of cooperation like mutual legal assistance, had allowed the Southeast Asian state to arrest Uighur militants and deport them back to China for prosecution. Meng, for his part, praised Malaysia for its efforts to counter crimes like gambling and fraud, some of which had involved Chinese nationals that were subsequently deported.
Beyond those statements, one interesting outcome from the discussions was an agreement in principle by Malaysia to acquire from China scanning machines capable of detecting drugs and weapons hidden in containers and vehicles to help the country combat terrorism and other transnational threats. Zahid told reporters at the China World Hotel that the "sophisticated scanner," which had been used by the Chinese government over the past three years, would be utilized by Malaysian authorities.
Though not many specifics were offered publicly about the "agreement in principle," Zahid said the scanner would be utilized by the Malaysian police's Criminal Investigation Department and Narcotics Department. Zahid also said he will consult with the Customs Department director general on whether the machines should be placed at border areas, as well as all entry and exit points nationwide. As discussions evolve, it will be interesting to see what becomes of this new item within the broader context of China-Malaysia security ties.