Mattis Comes to India: What's on the Agenda?
What's on the agenda when Trump's secretary of defense lands in India?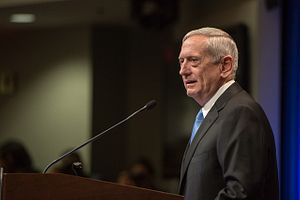 U.S. Secretary of Defense Jim Mattis is in India for his first official visit to the country as a member of the Trump Administration. The Pentagon has underlined that "the secretary will emphasis that the United States views India as a valued and influential partner, with broad mutual interests extending well beyond South Asia" and "will also express U.S. appreciation for India's important contributions toward Afghanistan's democracy, stability, prosperity, and security."
The Pentagon's statement is a clear reflection of how dramatically America's views have changed when it comes to India's role in Afghanistan. For some time, Washington did not prefer a high profile role for India in Afghanistan for fear of offending Pakistani sensitivities. India's engagement in Afghanistan grew despite America's preference against it. But as India emerged a serious economic player in Afghanistan and Pakistan continued with its destabilizing activities, Washington came to recognize that India's role in Afghanistan is a net positive. The Trump administration, while announcing its new Afghan policy, asked India to do more to help Afghanistan with its developmental needs.
An important part of the Trump's engagement in the region is his outreach to India, saying a "critical part" of his administration's South Asia policy is to further develop the U.S. strategic partnership with India. "We appreciate India's important contributions to stability in Afghanistan, but India makes billions of dollars in trade with the US, and we want them to help us more with Afghanistan, especially in the area of economic assistance and development," Trump has said, underlining India's role in Afghanistan and the need to do much more.
Mattis will be engaging with his Indian interlocutors on how to synergize U.S. and Indian efforts in stabilizing Afghanistan. Mattis' visit is coinciding with the Indo-Afghan trade and investment show, which is being facilitated by the Indian Ministry of External Affairs and USAID. It will see the participation of Afghanistan's Chief Executive Abdullah Abdullah and other ministers in New Delhi this week. Afghanistan's President Ashraf Ghani has said the Taliban and Pakistan are responsible for instability and war in Afghanistan. Ghani has made it clear that despite his attempts to reach out to Pakistan many times, his demand for peace was not accepted by Islamabad.
New Delhi, meanwhile, has stepped up its engagement with Kabul with its plans to train Afghan police officers along with Afghan soldiers. India's agenda is to build capacity of Afghan security forces, enabling them to fight their own battles more effectively. This is in line with the requirements of the Afghan government as well as the international community. India has decided to take up 116 "high impact community developmental projects" in 31 provinces of Afghanistan. Pakistan Prime Minister S.K. Abbasi's recent statement that India has "zero political and military role" in Afghanistan has little meaning when the Afghan government and its global supporters wants an intensified engagement by India. And India is signalling that it intends to play its role without taking cognizance of Pakistani shenanigans.
The other element of Mattis visit will be Indo-U.S. defense engagement. Defense ties have been growing rapidly between the two democracies and have been one of the most important factors propelling the relationship. The U.S. Congress had passed an amendment in December 2016 called "Enhancing Defense and Security Cooperation with India," which conferred on India the status of America's "major defense partner," a designation which was reaffirmed by the Trump administration during the visit of Prime Minister Narendra Modi to the U.S. earlier this year. The U.S. already conducts the maximum number of bilateral exercises with India, including the Malabar series, which has now taken a trilateral structure with Japan being a permanent invitee. The ambitious Defense Technology and Trade Initiative (DTTI) remains the key platform to elevate the Indo-U.S. defense relationship from a buyer-seller engagement to a partnership model, working to co-develop and produce key defense technologies.
The Trump administration is interested in selling F-18 and F-16 fighter planes to India, built by U.S. companies Boeing and Lockheed Martin respectively. Both companies have offered to assemble these planes in India as part of Modi's 'Make in India' campaign. More interestingly, perhaps, the sale of 22 Sea Guardian Unmanned Aerial Systems, will be on the agenda. This is likely to be a $2 billion deal that was announced during Modi's visit to the U.S. earlier this year and it requires the Trump Administration to overcome a "presumption of denial" under its obligations as a member of the Missile Technology Control Regime (MTCR). With this deal, the India Navy will not only acquire the world's most advanced maritime reconnaissance drone, a shot in the arm for the country's maritime surveillance, but will also lead to greater sharing of defense technology sharing. U.S. willingness to sell the Sea Guardian underlines the willingness of Washington to transfer some of its most sensitive military technology to New Delhi.
Both Trump and Modi have made strong counterterror policies a cornerstone of their foreign policies. And the two nations are looking to evolve a robust counter terror partnership by cooperating on areas as wide ranging as providing border technologies, enhancing intelligence exchanges as well as greater technical support by the U.S. to Indian law enforcement agencies.
Mattis, a long-time friend of India, will have his hands full when he engages Indian policymakers during his visit. But he will find that New Delhi today is ready to move ahead with Washington to map out a defense partnership which serves the interests of both nations.