On Rohingya Issue, Both China and India Back Myanmar Government
Chinese foreign ministry says the international community should support the efforts made by Myanmar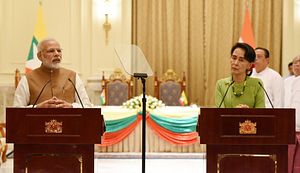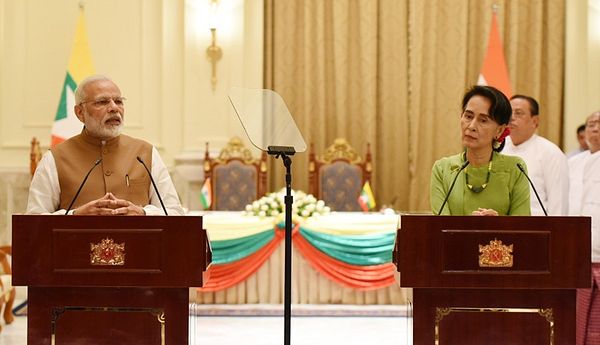 China and India seldom see eye to eye with each other on international affairs, especially after the Doklam crisis, which deepened the mutual hostility. But on the Rohingya issue in Myanmar, both countries expressed sympathy toward Myanmar's government in spite of the international community's pressure.
On August 25, the Arakan Rohingya Salvation Army (ARSA) attacked 30 police outposts in Myanmar's Rakhine state, leading to the killing of 10 police officers, one soldier, and one immigration officer.
After the attack, the government of Myanmar declared the ARSA as a terrorist organization under Sub-Section 5 of Section 6 of the Anti-Terrorism Law of Myanmar and launched "clearance operations" to "provide security in the region." However, according to multiple media reports, the "clearance operations" have directly or indirectly caused around 300,000 Rohingyas to flee the region.
On September 10, the ARSA declared a ceasefire for one month to facilitate a humanitarian response. But the government of Myanmar rejected the ceasefire offer, as Zaw Htay, director general of the State Counselor Office of Myanmar, said in a tweet, "we have no policy to negotiate with terrorists."
On September 11, the United Nations High Commissioner for Human Rights, Zeid Ra'ad al-Hussein, strongly condemned Myanmar's government for the Rohingya crisis:
The situation seems a textbook example of ethnic cleansing…I call on the [Myanmar] Government to end its current cruel military operation, with accountability for all violations that have occurred and to reverse the pattern of severe and widespread discrimination against the Rohingya population.
Against the backdrop of the UN criticism, China still maintains its supportive position toward Myanmar's government.
On September 12, when confronted with a question about Rohingya crisis again, China's foreign ministry spokesman Geng Shuang said:
The Chinese side condemns the violent attacks that happened in the Rakhine State of Myanmar, supports Myanmar's efforts to safeguard the peace and stability of the Rakhine State and sincerely hopes that the Rakhine State can restore stability as soon as possible and the local people can live a normal life again.
Geng emphasized that China believes " the international community should support the efforts made by Myanmar to maintain national development and stability and create enabling external conditions for the proper settlement of the issue of Rakhine State. "
Like China, the Indian government's expressed understanding toward Myanmar's government as well.
On a recent visit to Myanmar, India's Prime Minister Narendra Modi said India shares Myanmar's concern about "extremist violence in Rakhine state and specially the violence against security forces and how innocent lives have been affected."

"We hope that all the stakeholders together can find a way out in which the unity and territorial integrity of Myanmar is respected and at the same time we can have peace, justice, dignity, and democratic values for all," Modi added.